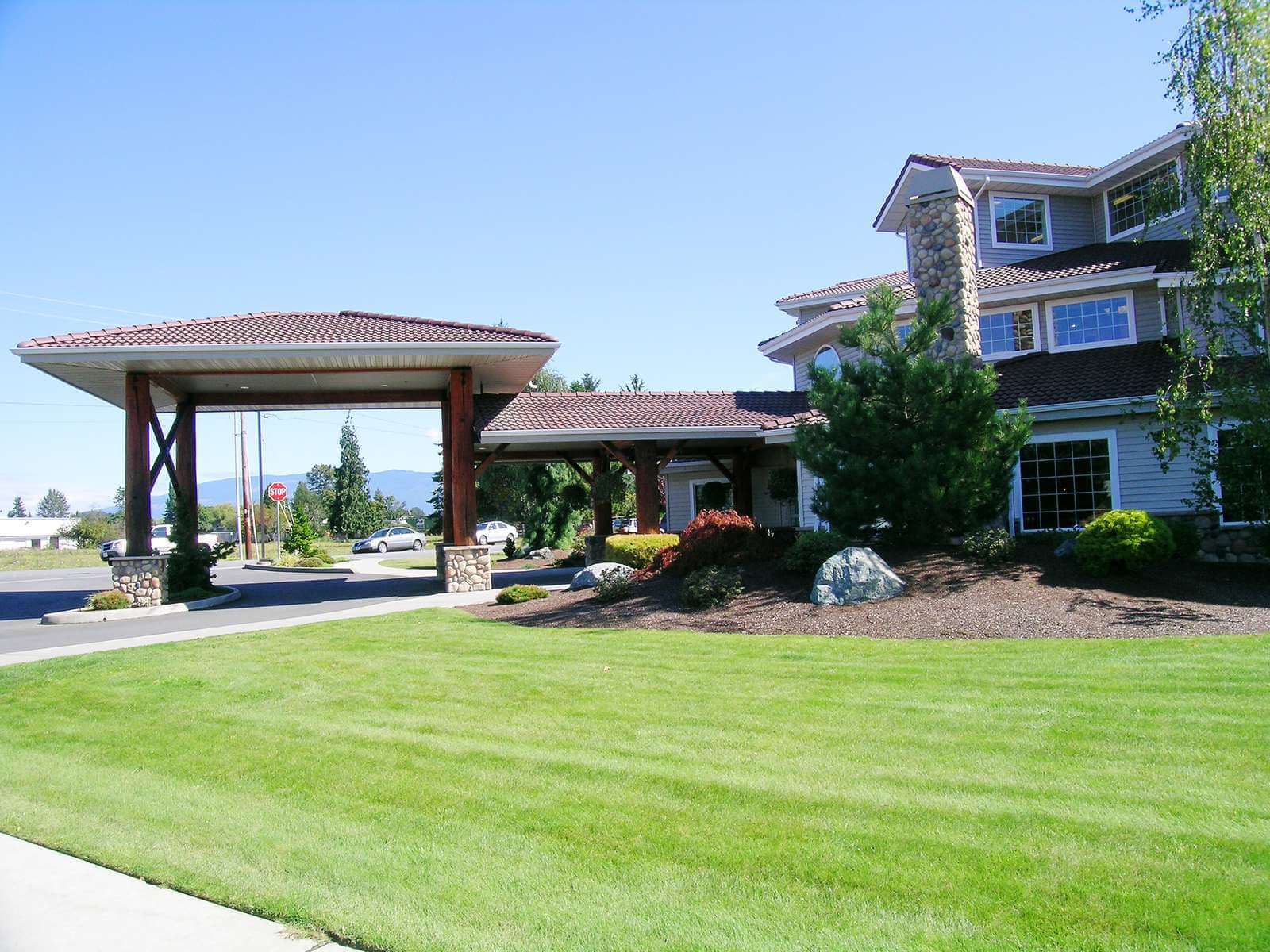 As your loved one considers retirement, they make look to places like Florida, Texas, or Arizona to spend their golden years. Georgia is a beautiful — but often overlooked — place to retire. The peach state offers temperate winters, one-of-a-kind state attractions, and some of the best golf courses in the United States. Thanks to its moderate climate and expansive selection of attractions to see, Georgia is an increasingly popular place for retirement and offers plenty to those seeking assisted living care. This guide will give you everything you need to choose the right assisted living community in Georgia.
Assisted living in Georgia
Types of assisted living in Georgia
Georgia defines types of assisted living facilities by their capacity. Communities with 25 residents or fewer are designated, "Personal care homes," while larger communities are designated, "assisted living communities." Georgia differentiates personal care homes and assisted living communities from nursing homes based on the services they provide. A community is defined as "assisted living" when the nurses provide personal care only. Facilities, where nurses provide specialized medical assistance, are considered nursing homes in Georgia.
Many assisted living communities in Georgia specialize in memory care services for residents with dementia or Alzheimer's Disease. These facilities offer the same base services as "assisted living," but are known as memory care units. Memory care services offer additional supervision, highly trained staff, and specialized activities residents won't receive through a basic Assisted Living program.
As of 2018, there are 1,075 personal care homes and assisted living communities in Georgia. These communities vary in size, with some communities housing under 25 residents and others housing over 100.
Senior care quality
Georgia closely monitors and regulates each of their Assisted Living Communities and Personal Care Homes to provide residents with the highest quality of care. The state imposes strict inspection rules on communities and those in violation are subject to fines. State law requires all communities offer residents 24-hour care, creating a baseline expectation for care quality across the state. Georgia offers excellent transparency about each care facility's most recent inspection results, resident complaints, and survey responses, which encourages facilities to provide high-quality care to their residents.
The costs of assisted living in Georgia
As of 2015 reportings by Genworth Financial, the average costs hovered around $2,880 a month. For perspective, the national average cost of Assisted Living was $2,877 in the same year.
While Assisted Living in Georgia costs slightly more than the national average, it is less expensive than other nearby states, including Florida ($3,150), South Carolina ($3,125), Alabama ($3,075), and Tennessee ($3,395).
Senior living in Georgia
As your loved one considers relocating for their retirement years, it's important to identify how their new environment will impact their wellbeing. Some questions to ask yourself include:
Will my family member's new community provide them with the services they need?
Are they moving to a safe and quiet neighborhood?
Will the staff at their new community treat them with respect?
Are there places to go and sights to see near their new community?
Are doctor's offices and hospitals nearby?
What is the cost of living?
Understanding the answers to these questions will help guarantee quality of life for your loved one as they move to the next stage of their life.
Services provided
The Department of Community Health requires all Assisted Living Facilities in Georgia to offer a predefined list of services to their residents. These vary depending on the size and specialty of the Assisted Living Facility:
Personal Care Homes must provide personal assistance services (assistance with feeding, dressing, personal hygiene, etc.), social events and activities (community crafts, movie nights, etc.), and supervision for residents who self-administer medication. They are not required to offer medical services or advanced assisted living care.
Assisted Living Communities must offer personal assistance services and social events and activities, but unlike Personal Care Homes, they are required to offer basic medical assistance as well. Assisted Living Communities must have on-site medication aides available to administer medication to residents.
Memory Care Units must provide services specialized for those with dementia, Alzheimer's disease, or other illness which impact memory functions. Each resident is treated with direct care from at least one member of the care facility's Memory Care staff team. Memory Care staff are trained to administer medication, help residents participate in communal activities and will conduct therapeutic activities with the patient daily, including:
Sensory enhancement activities, such as reading a book aloud or encouraging tactile and scent stimulation.
Self-care activities, such as combing their hair or changing their clothes.
Social activities, such as playing board games or watching movies.
Gross motor activities, such as stretching, dancing, or walking.
Service Planning For Assisted Living
Prior to enrollment at an Assisted Living Community, Personal Care Home, or Memory Care Unit in Georgia, facilities will assess potential residents. The assessment will evaluate the residents:
Ability to perform their activities of daily life (ADLs)
Physical care needs
Medical needs
Behavioral and cognitive impairments
Personal preferences for care
All assisted living facilities in Georgia must offer 24-hour care to their residents, in addition to a set of standard services, however, this preliminary assessment will help the care facility determine which type of Assisted Living care will suit your family member best. Once the applicant finishes their assessment, the staff will create a written care plan. They will update the care plan annually to reflect any changes in the resident's care needs. Memory Care Units will review and modify care plans quarterly to reflect changes in the resident's needs more frequently, as the needs of those with dementia typically change more often.
Reasons To Consider Retiring In Georgia
Retirement in Georgia offers seniors benefits they won't find in any other state. Georgia's rich history and small-town culture give seniors plenty of sights to see and activities to do, including walks through peach farms or Centennial Park. Residents of Georgia love tabletop games, and there's always a game of bingo or bridge happening somewhere nearby for your loved one to play.
The weather is another reason your loved one might consider retiring in Georgia. Each season has its own distinct charm, but the winters are mild and the summers are warm. Georgia gets its fair share of rain, but with such beautiful weather overall, most residents are happy with the trade-off.
In addition to temperate weather, Georgia is tax-friendly to seniors. Taxes won't impact your loved one's Supplemental Security Income (SSI), and retirement incomes up to $65,000 are tax exempt for residents over the age of 65. These tax exemptions can make it easier for your loved one to pay for their retirement, making Georgia an attractive option.
Crime Rate In Georgia
Like any state, the crime rate across Georgia varies from city to city. Some areas of Georgia have more considerable crime rates than others, however, the state's elected officials are pushing for improved safety in their neighborhoods
As of 2016, Georgia had a higher-than-average rate of violent crimes, but these statistics are offset by the considerably low rates of crime in the state's top fifty safest cities. According to Safewise, the three safest cities in Georgia have roughly 90% fewer crimes each year than the national average (the top fifty have 40% fewer crimes), and thirty-six of the top fifty cities reported zero homicides in 2016.
Below, find a ranking of Georgia's ten safest cities (as of 2018, as determined by Safewise) to determine which places will offer your loved one the most peace of mind during their retirement years.
Top 10 Safest Cities In Georgia
Population: 4,442
Violent crime rate (per 1,000): 0.23
Population: 38,551
Violent crime rate (per 1,000): 0.26
Population: 84,629
Violent crime rate (per 1,000): 0.32
Population: 4,233
Violent crime rate (per 1,000): 0.47
Population: 35,387
Violent crime rate (per 1,000): 0.54
Population: 64,943
Violent crime rate (per 1,000): 0.54
Population: 7,243
Violent crime rate (per 1,000): 0.69
Population: 13,135
Violent crime rate (per 1,000): 0.84
Population: 6,895
Violent crime rate (per 1,000): 0.87
Population: 13,469
Violent crime rate (per 1,000): 0.89
Are Georgia Assisted Living Facilities Safe?
Georgia state law has many rules in place to ensure your loved one's safety when they move into an Assisted Living Community or Personal Care Home in Georgia. Most ACLs and PHCs require their staff to have a caretaker license (like an STNA certification). State law requires all ALC/PCH staff (licensed or unlicensed) to have training related to their duties during their first 60 days of employment, which must cover:
An overview of each resident's rights.
Infection control guidelines.
Emergency preparedness.
The direct-care staff is subject to further training, covering first aid administration, CPR, and any training specific to their job requirements. Memory Care staff undergo the most rigorous training, which must cover:
How Alzheimer's Disease and other dementias impact the patient on a daily basis.
The facility's mission and philosophy when treating residents with dementia.
How to care for residents with behavioral, cognitive, and communicative impairments.
Therapies and activities which can improve the residents' quality of life.
How the environment can impact someone with dementia.
The steps to develop an effective service plan.
New findings in Alzheimer's disease care and dementia research, along with new treatments.
How to identify changes in a resident's appearance or behavior which require medical attention.
Ways to keep the resident stimulated and safe in their environment.  
Georgia's training requirements for ALC/PHC staff coupled with their requirement for 24-hour care availability make it a safe place for elders to retire. To learn more about Georgia's ACL/PHC staff training requirements, see the Rules for Assisted Living and retirement communities guide on the state's website here.
Cost of Services In Georgia
It's important to evaluate the costs of services your family member will need outside of their Assisted Living Community. These typically include healthcare, food (if your loved wishes to buy their own groceries, and transportation costs.
The cost of living in Georgia statewide is slightly higher than the national average, but it varies from city to city. A recent survey by Castlight Health showed the average price of a primary care check-up in Atlanta is $154 but can reach premiums as high as $379.
If your loved one prefers to buy and prepare their own meals on occasion instead of eating what the ALC/PCH provides, they'll need to consider grocery costs, too. According to the Missouri Economic Research and Information Center's findings, the cost of food in Georgia is roughly the same as the national average.
Public transportation in Georgia's small towns is scarce, so if your family member doesn't drive, make it a priority to find an ALC/PCH that offers a shuttle to doctor's offices and grocery stores around the community. If you loved one does drive, they can expect to pay a lower price for gas than the national average.
Assisted Living In Georgia Vs. Nearby States
Located near Florida, Alabama, Tennessee and North Carolina, and South Carolina - five popular states for retirement - you may wonder how Georgia compares to other states for assisted living care. Assisted Living Communities in each state offer varying rates, services, and resident protections, which your family member should consider.
The cost of Assisted Living in Georgia is cheaper on average than Tennessee, Florida, and North Carolina, but slightly more expensive than Alabama or South Carolina. Georgia also provides more transparency regarding ALC/PHC records and licensing statuses throughout the state. The GAMap2Care website makes it notably easy for families to research assisted living communities and personal care homes in Georgia, a crucial step in choosing the right care facility for your loved one.
On the same website, you can view a facility's history of complaints, past violations, and recent inspection results. These results are updated frequently and must be present on the list within 90 days of their occurrence. Alabama, Florida, Tennessee, North Carolina, and South Carolina provide a similar list of information on their websites, but the information isn't updated as frequently as in Georgia.
Inspections serve as protection for residents of Assisted Living Communities, and it's important to choose a facility which will comply with state laws and regulations. Each Assisted Living Facility in Georgia must undergo inspection at least once every two years. When inspections find violations, the state of Georgia canfinethe community. Florida and North Carolina follow a similar set of rules regarding inspections and fines for non-compliance. Alabama does not specify how often they require inspections, and South Carolina does not have any mandatory inspection rules, but both states can fine facilities for violations.
Community resources
Georgia Alliance of Community Hospitals
The Georgia Alliance of Community Hospitals (GACH) is an Atlanta non-profit hospital network that aims to give their community quality healthcare at a low cost. The GACH believes every Georgian should have access to healthcare, regardless of their financial status. Through their mission, the GACH hopes to bring their retirement communities closer by improving the population's general health.
If your loved one expresses concern about their ability to pay for medical services, the GACH may be able to help. Of the hospital networks available in Georgia, the GACH offers the most affordable, high-quality healthcare, and serves as an excellent healthcare option for senior care.
Home and Community-Based Services Program (HCBS)
The Department of Aging Services offers many community resources for Assisted Living residents in Georgia through the Home and Community Based Services program (HCBS). The HCBS offers nutrition and wellness services, in-home care, and caregiver programs for senior care in Georgia's communities, like Atlanta and other cities.
These services offer residents assistance in addition to what they receive at their facility. Through the HCBS, assisted living residents can partake in sponsored group meals at their facility, senior recreation activities, fitness classes, and counseling free of charge. The HCBS's caregivers will visit Assisted Living homes and provide kinship, education, and support to residents.
Admission requirements
Before an Assisted Living Community or Personal Care Home can admit your loved one as a resident, they require a doctor's examination prior to admittance, a general assessment of their needs and medical conditions, and a signed resident agreement.
The resident assessment is designed to gather as much information about your family member as possible to make their transition easier and safer. It will help the facility get a better idea of your loved one's individual care needs, and what they can do to better serve them during their stay. Each type of facility has its own requirements to admit a person as a resident:
Assisted Living Communities will not admit a person if their most recent physical examination (which must be completed 30 days prior to admission) indicates a need for ongoing, regular medical or nursing care. The pre-admission assessment must show that the resident is capable of partaking in the community's social activities. Potential residents who cannot meet these requirements will be declined admission to the facility.
Personal Care Homes require all residents to be ambulatory, and will not admit bedridden applicants. Anyone with a behavioral condition which requires the use of restraints, confinement, or isolation will not be admitted. If the assessment shows any continuing care medical needs, the applicant cannot reside in the PCH, as the staff is not trained to manage ongoing medical treatments.
Memory Care Units require residents to have a diagnosis from a doctor of Alzheimer's Disease or another form of dementia for admittance. Applicants without a diagnosis of dementia may also gain admittance, however, they must sign away their rights to less restrictive care. Residents must not require 24-hour skilled nursing care.
After a resident is assessed and admitted, the facility requires them to sign a resident agreement. The facility must disclose the following information in the resident agreement:
A list of provided services
Their updated refund policy
House rules for residents
Policies regarding fee or service changes
Transportation services and associated fees
Provisions for medication management
Process for filing complaints
Information about proxy caregivers (such as their training requirements, permitted actions, etc.)
When Assisted Living facilities in Georgia are at capacity, they will move applicants to a waiting list prior to moving in. For this reason, it's important for your loved to apply to Assisted Living facilities early.
Paying for assisted living in Georgia
Assisted Living is expensive, but there are numerous payment options to assist families seeking care.
Paying with private Funds
The high costs of Assisted Living are well-known, and many individuals choose to save for their retirement early. They may have a trust account, a 401K, stock investments, or annuities to help them pay for Assisted Living. If they're the beneficiary of a life insurance policy, they may consider using the money to pre-pay for time in a facility. Your loved one may consider selling their house when they move into an Assisted Living Facility to use the funds to pay for their care.
Supplemental Security Income (SSI) is another way to pay for care up-front, but be aware it won't likely cover the costs of Assisted Living on its own. If your loved one plans to pay for Assisted Living with their SSI benefits, talk to them about ways they can supplement their benefits to cover their new costs of living arrangements.  
Medicaid Waiver options
Georgia Medicaid offers assistance programs under the Elderly and Disabled Waiver for individuals who qualify. The Community Care Service Program (CCSP) is designed to help elderly adults seek daily assistance without admittance to a nursing home, and those who qualify can receive a waiver of Assisted Living fees from Medicaid.
Individuals must meet a set of requirements to qualify for CCSP:
They must be a resident of Georgia.
They must have physical impairments which require the care of another person.
They must have no more than $2,000 in assets (excluding their home and primary vehicle).
A waitlist for CCSP benefits is common, and priority is granted to those who have severe physical limitations and those with significant care needs. To learn more about the waitlist and eligibility requirements, applicants should contact their local Area Agency on Aging.
Other state programs
In addition to CCSP, Georgia offers numerous additional waivers for those looking to spend their retirement years in a community, rather than a nursing home. These waiver programs include:
Veterans benefits
If your loved one is a United States veteran, they may be eligible for financial assistance through the Department of Veterans Affairs (VA).
The VA does not cover an individual's monthly rent in an Assisted Living Community or Personal Care Home but can help cover some additional services the individual needs. The VA determines eligibility based on the person's clinical need for additional services.
Alternatively, if the VA determines your loved-one is eligible for a monthly pension, they may qualify for Aid and Attendance. The pension is awarded in addition to a veteran's monthly payment from the VA. Only veterans who need daily assistance are eligible for it.
To learn more about eligibility for VA assistance, contact your loved one's caseworker or visit the VA's website.
Long-term care insurance
Long-term care insurance offers beneficiaries peace of mind as they approach their golden years. Should they want to move to an Assisted Living facility, long-term care insurance will cover their fees.
While long-term insurance policies can help offset the costs of Assisted Living greatly, it's important to enroll early. It's harder to get coverage for those who are older or have existing chronic conditions. The premiums are also considerable and will increase as your loved one ages. For some, the benefits of long-term care insurance simply don't outweigh the upfront costs, but it can be helpful to those who can afford it.
Reverse mortgage
Another option is to look into getting a reverse mortgage to cover assisted living costs. By taking out a loan against the equity of their home, they can get the money to pay for their room-and-board. Should they reside outside of their home for a period of twelve continuous months, they must sell their home and pay back the loan - something to consider for those who don't wish to sell so quickly.
While it won't affect SSI benefits or Medicare, a reverse mortgage can impact a person's Medicaid eligibility. This could deny them access to waivers or other health care coverage.
If you're considering a reverse mortgage, Georgia requires you to attend counseling before applying. The counseling session is intended to inform you and your loved one of the process so you can make a knowledgeable decision. Your counseling session can be in-person or over the phone, and you will get a Counseling Certificate in the mail upon completion. Only after this process can you apply for a reverse mortgage in Georgia.
Regulation and safety
Senior and elderly rights in Georgia
The 1987 Nursing Home Reform Act guarantees the rights of residents in Assisted Living facilities nationwide. It requires all care facilities to care for their resident properly, meaning no residents should have physical or mental declines due to negligence on part of the facility's staff.
Under this legislature, your loved one has the right to the following information:
The facility's available services (and their costs).
A written copy of the facility's rules and their resident rights.
Planned room or roommate changes
Your loved one also has the rights to:
Privacy
Complain
Participate in their own care routine
Safe Transfers and Discharges
Visits
Dignity, Respect, and Freedom
Independence
State licensing and oversight
The Georgia Department of Community Health, Healthcare Facility Regulation Division (HFR) is responsible for licensing and regulating Assisted Living Communities and Personal Care Homes in Georgia. Each Assisted Living Facility in Georgia must comply with the HFR's rules, or they can face fines from the state. The HFR requires all community-living residences to undergo inspection at least once every 24 months, and they encourage all residents and their families to file complaints when facilities do not comply with their regulations.
Assisted living providers in Georgia
With over 1,000 Assisted Living Communities in Georgia, the ideal place for your loved one is out there. Take a look at the biggest Assisted Living providers in the state:
Brookdale Senior Living is the largest senior living provider in the United States and has 22 facilities in Georgia. They're renowned for their quality and offer many benefits to residents.
Sunrise Senior Living has communities across the state that offer premium Assisted Living services. They're one of the top five senior living providers in the nation and offer a host of services to their residents.
Five Star Senior Living owns and operates 22 community-living facilities in Georgia. Many offer assisted living and memory care services, and others offer independent living. Their services are premium, and their facilities regularly maintain positive reviews.
Top 5 Assisted Living Providers In Georgia
Other agencies and programs
The Division of Aging Services (DAS) in Georgia offers programs and services intended to help seniors retire peacefully. They work in coordination with Area Agencies for Aging (AAA) across the state to request assistance and information to those considering community-based, long-term care.  
Aging And Disability Resource Connection (ADRC)
Aging and Disability Resource Connections (ADRC) help seniors find long-term care through education, referrals, counseling, and eligibility screenings. The ADRC system offers more than 24,000 resources referencing disability and aging services across the state. To contact your loved one's ADRC office, reach out to their AAA.
GeorgiaCares
GeorgiaCares offers seniors free resources to help them enroll in a Medicare plan that's best for them. It offers financial help who can request assistance to help seniors pay for out-of-pocket Medicare expenses, and helps seniors understand their summary of benefits. For more information about GeorgiaCares, call them at 1-866-552-4464 (Option 4).
Ombudsman's Resident Advocate
The Ombudsman specializes in resident's rights. They provide oversight for assisted living communities and exist to protect residents. If you or your loved one believes a facility acted outside of their rights, the area Ombudsman may be able to help. You can reach Georgia's Ombudsman's Resident Advocate at (866) 552-4464 or visit their website to learn more about how they can help protect your loved one.