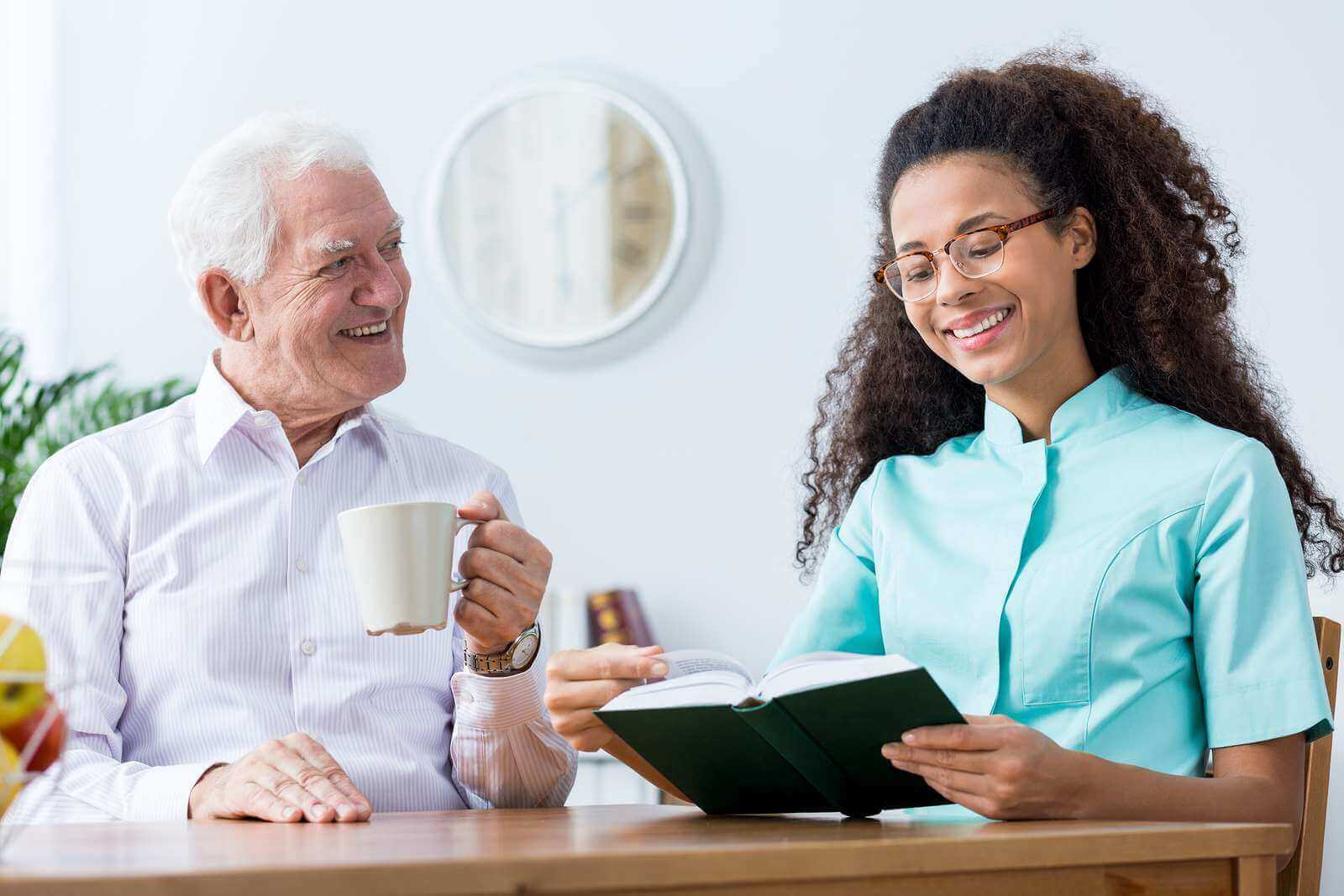 Choosing the best long-term care for your aging loved one can be stressful and overwhelming. It's important to understand the different types of senior care and housing available and the variation of services from state to state. If you're looking into assisted living in the Prairie State, you should know what kind of services you can expect, the average assisted living costs, and ways to pay for care, and local senior-care resources.
Long-term care options in Illinois
Illinois offers many senior living community options all over the state. Whether your loved one has lived in the area for some time or this will be a new state to call home, it's important to be familiar with the types of senior housing available and the quality you can expect.
Types of care
From independent living communities that allow elderly adults to continue to care for themselves to skilled nursing facilities designed for those who need 24-hour care, the Prairie State has many options for those who are ready to leave the homes they've had for years or even decades.
Independent living communities: If your elderly relative is ready to move out of his or her private home but doesn't need personal care or supervision, an independent living community can allow them to keep their autonomy while also enjoying close proximity to other senior citizens as well amenities. These communities often provide one or more meals per day and some provide housekeeping services.
Assisted living communities: For senior citizens who need some assistance with personal care (bathing, grooming, etc.) and would like meals served to them, an assisted living facility might be the right choice. These facilities provide housekeeping, laundry, and medication assistance, and they also offer recreational and social activities.
Supportive living program: If your loved one receives Medicaid and has needs that would be best addressed by an assisted living facility, they might do well with a supportive living program.
Shared housing establishments: In a shared housing establishment, senior citizens live in a home and share the common areas. Housekeeping, meals, and laundry services are provided.
Nursing homes: Illinois has several types of nursing homes. A sheltered care facility is for those who need more protection and assistance than someone in assisted living, but no nursing care. Those in intermediate care need some nursing services, and those in skilled senior care require more nursing services.
Continuous care retirement communities: A continuous care retirement community is a type of senior housing that contains several options. Most of the time, an individual or couple will enter the independent living section of the community. As the person's needs increase, they can obtain assisted living services, and then into a nursing home on the property. This eliminates the need for large-scale moves and there is a continuum of senior care and services.
Adult day service: If your loved one lives with a family member, adult day service (sometimes called adult day care) can offer a respite to the caregiver as well as provide care while the caregiver is at work or attending to other obligations. Adult day service providers offer social and recreational opportunities, assistance with personal care, medical management, and nutritious meals and snacks.
In-home care: Some senior citizens prefer to live at home, either in their own home or in the home of a family member. If personal care or nursing services are needed, Illinois residents also have the option of home care services. The Community Care Service offers assistance to people who qualify for Medicaid to cover this type of service.
Large local providers 
There are several nationwide providers of senior living communities that have facilities in the Prairie State. Examples include Sunrise Senior Living, with 18 facilities; Brookdale, with 13; and Holiday Retirement and Atria Senior Living, each with three.
Quality and safety
All assisted living facilities in Illinois are required to submit a renewal of their license each year. The Illinois Department of Public Health provides a listing of long-term care facilities within the state. They do not provide information on whether the facilities have had violations of the regulations, but it's a good place to start to find out about whether a facility is up-to-date with its license.
Illinois assisted living care costs
The median monthly cost for assisted living care in the United States is $3,750. The median cost in Illinois is approximately the same, at $3,720. This does vary by location within the state, however. For example, you can expect to pay closer to $5,200 in Bloomington, about $4,500 in Chicago and Springfield, and approximately $3,300 in Carbondale and Peoria. Outside of the metro areas, the median monthly cost is $2,975.
Comparing nearby states
While cost is not the most important factor in choosing an assisted living community for your loved one, it can be helpful to compare the cost in Illinois with the fees in nearby states. If you or your relative lives close to a state border, you might be considering facilities in that adjoining state. You'll pay a little more in Wisconsin, with a monthly median of $4,000. Minnesota, Iowa, and Kentucky have comparable median costs, fluctuating between $3,400 and $3,800. In Missouri, you can expect to pay less; the state average is $2,700 (although facilities in nearby St. Louis are closer to $3,950).
Paying for care
Because assisted living facilities in Illinois and the nearby states will cost thousands of dollars per month, it's understandable that you and your loved one are likely concerned about how to pay for it. Illinois has several options that you might consider.
Private funds (retirement funds, the sale of real estate, etc.): If your loved one has a retirement account or savings, that can be used to pay for assisted living care. If there is no spouse to continue to occupy an owned home, your loved one might choose to sell it and use the proceeds toward their long-term care.
Medicaid waivers: Medicaid typically will pay for nursing home care for eligible individuals, but not assisted care. In Illinois, however, the Supportive Living Program, which is a state Medicaid waiver, will help pay the cost of assisted living. The Illinois Department of Healthcare and Family Services will pay for the person's personal care needs but it does not pay for room and board. There is an eligibility process and a limited personal needs allowance. 
Reverse mortgages: If your loved one has a spouse who will continue living in their home, they might consider getting a reverse mortgage. This is a type of equity loan that is taken against the value of the home. Aside from homeowners' insurance and taxes, no payments need to be made until the second spouse leaves the home permanently; at that time, the house will be sold and the proceeds will pay back the loan. In Illinois, borrowers must have financial counseling so they understand the reverse mortgage loan.
Long-term care insurance: Many individuals, as they approach old age, decide to purchase a long-term care insurance policy. This coverage will pay for some or all of their long-term care, including care at an assisted living facility. Illinois has a long-term care partnership program that incentivizes the purchase of this type of policy by reducing the number of assets that need to be paid down to qualify for Medicaid. This means that your loved one might not have to sell as many of his or her belongings in order to qualify for a Medicaid waiver if they have long-term care insurance.
Programs for veterans: If your loved one is a veteran and needs skilled nursing care, he or she might be a good candidate for one of Illinois' veterans homes. A federal program called Aid and Attendance might also help. You can get more information from the local Veterans' Service Office.
Elderlife Financial can help you understand how to pay for assisted living.
Assisted living services in Illinois
There are different types of assisted living facilities in Illinois, but all of them must offer certain services. For example, your loved one will be given three meals per day and will receive housekeeping services, including laundry. All facilities must have 24-hour security and an emergency communication response system that is available and working at all times.
In addition, your loved one is entitled to and guaranteed an individualized plan of care. Called a service plan, it must include what types of assistance they are receiving with their activities of daily living, what their dietary needs are and how they will be addressed, and any special accommodations being made due to his or her needs. The plan will also include whether your loved one will be handling his or her own medication or will receive assistance.
Some residents who have Alzheimer's disease and dementia can be served in an assisted living facility that has the appropriately trained staff and the ability to provide alzheimer's care or memory care for residents with these special needs. If safe care cannot be ensured, then that facility cannot take a resident with dementia. If you are in this situation with your loved one, they might be referred to a different type of facility.
Local resources
There are 142 hospitals in Illinois, so there will be one within a short distance from the assisted living facility that you choose. There are also a variety of medical specialists, including those who specialize in geriatrics. Illinois boasts several major medical centers, including many university medical centers.
Illinois offers many services for the elderly, from outreach to consumer services, care coordination, financial assistance, educational programs, and more. The Illinois Department on Aging has published a document on the various federal and state programs available to senior citizens that might be of some guidance when it comes to finding resources for your loved one.
Making the transition to assisted living
There are some relatively strict guidelines for being admitted into an assisted living community in Illinois. The reason for this is that there are many different options for senior living communities, and it's important to place your loved one in the type that will meet his or her needs the best.
To go into an assisted living facility, your loved one will need to be assessed by a physician. The doctor will be checking for various mental and physical health conditions that might make a certain type of facility the right or wrong choice for your relative. The facility has to have the staff and services available to meet the needs of each resident, so you might be referred to a different type of community if your loved one has needs that are more or less extensive than those served in the facility of your choice.
For example, if your loved one cannot participate in more than two activities of daily living and has to have all of the actions done for them, an assisted living facility might not be the right place for them. Also, not all facilities offer memory care for residents with dementia. Residents who need IV therapy, a catheter, or insulin injections and cannot manage these needs on their own might not be able to go into an assisted living facility in Illinois.
This assessment will be redone as needed to ensure that your loved one is in the right place. If the time comes that they need to be transferred to a nursing home or some other facility, your loved one's case manager will work with you to manage the transfer.
Illinois senior care oversight
In Illinois, the Division of Assisted Living is the part of the Department of Public Health that oversees long-term care facilities in the state. In addition, the Illinois Department on Aging offers information and resources to help you make your decision on which long-term health care facility is right for your loved one. Finally, the Long-Term Care Ombudsman can help if there is a dispute while your loved one is a resident in any type of long-term health care facility.