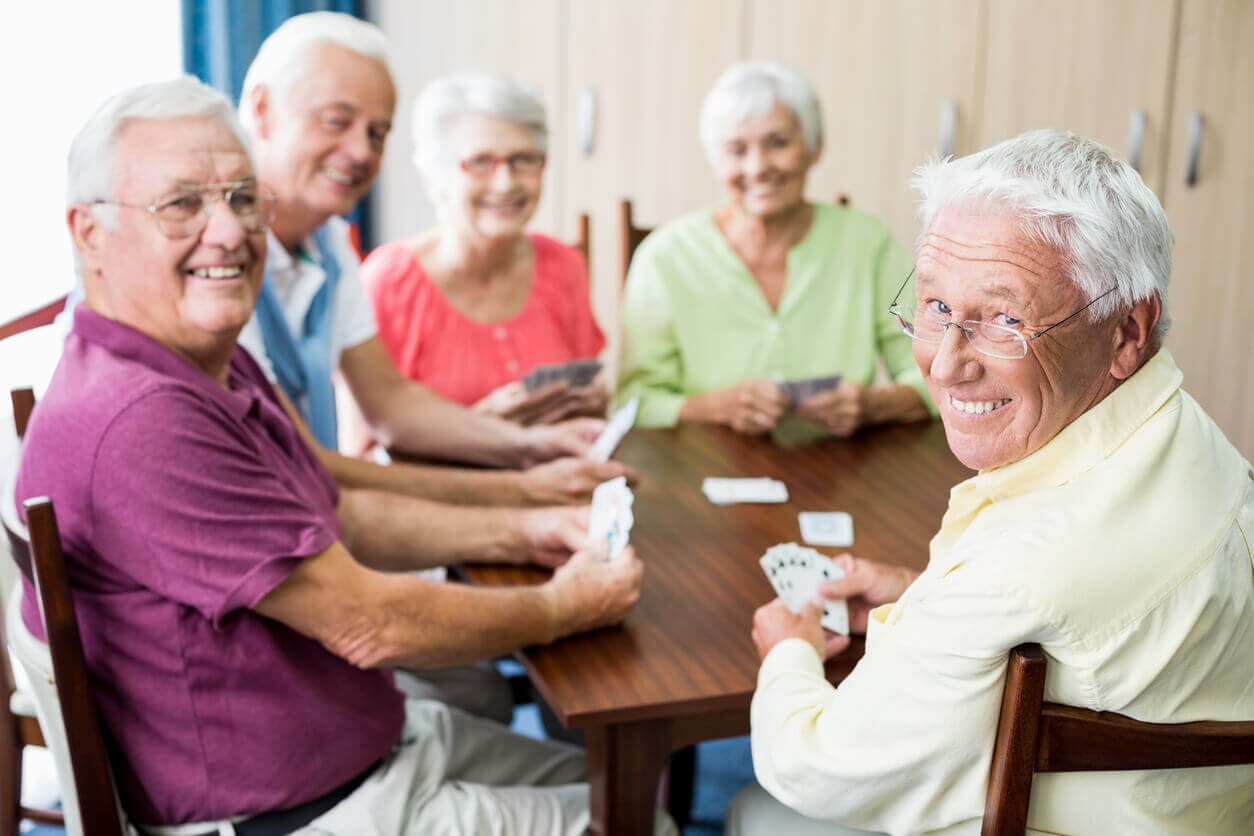 Choosing the right long-term care is overwhelming enough before you consider the state-by-state differences. New Jersey is a lovely state that boasts miles of beaches, casinos, and a wide assortment of long-term care options. Here are a few things you should know before deciding on assisted living care in New Jersey.
Senior care services in New Jersey
In New Jersey, there are many different options available for senior care living, depending on a person's individual needs. The types of care facilities available include active living communities, assisted living residences, boarding homes for older adults, comprehensive personal care homes, skilled nursing facilities, and more.
Assisted living in New Jersey
In 2016, there were 232 licensed assisted living facilities in New Jersey. This number includes those classified as comprehensive personal care homes, assisted living residences, and assisted living programs. It does not includeseniorhousing such as active adult communities or skilled nursing facilities.
Comprehensive personal care homes are designed for four or more unrelated residents. Usually, these are double-occupancy and residents share a bathroom with their roommate. There is supportive staff always available to help with medical needs, and room and board are included.
Assisted living communities are licensed facilities that provide private housing (in the form of at least a private room with a private bathroom, a kitchenette, and a door lock) to each resident. They also provide meals. 
Assisted living programs are programs that provide meals and assisted living services to people living in subsidized housing. They provide, when needed, personal care, nursing, social work, transportation, and pharmaceutical services.
Other housing options
If assisted care living is not the right environment for your loved one, New Jersey offers many other types of senior housing.
Independent Living Communities: If your loved one can still live independently but would like access to help when needed, an independent living community might be a less intensive choice than an assisted living facility.
Nursing Homes: A nursing home provides care 24/7 for those who need it.
Continuing Retirement Communities (CRC): Since many elderly people move along a continuum from independent living to needing skilled nursing care, a continuing care retirement community provides different types of senior care. As your loved one needs more care, he or she can move into the next care-intensive stage within the community.
In-Home Care: With in-home care, a nurse or nurse's aide can go into your loved one's home to provide care on a regular basis.
Largest providers in New Jersey
Of the largest national providers of senior housing, Sunrise and Brookdale have the most facilities in the Garden State, with 23 and 13 assisted living facilities, respectively. Atria has five, and Holiday has just one.
Quality and safety standards
While New Jersey is a highly regulated state, the quality of different programs and residences can vary based on many different factors, so it's important to use due diligence in choosing a facility for your loved one.
The New Jersey Department of Health and the Health Care Association of New Jersey Foundation have begun a program to designate some assisted living communities with Advanced Standing. This standing is reserved for those facilities that are compliant with all of the regulations regarding state licensing and have also met quality benchmarks. You can find a list of the Advanced Standings facilities on the New Jersey Department of Human Services website.
Many families are concerned about the safety of residential care facilities for the elderly. And, New Jersey takes this safety seriously. The state recently adopted the "Safe Care Cam" program. This allows concerned family members to install a camera in their loved one's room or apartment at assisted living facilities and nursing homes so they can see the care that's being given even when they're not there.
Paying for assisted living in New Jersey
According to the Genworth Cost of Care Survey, the national median cost for assisted living care is $3,750 per month. New Jersey assisted living servicescostsubstantially more, at $5,811 per month. This is $191 per day and nearly $70,000 per year. Different parts of New Jersey cost more, however; in Northern New Jersey, expect to pay about $6,700 per month, and in Ocean City, the median is $4,432.
Comparison to other states
There are many factors to keep in mind when comparing the residential care facilities in different states. Cost is just one factor. It will cost you about the same to have your loved one in a New York facility. It is markedly less expensive, however, to use a care facility in Pennsylvania, where the median monthly fee is only $3,450. And Delaware is more expensive, at $6,015 per month.
Funding options
Since a senior housing community is costly, you and your loved one might be concerned about the cost. There are several options for paying for assisted care in New Jersey that you should know about. If your loved one has enough retirement funds to pay out-of-pocket, this would be your first choice. If not, however, there are some other ways you could pay for it.
Medicaid: While New Jersey no longer participates in a Medicaid waiver program for long-term care services, they do offer MLTSS: This is a program where the state pays a fixed amount to companies that manage the needs of Medicaid recipients. Your loved one, provided they meet the criteria for Medicaid, would enroll with a managed care organization or a Program of All-Inclusive Care for the Elderly (PACE).
Congregate Housing Services Program (CHSP): This is similar to assisted living, but everyone who lives in these homes has their fees subsidized by the state. They do not have all of the same regulations or requirements as assisted living facilities, so it's important to find out exactly what is included.
Reverse Mortgages: This is a program for those who aren't selling their houses. Your loved one might be able to take the equity out of his or her home and use that to pay for the assisted living facility. When the home is sold later, those proceeds will go first toward paying off the reverse mortgage loan.
Long-Term Care Insurance: Long-term care insurance is a type of insurance that can be purchased earlier in life to cover assisted living care later in life. Coverage varies depending on the plan chosen. In New Jersey, any pre-existing condition limitations must be clearly labeled as a "pre-existing condition limitation" within the policy. Also, a policy cannot be canceled, not renewed, or terminated due to your loved one's age or poor health.
Aid and Attendance: If your loved one (or his or her spouse) is a disabled war veteran, they might be eligible for Aid and Attendance, a program designed to pay for assisted living or nursing home care. You can contact your local Veterans Service Office to apply. Be advised that the application process is lengthy and that there are criteria that must be met.
The facility that you are working with will be able to help you evaluate your choices when it comes to paying for care.
Standard amenities
Assisted living residents in New Jerseyhavea private bedroom and bathroom, as well as a kitchenette and a lock on the door. Meals are included and are served in a common area. Medical and supportive personal care staff are available at all times.
Transportation and some leisure or recreational opportunities are available, as well. Other services (housekeeping, laundry, and so on) are offered by some facilities, sometimes at an additional cost.
If your loved one has Alzheimer's disease or some other form of dementia, this can be included in some assisted living facilities in New Jersey. As the disease progresses, your relative may need Alzheimer's care in a skilled nursing facility or some other type of care program to address memory care needs.
Additional resources
New Jersey has nearly 100 hospitals, so chances are good that there will be one close to the assisted living facility that you choose for your loved one. This is important in case your relative gets sick or injured and needs urgent medical care.
Many people choose a senior housing community nearby to their loved one's current medical doctor. If this is not possible, you'll want to be sure that there are doctors nearby who can see your elderly relative as a patient.
New Jersey has a Division of Aging Services that can help the elderly live out their lives with dignity and as much independence as possible. In 2010, there were 1.6 million people over the age of 60 living in the Garden State, so your loved one should have plenty of resources available for assistance during this time of life.
Choosing an assisted living provider
If you've decided that New Jersey is the right state for your loved one's senior housing, schedule appointments with the facilities you're interested in. Once you choose one, you'll need to go through the application and interview process.
Each person who wants to go into assisted living in New Jersey will have an interview with their preferred facility. During this process, the staff will also determine whether the person will be able to have their needs met at the facility. If there is a question about the mental health of the potential resident, an additional screening will be done and appropriate care will be sought, if possible.
If a facility can't meet a potential resident's needs, you can request, in writing, an explanation. They will need to comply within 15 days with their reasons for not accepting your loved one.
It's possible that your loved one will be placed on a waiting list. When you call facilities to schedule appointments to look at them, ask whether they have anyone on a waiting list. If they do, it is prudent to put your loved one on the list. If it turns out that it's not the right place for your relative, you can always take them off of the list.
Regulations and oversight in New Jersey
Each state has its own way of regulating assisted living facilities. In New Jersey, this is handled by the Department of Health. This entity oversees licensing procedures, administration, resident assessment and care policies, dining services, housekeeping, and much more. New Jersey also makes public records surrounding assisted living care and other types of long-term care very accessible. You can search for the details on long-term facilities at the Department of Health website.
You might find these resources helpful as you make a decision regarding assisted living care for your loved one:
New Jersey Department of Health