Independent Living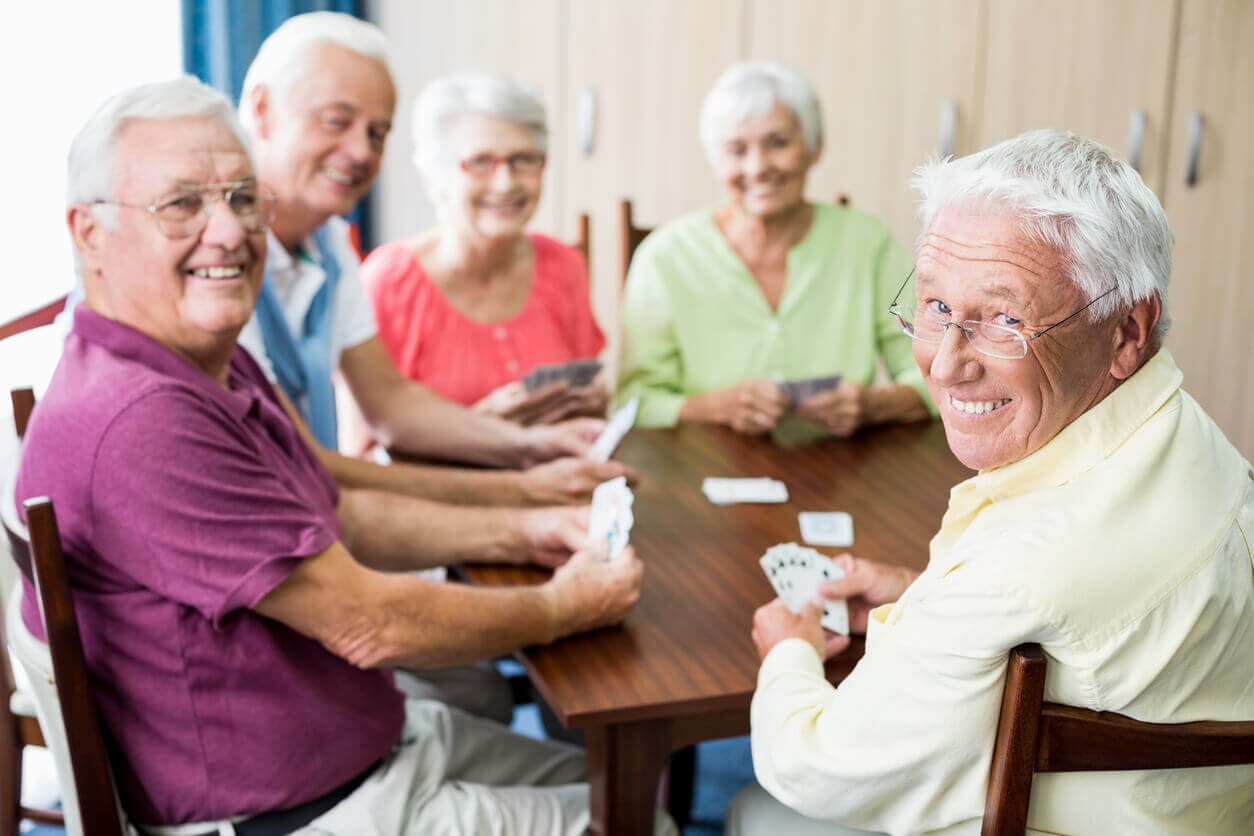 Senior independent living communities are full-service accommodations for elderly individuals who want to live on their own with minimal upkeep. Although these facilities are marketed toward seniors who are healthy and mobile enough to be independent, they're also designed to simplify life for active adults by providing optional services like meals, transportation, housework, exercise classes, and social events. Independent living accommodations can come in many forms, though small studios and one-bedroom apartments are the most common.
Independent living communities are also sometimes called:
Independent living senior apartments
Active adult community
Senior community
Retirement villages
Retirement communities
Congregate care
55+ communities
62+ communities
Life at a retirement community
Independent living is geared toward seniors, 55 years of age and older. As mentioned, these communities afford seniors the option to continue living an independent life, while also offering services — like home care and cooking — to make that life easier on the elderly.
A senior who requires long-term care is not ineligible to live in an independent living community; however, the onus is on his or her family to ensure that he receives this additional assistance. Unless specified, the community does not provide for resident care in its rental costs. If the senior is unable to live alone and does not want the responsibility of finding a personal caretaker, assisted living or nursing home care is another viable option.
Independent living is ideal for seniors who want the companionship of their peers and are physically and mentally strong enough to cope on their own. For those who are motivated to stay active and wish to do so in a secure environment, independent living communities are the setting in which to live a full life.
In order to determine whether you or your loved one would thrive in an independent living community, ask the following questions:
Are you healthy or do you need significant health care assistance?
Are you capable of managing your own health, including making doctor appointments and taking medications?
Is it important for you to have services and amenities readily available?
Are you looking for added security?
Are you active? Would you like to participate in social events with other seniors?
What is your budget? Are the costs of independent living accommodation affordable to you?
If your answers to these questions are positive, then independent living may be the right choice. However, if you or your loved one has health issues and requires assistance, a nursing home or an assisted living facility – both of which offer emergency services and healthcare access – might be a better fit.
Eligibility requirements
Eligibility requirements for independent living vary, depending on the community.
Broad requirements include age restrictions: most independent living communities require that seniors be over 55 years old, while others start at 62 years.
Another eligibility requirement to be considered is whether or not you or your loved one qualifies for low-income housing. The eligibility requirements for low-income housing involve not exceeding the income and assets caps set by the state. Every state has specific state regulations to qualify for low-income housing.
Types of facilities
There is a broad range of independent living facilities, including independent living senior apartments, retirement communities, low-income housing, senior co-housing, and continuing care retirement communities.
Independent living senior apartments
Independent living senior apartments are also known as:
Senior Housing
Senior Living Facilities
Senior Living Communities
Independent Living Facilities
Independent Living Communities
On the whole, independent living senior apartments provide one of the more comprehensive services for seniors. The facility often accommodates other care options above and beyond independent living, including assisted living, nursing home, and Alzheimer's care. A broader and more exhaustive range of services is at the disposal of all seniors, more so than any other independent living accommodation type.
Services include everything from transport, homecare, and dining to in-house emergency systems, such as pull-cords in each room of the apartment for use in the event of an emergency. If assistance is needed, seniors can use the device, and staff will often be available 24/7 to respond. Additionally, you'll find security and safety is a priority at independent living senior apartments.
You'll also find a broader range of prices (see: pricing), from relatively inexpensive facilities to those that are more high-end. High-end facilities will have extensive amenities, like salons, libraries, computer labs, gardens, and fitness centers.
The difference between independent living senior apartments and assisted living is that any personal or medical care must be outsourced by those seniors who choose the independent living option; the rent does not cover extra care. If a senior prefers their independence, but also requires personal care, they might hire a private-duty caregiver to retain their independent living status.
Independent living senior apartments often have strict age requirements of 55 or 62 years, minimum. Independent living senior apartments are privately owned and operated and, therefore, are able to set these eligibility requirements.
In summary, this type of independent living facility affords seniors:
Independence
A maintenance-free lifestyle
A child-free environment
A community of peers
An active calendar of social events
Security and access to emergency services
A comprehensive list of services and amenities, including meals and transport
Retirement communities
Retirement communities are also described as:
Age-restricted Communities
55+ or 62+ Communities
Retirement communities are similar to independent living senior apartments. The difference is they provide a more basic set of services and are geared more toward seniors who simply prefer to live in a community of peers.
As one of the more independent options in this category, seniors who choose to live in a retirement community are more often able-bodied and active retirees. They socialize, cook their own meals, and do their own cleaning. The services provided in retirement communities include grounds maintenance and social event calendars, the latter of which is often organized by the residents, themselves.
In most retirement communities, residents own their own home. Those who rent often do so as part of a co-op, or they rent straight from the individual property owner.
In summary, this type of independent living facility affords seniors:
Independence
A community of peers
An active calendar of social events
Security
Basic services, including grounds maintenance
Low-income housing
Low-income housing is also described as:
Supportive
Affordable
Subsidized
Government Subsidized
This type of housing offers similar services to independent living senior apartments and senior communities at below-market rates. These low rates are often due to subsidized rent at the care of charities or the U.S. Department of Housing and Urban Development (HUD). The Section 202 program, Supportive Housing for the Elderly, permits the government to subsidize rent payments. Those independent living facility units that are federally subsidized only accommodate "low income" or "very low income" seniors, who, if eligible, pay 30 percent or less of their monthly income on rent.
Seniors may also be allotted Section 8 rent subsidies, which max out at $2,000 per month. Only select independent living communities accept these housing vouchers. On the private market, property managers can refuse tenants who use Section 8 funds.
As mentioned in the eligibility section of this guide, seniors must meet certain income qualifications required by the state to qualify for low-income housing, which include caps on income and assets.
Working together with the USDA's Rural Housing Service and HUD, nonprofit groups own and operate low-income housing facilities for seniors. Housing options are limited in some areas of the country, however, and waiting times for available units may be as long as twelve months.
Other available alternatives that enable residents to spend less than 30 percent of their income on rent are public housing units, which you can find through the region's Public Housing Authority (PHA). Public housing is any rented unit in a property owned by the federal government. These federal housing programs are not designed specifically for seniors, but they're available to them.
You can also look at The HOME Investment Partnership Program, which is managed through HUD and also offers rental assistance for people of all ages.
The connotations that accompany "low-income" housing do not apply to senior housing. Properties are designed for senior living, are often located in safe environments and good neighborhoods, and are properly managed.
In summary, this type of independent living facility affords seniors:
Independence
Low-income eligibility
A community of peers
Basic amenities
Senior co-housing
Senior co-housing is a newer type of independent living community.
These communities are cohousing establishments with private households in which the seniors, themselves, maintain common properties, like shared grounds or a common house, which is often used to host guests, socialize, or dine together. The homes and walkways are designed for long-term living and are often retrofitted specifically for senior cohousing communities. Residents also create a social schedule for the community and discuss community needs.
Various cohousing organizations and companies – like housing cooperatives, condo associations, and homeowner associations – provide senior cohousing and, in some cases, friends who are seniors might choose to move into a senior cohousing community together.
Senior cohousing is also referred to sometimes, confusingly, as adult foster care. Elderly foster care may refer to a related caregiver taking care of elderly individuals in their home, but it could also refer to a small cohousing community-based organization.
Apart from the socialization senior cohousing affords its tenants, the cheaper costs of cohousing are an added benefit. Groceries bought in bulk, energy-saving measures, and shared resources all cut down on the costs of living.
In summary, this type of independent living facility affords seniors:
Independence
Ability to cut costs
An active calendar of social events
Security
Basic amenities
Community involvement in decision-making
Continuing care retirement communities (CCRC)
Continuing care retirement communities, in terms of services offered, are like independent living senior apartments in that they offer different categories of senior care, including independent senior living, assisted living, skilled nursing, and memory care. The difference is that these changing needs are covered through up-front payments made to the property. If you can afford it, securing a position at a CCRC may provide the greatest peace of mind as you can ensure no matter what care you need, you will be able to remain the same place and not have to move.
The entrance fee is often pricey – sometimes hundreds of thousands of dollars – allowing coverage for special care and end-of-life needs. Standard housing payments and homeowner association fees are also paid. Any excess funds after a senior passes away are given to his or her specified heir.
The benefit of continuing care retirement communities is the ability to age in place. When a senior is no longer able to live independently, he can remain in the community under special care, which is covered by the entrance fee.
Benevolence rates, or other offerings by a non-profit organization affiliated with specific continuing care retirement communities, may be available to seniors who have financial need.
In summary, this type of independent living facility affords seniors:
Independence
A maintenance-free lifestyle
A child-free environment
A community of peers
An active calendar of social events
Security and access to emergency services
A more comprehensive list of services and amenities, including meals and transport
Ability to "age in place"
Full coverage as needs increase
Independent living regulations
Senior housing regulatory sites issue report cards for independent living facilities, which include any violations or citations. NHC was launched in 2008 by Centers for Medicare and Medicaid Services. The agency issues ratings on a five-star scale according to the quality of care at CMS-certified senior living facilities, including nursing homes and facilities that offer independent living options. Federal regulations from the 1987 Nursing Home Reform Act apply to those independent living facilities which receive funds from Medicare or Medicaid.
However, if the independent living facility you're considering isn't funded by Medicare, NHC does not evaluate the facility. For alternative methods of evaluation, you may search online for reviews, which are listed on third-party sites uninvolved in inspections, or you can contact state or federal agencies to inquire about senior housing regulations.
Following inspections, states issue licenses to independent living facilities. Inspections often occur semiannually or annually and are managed by each state's department of health or the department of social services – and sometimes both.
Staff, relatives, and residents are all surveyed by inspection teams, and the services are used to improve quality and identify compliance issues. Teams also observe the day-to-day at the facilities and assess facility records. Public health officials, nurses, social workers, and sanitarians form the inspection teams.
Senior living facilities provide essential services, such as daily living activities, resident assessments, housekeeping, and meals. The states regulate these services. Additional services – like medical appointments and money management – may also be regulated by the state.
However, some senior housing communities that offer minimal services do not require states licensing and may not be regulated.
Again, licensing requirements and regulations regarding the operation of independent living facilities vary by state. To have an accurate picture, you must research the regulations in your jurisdiction.
Provided services
Independent living communities provide residents with a number of convenient services and additional amenities. Apart from an active social calendar, residents of an independent living facility may expect the following:
All-inclusive rent, including utilities (frequently excluding phone and cable, if expanded)
Community dining of 1-3 meals a day
Security
Ground maintenance
Housekeeping
Laundry
Emergency service
The services provided will depend upon which type of independent living community you've chosen. Please, see more details about specific services offered under "What types of independent living communities are available?"
When care needs increase
While independent living facilities are ideal for those who are independently mobile and can care for themselves on their own, when care needs increase, the type of community you choose makes all the difference.
Independent living senior apartments, low-income housing (if based in a continuing care environment), and continuing care retirement communities all provide a broader spectrum of care, allowing residents to age in place. From assisted living to dementia units, these three independent living communities are able to fulfill resident needs should the resident become dependent on regular care.
Though retirement communities, senior cohousing, and some low-income housing facilities do not have the adequate means to assist with increased care, residents of these types of independent living communities always have the option to outsource their needs to a skilled nurse or other caretakers. In these type of facilities, making increased care arrangements is always the resident's responsibility.
Independent living costs
Independent living communities can start at anywhere from below $1,000 per month for low-income housing to an entrance fee spanning $100,000 to $1 million at high-end continuing care retirement communities.
On average, however, retirement communities and independent living senior apartments middling ranges are from $1,500 to $6,600 per month. This rate depends on a variety of factors, including location, accommodation type and size, and the amenities provided at the facility.
The pricing of these senior communities may also depend upon who manages the facility, be they a nonprofit organization, the private sector, a government agency, or the seniors, themselves.
Costs are often relative to the region's apartment home pricing, and common services, utilities, and taxes may be shared costs that run from $1,000 to $2,000 per month. Housekeeping and additional services may also cost extra.
The independent living community sometimes requires a non-refundable entrance fee, community fee, or second person fee, as well. The last is quite common if transportation and meals are offered by the property.
These costs may come under the umbrella of association fees, which cover extracurricular activities, maintenance, and additional services or amenities. Many communities charge association fees monthly, quarterly, or annually. This may also be a one-time fee.
Paying for independent living
Most independent living communities offer options to own or rent housing or live in cohousing. In these cases, many communities accept private pay only. However, some independent living communities (particularly low-income housing) are funded by the U.S. government via Section 202.
Residents are required to use their personal income to pay. Insurance and Medicaid cannot be used for independent living costs, as these are more commonly used to nursing home care and sometimes home care and assisted living. Being as such, seniors and their families often do one or more of the following:
Use savings, Social Security, investment retirement accounts, or pension payments
Annuity payments
Apply for a line of credit or a loan
If the resident is eligible for low-income housing, their rent can be government subsidized. For a senior to qualify for low-income housing through HUD's Section 202: Supportive Housing for the Elderly program, they must meet the eligibility requirements. Qualifying for Section 202 allows seniors subsidies so that they pay 30 percent of their income at most on rent.
As mentioned in the section on low-income housing, the U.S. Department of Housing and Urban Development (HUD) provides eligible seniors rental assistance through public housing, privately-owned subsidized housing, section 8, and HUD Resource Locator.
Choosing a facility
Selecting the right independent living community for you or your loved one largely depends on budget, preferences, ideal location, and needs. With so many options available, this may be a difficult decision for seniors and their families to make. The following tips will help simplify the process:
1) Decide the relevant level of care
Choose which level of care you or your loved one will require, in order to narrow down the facility type.
Independent living senior apartments, continuing care retirement communities, and some low-income housing options commonly offer a wider range of care within the facility for you or your loved one to age in place. Retirement communities, senior cohousing, and low-income housing often only offer independent living, which requires you to outsource any additional care.
If you or your loved one foresee increased care in your future, you might consider the former options. They may start in lower levels of care and, as their care needs exceed the capabilities of the facility they are in, they may have to transfer to a more intensive care setting.
2) Make a list
As you look at the independent living communities that meet your preferred location and budget, draw up a list of your favored options. You can then compare the costs, amenities, and other pros/cons of various properties on your list.
3) Check reviews and regulations
Quality and safety are important to the selection process. As mentioned in the section regarding regulations, you can request information from your local Area Agency on Aging or search senior housing regulatory sites, which issue report cards for independent living facilities.
Also, check the Better Business Bureau to see if any reviews register on the facility in question. Search for additional references online or ask the facility for them. Search for any financial records available and also check whether or not the independent living facility is licensed and how long it's been in operation. All of this will help verify whether not the facility is of quality standard.
4) Contact the facility
If you have any questions or concerns about the independent living community, contact the facility's manager for more information.
Consider asking the following questions before you schedule a visit:
Are new residents currently being accepted? Do you have a waitlist, and how long is the wait?
What services/amenities are offered by your facility?
What services are included in the base fee?
Are there additional fees for optional services? What are they?
What payment types are accepted?
Do you offer assistance during the transition?
The info offered will narrow down your selection. When you're satisfied, set up a time to visit the facility.
5) Visit the independent living community
Once you've finished information-gathering, it will be time for a site visit. Walk around the facility, check out the housing units available, and ensure that the facility is secure, clean, and well maintained. During your visit, speak with residents, the executive director of the facility, caregivers, managers, and other staff. If you and your loved ones feel welcome there, this is a good sign.
6) Make your decision
Now, it's time to make your decision.
After narrowing down your selection, decide which independent living community best meets your budget, your preferences, your ideal location, and your needs.
Available amenities
Extra amenities offered by independent living communities include:
Transportation to appointments, shopping centers, or social outings
Laundry and housekeeping services
Security staff
Concierge services
Media rooms
Healthcare centers
Fitness centers
Walk-in closets
Swimming pools
Golf courses
Restaurants and dining halls
Private rental halls
Barber shops and salons
The extra amenities offered by independent living communities may help you choose which facility is right for you or your loved one.
Questions to ask on a tour
The following questions will assist you in making an informed decision when selecting an independent living community:
Request a brochure and floor plan
On average, how old are residents? Is there a minimum age requirement?
What is the average sq ft of the apartment?
What are the monthly rent and annual fees? What do they cover? Can additional charges be expected?
What type of units are available? Are there handicap-equipped units? Is there storage space?
What activities are offered? What interests do residents hold? Is there wider community engagement? What is the social calendar like?
What types of emergency and security services are available?
What additional services are offered (housekeeping, ground maintenance, etc.)?
Does the community have a no-child policy? What are your visitation policies? Is there a visitor curfew?
Does the community allow pets?
Are meals provided? What kind? What is the meal schedule?
Is transportation available by the facility? How often and to where?
What types of units are available?
Which care levels are available onsite?
What is the neighborhood like? What is the community like?
Is covered parking available? Is there access to public transportation?
Is a homeowners' association involved with the facility? If so, do they have rules for upkeep?
What background checks and special training does your facility require for staff members?
Does the independent living community have a medical unit or clinic on the property? What health services are provided?
May I have a copy of the following forms: the lease, contract, weekly activities/events schedule, weekly meals schedule, recent state regulatory inspections, resident/staff survey results, and the Resident Bill of Rights?
Independent living FAQs
1. How much does independent living cost?
From $1,500 to $6,600 per month. If it is part of a CCRC, it may cost hundreds of thousands for an initial move in fee.
2. What types of independent living communities are there?
Independent living senior apartments, retirement communities, low-income housing, senior cohousing, and continuing care retirement communities
3. What basic services are provided?
Ground maintenance, housekeeping, laundry, dining, security, and emergency services are offered at most independent living facilities.
4. If I need additional assistance, can I live in an independent living community?
Yes, you can. However, you are responsible for finding a personal caretaker.
5. Is there financial assistance?
Seniors who qualify for low-income housing can do so through HUD's Section 202: Supportive Housing for the Elderly program.
Proximity of care is very important when considering options
Research care options that are nearby when thinking about the next step for your loved ones.
Expert Reviewed
Leona J. Werezak RN, BSN, MN is a registered nurse and adjunct nursing professor. She has 24 years experience working in a variety of healthcare settings including such remote locations as the Arctic Circle. Her research in early stage dementia was published in the Canadian Journal of Nursing Research and re-published in their 40th anniversary issue which showcased exceptional research published since the journal began. Her work in dementia care has also been published in the Journal of Gerontological Nursing. She currently teaches surgical nursing care on a thoracic/vascular unit to baccalaureate nursing students. Her clinical work with nursing students involves extensive work with older adults who have multiple chronic health conditions.