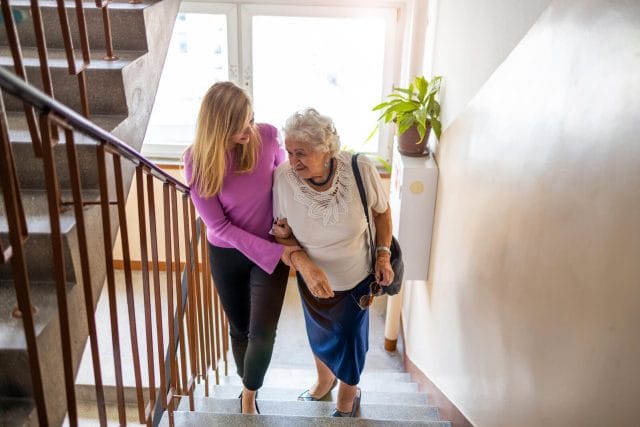 There are several benefits to intergenerational households, and if you are looking into this type of arrangement, this article can serve as your guide.
What is multi-generational living? It means that there are multiple generations living in one household. In this context, it's generally referring to an older adult moving in with their adult child and vice versa.
Caring for a loved one when they want to age in place is a rewarding feeling; however, many challenges and barriers can come up. Living with the person can add a different dynamic to your relationship. Here are some tips to help you adjust and enjoy this transition.
Define your role as a person and relative
In this step, you'll discuss with your loved one and other family members what your role is. When living with someone and helping them with specific tasks, it's important first to share your role as a relative.
You are a person first, and your role as a caregiver comes secondary. For example, let's say your loved one does their laundry independently, and you do your own. If you think your loved one needs your help, ask first rather than assume.
Defining roles in the home helps everyone set firm boundaries while ensuring that your loved one understands your role in their life.
Define your role as a caregiver
When living with a parent, it's essential to not only define your limits but to share those with your loved one and other people involved.
You may find it helpful to draw up a caregiver agreement with an attorney to help codify and ensure that you and all involved parties know what you will and won't do.
Your other family members may not play as active of a role in the life of your loved one, but that doesn't mean they should take advantage of the help you're providing, either.

For example, you might be comfortable helping your loved one with bathing, dressing, and grooming, but medication injections may be a boundary you can't cross. There's no harm or shame in that, but it's important to outline that at the beginning of your adjustment period for transparency and honesty.
This step will also help you and the rest of your care team determine if your loved one needs other professional services. Other services could include home care, home health care, a geriatric care manager, fiduciaries, and more.
Confront past trauma
There is no perfect relationship with one's parents or people you care for, but it's important when living with someone that you can find common ground and be civil.
If your loved one is willing and able to have the conversation, talk to them about your past and how you've dealt with and managed the past. If either party harbors resentment or guilt, many exercises and strategies exist to address and resolve conflict.
If your loved one can't have this type of conversation with you, talk to someone in your family or a trusted friend about how to move forward. They may be able to share a similar experience or share techniques that may be helpful.
Whether or not you've had an adverse history with your loved one, the next step is vital to help you manage day-to-day conflict.
Prioritize self-care while living with your parent
Self-care is an important activity that many family caregivers neglect. You might spend significant time caring for someone else, which can pave the way for ignoring your health needs.
Make sure to build time for yourself within the time you spend caring for your loved one. If you spend 20 hours a week caring for your loved one, allocate 21 hours a week, using one of those hours to attend to yourself.
Self-care looks different for everyone, but it could include
Reading a book.
Taking a long walk.
Going for a jog or drive.
Getting a manicure or pedicure.
Taking a nap.
Watching a comfort show or movie.
Whatever you do, ensure it is disconnected from your duties with your loved one and doesn't involve work.
Define your loved one's strengths
The common narrative is that aging is full of decline; however, that's not the case. Decline does happen, but it varies significantly.
Older adults value autonomy and independence. When navigating the nuances of living together, make sure that you talk with your loved one about what they can do. If they can do something, let them do it.
If there are tasks they have challenges with, let them do what they can and fill in where needed.
Taking over a task completely may feel frustrating to your loved one. Knowing what they want and how they want things done can set you up for success.
Enjoy multigenerational living
Living with your loved one as they age can be a great way to reconnect or improve your relationship. Taking these steps can help you establish boundaries while respecting your loved one's autonomy.
According to Generations United, 79% of survey respondents shared an improved relationship with their loved ones. Multigenerational living also made it possible for people to maintain school or work.
Regardless of the circumstances that brought you to explore multigenerational living, you and your loved one can create ways to help one another, have a positive relationship, and thrive in your own lives.