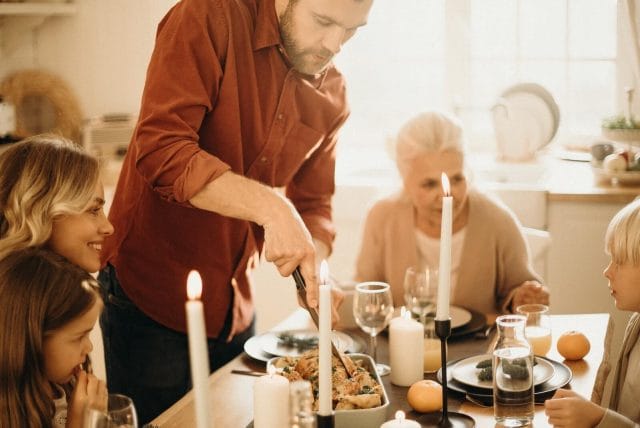 The holiday season is a time when people get together for joyous occasions, but it can also be challenging, particularly when a loved one is living with dementia. Families may experience a feeling of loss for the way things used to be. And, individuals with dementia may feel overstimulated, confused, or overwhelmed by large gatherings. But, there are many ways that families can still get together to enjoy holiday occasions and help their loved ones with dementia feel at peace and included. We've put together a list of steps to take and holiday activities to do with people with dementia so all family members can have an enjoyable time during the holidays.
Adjust your expectations
Friends and relatives arriving for the holidays may not have seen your loved one in a long time. Here are some ways that primary caregivers can help adjust relatives' expectations when visiting a person with dementia:
Let family members know about the loved one's present condition. For example, a person with dementia may recognize a familiar face but not remember the name. If the person feels comforted with being reminded of a family member's name, relatives may consider doing so if the person has trouble remembering.
Prepare relatives and friends by telling them that the person may need to leave an event early if the loved one feels tired or agitated.
Inform relatives that long-distance travel or complex activities may need to be adjusted or canceled, and these changes may also come at the last minute.
Consider familiar gathering places. If you are meeting in person, consider familiar locations to avoid confusion for your loved one. If you are meeting online, use a platform that automatically shows attendees' names. To limit the risk of COVID-19 infection, consider meeting outside if possible.
Prepare for visitors
Consider focusing on smaller events, as having a lot of people around at the same time may make your loved one restless or agitated. If it's possible to celebrate over several days with smaller groups, this approach to visiting with family may help your loved one feel less overwhelmed.
If smaller events are not possible, preparing a quiet and calm space for your loved one is essential. The Alzheimer's Association suggests that if you want to help someone with dementia control their emotions and stay calm, you can try to create a soothing atmosphere, remove potential sources of stress, and pay close attention to the individual's level of comfort. While your family continues their holiday activities, a midday nap or snack in a separate, soothing environment can help rejuvenate your loved one.
You might also try to keep your loved one's daily schedule as consistent as possible. Consistency can help the person feel familiarity throughout the days of events.
Consider the timing of your events. Noise and activities in the late hours of the day may affect your loved one's sleep schedule. Instead of a dinner, you might consider holding a holiday brunch or lunch to help support consistency in daytime activities and regular bedtime routines.
Planning a trip for holiday celebrations
Some individuals with dementia may still find it reasonable to take a holiday trip. However, it will require some preparation. If your loved one tends to wander, using GPS trackers and medical alert bracelets could be beneficial. In preparation for an unexpected crisis, you should also gather important documents, including your loved one's medical history, current medications, food allergies, and emergency contacts. Make sure to have at least one additional family member or caregiver with you if your trip will take more than four hours.
Be creative with holiday activities
Holiday activities with your loved one can still be enjoyable, but you may need to adjust them to accommodate your loved one's needs and skills. For example, because your family member with dementia may be more attentive and fresh earlier in the day, you may need to move nighttime events to the morning. Event locations may need to be kept closer to home.
You can also think about making your holidays at home easier. For example, instead of making a lot of decorations, you could choose a few key pieces. Here are some simple holiday activities that you and your loved one with dementia may enjoy together as a family:
Playing your loved ones' favorite holiday music.
Arts and crafts.
Decorating holiday cookies or making gingerbread houses.
Watching classic holiday movies together.
Taking a walk together.
Participating in local holiday celebrations.
Involve loved ones with dementia in celebrations
As much as you can, include your loved one with dementia in the festivities. Making paper chains, baking cookies, and working on a puzzle are simple, repetitive activities that can bring the family together without causing unnecessary stress or irritation to your loved one. 
Activities may be more limited if your loved one's illness is advanced. You may be able to have them sit with you in the kitchen to watch you prepare meals, and you can chat or listen to quiet and familiar music that they like. You may also have them sit with family members or grandchildren to watch a favorite holiday movie.
Adapt your gift-giving
Encourage family members to adapt the gifts they give so they are helpful to the person with dementia. You can provide different ideas to your family members of some useful and enjoyable ideas, such as:
Identification wristbands.
Comfortable clothes.
CDs or playlists of their favorite music.
Audio recordings of family members' voices.
Family photos with names.
Memberships to magazines or TV services.
Cherish the moments with your loved ones
Research and development in the pharmaceutical industry have come a long way, yet conditions like dementia still have no cure. The best thing families can do for their loved ones living with dementia is to create environments suitable to their current condition and allow them to stay connected to their family members. Taking care of them in this way provides the best opportunities for them, their extended family, and the primary caregivers to make joyful memories while being prepared to meet the loved one's moment-to-moment needs.