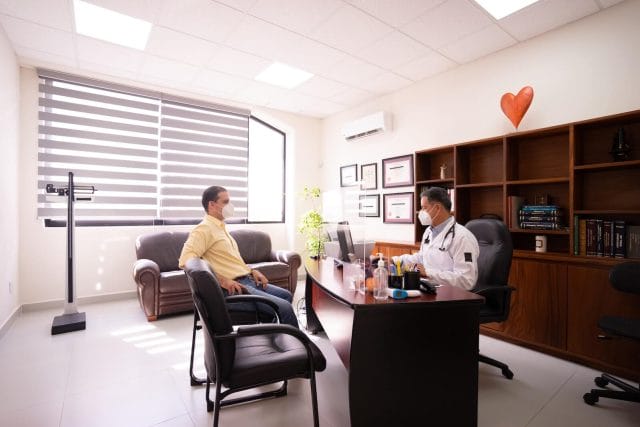 Regular health care is crucial for managing senior well-being. Here, we share doctor visit tips for seniors to make each appointment the most successful possible.
A visit with a doctor can leave older adults feeling overwhelmed or disappointed. It can seem providers spend relatively little time with their older adult patients. Additionally, the Covid-19 pandemic stood in the way of older adults getting into the doctor's office, which interrupted health care for many people. Now that there are proven virus safeguards in place, getting back to see the doctor is as important as ever. 
Here are strategies seniors can use to ensure they get the most out of every appointment and receive the healthcare necessary for optimal wellness. 
Importance of a support person
The most important step is to identify a support person to help prepare for and attend provider visits. This person may be a spouse, adult child, or close friend. There are numerous advantages.
A second set of ears
When you bring another person to appointments, they can help identify gaps in information and help to remember key takeaways. A support person can help remember important facts to report to the provider and ask all the relevant questions.
Truth-teller
Sometimes seniors can forget, downplay, or omit information about the seriousness of their current medical status or physical abilities. Doctors, in turn, will not have a full picture and cannot provide optimal care in this case. Telling the full story can result in better care.
Note-taking
One of the more important roles of the support person is taking notes during each visit. This working document is a perfect way to organize an older adult's personal medical story, not unlike a patient chart. As a result, older adults can take charge of their medical care as health care consumers. Those attending appointments with the patient can take notes on a computer tablet or a paper notebook. Just ensure the senior can access the computer tablet if one is used. Otherwise, a paper notebook is better for all involved.
Emotional and physical support system
A support person can advocate if the senior's needs are not being met. Having someone in their corner may improve outcomes.
Even if the older adult does not require help physically getting to and from the doctor's office, having a support person can help calm nerves or be there if the doctor has disheartening news.
If concerned family members live far away, there is another way to receive the support needed. Patient advocates, often seasoned nurses, can be found in many communities.
Tip: Choose your support wisely. Make sure this person is of sound mind and knows the elder well enough to provide genuine insight and support. Here is a list of important strategies to collaborate with all involved. 
What a senior can do before a doctor visit
The first tip for a successful visit to the doctor is to call ahead and ask the office for the release of the information form to be ready upon arrival. This document allows authorization of the support person and selects family members to access the senior's personal health information.
The senior and their support person can prepare the notebook/computer tablet with:
An updated medication list including the names of all drugs, supplements, and herbs you take. Include the strength of each medication and how often they are scheduled. Remember to make a note if refills are necessary.
A master list of all care providers and clinics. An average senior sees four health care providers at any given time. Always include complete contact information.
For example, this list may include specialists, like a cardiologist, endocrinologist, or urologist. Make sure to include any outpatient clinics, such as foot/pain/coumadin/diabetic clinics.
Any private homecare information, including physical or occupational therapy providers. 
A paper calendar or use the one provided on the computer tablet.
Questions, concerns, and any recent changes in condition. This includes, but is not limited to, mental health status and changes in physical abilities to do daily body grooming, cooking, or housework. For example, things like selling the family home or losing a loved one can directly affect mental and physical well-being. 
Bring copies of recent labs, imaging (X-ray/MRI, CT) results, eye/dental exams, and blood sugar records.
What to do during the visit
Remember that while the doctors are there to help you, you can also do several things to help ensure that you have the most accurate, informative, and productive visit. Here's a list of what you can do during the visit to make the most of it:
Arrive 15 minutes early if possible. This allows a brief rest before staff takes vital signs in the exam room. The results will be more accurate.
Have the support person write down all medical team members' names who assist each visit from start to end. This includes the provider's name as sometimes a nurse practitioner or physician's assistant working with the doctor performs the visit.
Provide copies of a list of your current medication and providers at each visit because patient office charts don't always get updated in a timely manner. 
Record vital sign results.
When you start talking with the doctor, report recent changes in conditions, concerns, and corresponding questions.
You'll also want to talk about changes in abilities at home. For example, report all falls, "near" falls, and the preceding symptoms. Alert the provider to new or worsening weaknesses or other symptoms, baggy clothes due to weight loss, or lapses in memory. Helpful medical equipment or a visiting home care nurse may be medically necessary and covered by Medicare. Don't deprive the provider of a detailed picture.
If the provider uses words or concepts you don't understand, have them explain in simpler terms until it makes sense. Health care professionals may forget that medical language is not universally known, causing information overload.
If new treatment options are suggested, ask about the risks and the benefits of moving forward and if other options are available. A second opinion may be helpful.
At the close of the visit, read all new orders, suggestions, and information aloud to the doctor to verify everyone has the correct understanding.
Ask when the provider would like to have a follow-up visit and make an appointment while you're in the office.
What to do after a doctor's visit
Before leaving the office, confirm the next visit at the front desk. Calling back later may create lapses in care if forgotten. Record the future visit on the calendar as soon as possible.
You can also ask for a printed visit summary if the provider doesn't have a digital patient portal.
Confirm all crucial paperwork, like medication prescriptions, lab orders, and specialist/clinic referral orders, are in your possession. Verify that the office will get all new orders sent to new providers that day if they do so digitally.  
If the doctor suggests following up or contacting a new specialist/clinic, call immediately upon returning home and write the appointment in the calendar. 
The bottom line
Being proactive with every health care encounter increases the probability of better senior health. Taking the steps above can empower older adults by eliminating frustration and disinformation. Being prepared is being proactive rather than reactive, and that goes a long way in preventing or delaying the possible declines associated with aging.