Supporting a loved one at end-of-life is an intimate, emotional time, and understanding your role is key.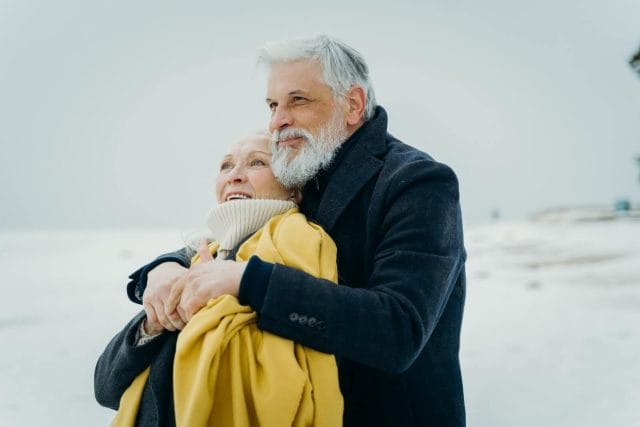 As a caregiver of an older adult, it is likely that at some point, a conversation around hospice and palliative care might arise. Understanding your role as a caregiver, if your loved one is receiving this care, is key to ensuring you and your loved one have the support you need.
Hospice and palliative care are two types of care used to support an individual at the end of their life. Both aim to decrease the symptoms of serious illnesses. Hospice and palliative services also provide support and education to the individual and their care providers. These services are generally received at the recommendation of the physicians when treatment options may not be available or would negatively impact the individual's quality of life.
As the caregiver, you will be involved in many aspects of your loved one's end-of-life care. You may be called on to assist with this process, from helping with logistics and communicating with health care providers to your loved one's daily personal care to providing emotional support. Here are some considerations for people caring for their loved ones and how to continue caring for themselves.
Your role as caregiver
In some cases, the caregiver may be the one to decide to accept hospice care. This can be a difficult decision for some, but it's important to have open and honest conversations with your loved one's care team about the impact of treatments on quality of life and your loved one's prognosis. At the same time, remember your loved one's lifelong values surrounding life and death.
Talk to your loved one about end-of-life care
Starting the conversation about end-of-life care largely depends on your loved one's awareness of their prognosis. People with late-stage dementia may be unable to converse about their end-of-life care and decisions. In these cases, it often falls to the caregiver to make end-of-life decisions by leaning on previous conversations and documentation from your loved one.
If your loved one can discuss their decisions, discuss their values to understand what they picture their last days to look like. Of course, this is a sensitive topic for most people, so be mindful of the setting of the conversation. Online tools such as The Conversation Project can guide you through this conversation.
Help with logistics
As someone is nearing the end of life, it's important to ensure they have papers in order. This includes documents like health care proxy, power of attorney, and advanced directives. Having these documents handy will help both you and your loved one in the event of an emergency. It may be difficult for your loved one to keep track of this information on their own, and in many cases, the caregiver needs this information handy.
In addition, the caregiver is frequently responsible for coordinating other care services, such as medical appointments, private in-home care, or residential care.
Assistance with physical care
Frequently, when someone receives hospice care, they need assistance with activities of daily living or personal care. In fact, needing assistance with daily living activities is required to receive hospice care and have it covered by Medicare. While hospice care does provide some assistance with personal care, it is often provided by family, friends, or private home care agencies.
Provide emotional support
Often, the caregiver provides emotional support and engagement to their loved one. This will look different for each family and individual but is a key part of end-of-life care. Your loved one receiving end-of-life care will experience various emotions and may express them in different ways.
You might think that you need to know all the right things to say to be an emotional support person for your loved one. Even small gestures or activities can go a long way. Some common ways to provide emotional support include
Play music they like or otherwise soothing music softly.
Include family pets or therapy animals if they enjoy animals and it is safe for their condition.
Look at photos together — old photo albums or pictures on a smartphone can be equally comforting.
Create a comfortable environment for them. Ask if they prefer dimmer lighting or opening the curtains during the day to let natural light in. Try to keep their main living area tidy. Keep an extra blanket handy so they can warm up when needed and remove it easily if they become too hot.
If they can still communicate, involve them by asking what they need or want to eat or drink.
Talk with them. This doesn't mean you need to keep the conversation going. The simple gesture of actively listening to their words can help make them feel seen and loved.
If they are comfortable with it, simply holding a person's hand can provide emotional support. Gentle and welcome physical touch can say just as much as a conversation.
The caregiver can be a gateway to others who can emotionally support your loved one. Consider talking with your loved one about involving your hospice team to arrange for a counselor to speak with them. Counselors and therapists often provide a third-party safe space for a person to express their thoughts. Just by talking in this environment, a person can feel lighter after releasing their thoughts aloud. If your loved one is spiritual or religious, you can also ask them if they'd like to visit with someone.
Continue to care for yourself
End-of-life is an emotional time for the whole family, not just the person receiving care. As the primary caregiver, it's important to understand what you can manage and make time and space to process your emotions and grief.
It's normal to experience a range of emotions when your loved one receives end-of-life care. Grief, anger, sadness, and even relief are common emotions. Acknowledging and accepting this range of emotions is key to caring for yourself and supporting your loved one.
If possible, delegating care tasks can increase the time you have to yourself. However, this is not always possible. If it isn't, think about small ways to build in your support. Listening to a favorite song or writing a brief journal entry are quick ways to increase your self-care and caregiving endurance.
Accepting hospice or palliative care services also frequently support caregivers through respite, education, and therapeutic services.
Most importantly, being available and flexible is key when supporting an older adult receiving hospice or palliative care. Supporting someone in their last days can be a deeply intimate role, but it can also take a toll on the caregiver. To provide quality care, setting aside time for self-care is necessary. Formal services like hospice and palliative care will be an important element of the care team for you and your loved one to have the needed support.