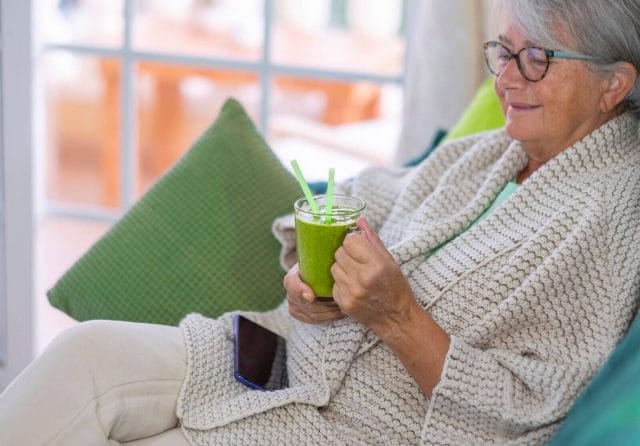 Nutritional needs change with age. For instance, our ability to digest food and absorb nutrients decreases over time, which can cause muscle decline and loss of body weight, strength, and mobility. Combine this with having less energy to prepare nutritious meals and a drop in appetite, and many older adults find it challenging to eat properly. One fast and easy way to boost necessary macro- and micronutrients is by adding high-protein and nutritional drinks to your daily menu. Here's what you can look for in nutritional drinks for seniors and how they can help you stay healthy and active as you age.
What to look for in nutritional drinks for seniors
When looking for the right supplemental drink, make sure to read the nutritional labels. Whether you choose a ready-to-drink product, a nutritional powder, or a homemade drink, here are some aspects to keep in mind:
Protein: Seniors tend to get less protein in their diets for various reasons. Improving dietary intake of protein can help maintain stronger muscles and bones. Based on a landmark study, it is now recommended that people older than 65 increase their protein intake to 1.0 to 1.2 grams per kilogram (0.45 to 0.54 grams per pound) of body weight. For example, a person weighing 150 pounds would require 68 to 82 grams of protein daily. Drinks and mixes high in protein can be a convenient method of increasing your protein. Note that individuals with kidney issues need to discuss increasing their protein intake with a doctor.
Vitamins and minerals: Some mix-in protein supplements lack essential vitamins and minerals, but many nutritional drinks for older adults come complete with these crucial nutrients. Check the label to see if the product has significant nutritional value.
Sugar levels: Note the product's amount of sugar and total carbohydrates per serving. Diabetics and those with prediabetic A1c lab findings need to steer clear of boosting their blood sugar to dangerous levels.
Calories per serving: While many older adults have difficulty maintaining weight, others may need to watch their total calorie intake. Ready-to-drink products are high in calories, which is good for some older adults, but not all.
Where to start when choosing nutritional drinks for seniors
With so many consumer choices, it can be overwhelming to decide which supplemental drink is optimal. Many ready-to-drink nutritional beverages and powders contain common allergens, like soy, dairy, or nuts. Make sure to read all ingredients carefully before consuming. Also, overconsumption of certain beverages can cause diarrhea and other GI upset and potential negative interactions with medications. Always consult your primary care provider before adding a nutritional drink or recipe to your diet.
Ready-to-drink products for seniors
Ready-to-drink products are convenient and easy ways to help you address your nutritional requirements. Boost and Ensure are the most popular brands, but you can see if generic store brands meet your dietary needs and tastes. Older individuals closely monitoring sugar intake can benefit from sugar-free bottled drinks like Glucerna or Boost Glucose Control.
Meal supplements and protein powders
Powdered nutritional drink mixes and protein powders can be convenient and cost-effective. Some mix easily into juice, water, or milk with a spoon or a blender. Carnation Breakfast Essentials is a popular meal replacement mix. Glucerna sells a powder for people with diabetes who want the ease of portable nutrition. Simple whey protein is another option.
Homemade smoothies and juices
Blending various fruits with a good protein source like milk, yogurt, or a protein powder is a healthy way to add more protein to your diet. Vegetables can provide an added nutritional punch; however, specialty blenders or juicers are required to extract their juices due to their high natural fiber content.
Below are a couple of homemade drink ideas to get you started.
Fruit smoothie
Pick one or more from each of the following:
Fresh or frozen fruits: Berries, pineapple, melon, avocado, banana, mango
Liquid: Milk, coconut water, oat milk, almond milk, soy milk, orange juice
Other ingredients: Yogurt, kefir, ice cubes, wheatgrass powder, a touch of sweetener like honey or stevia, vanilla extract, flax or chia seeds, quick oats
Add the protein or nutritional meal powder of your choice and blend until smooth.
Caramel coffee smoothie
This treat is packed with protein, fiber, and potassium.
1 cup (or more to desired consistency) milk of choice
1 medium banana (peeled and frozen)
1 Tablespoon instant coffee
1 Tablespoon quick oats
Caramel sauce
Blend the first four ingredients and pour into a glass. Top with a squeeze of caramel sauce to taste.
Beverages for stronger aging
Keeping your body healthy becomes more challenging with age. Certain factors prohibit the body's ability to process food, but complementing your diet with nutritional drinks can help you meet your nutritional needs. Providing your body with essential nutrients will improve your well-being, keeping you strong and healthy as you age. Be sure to speak with your primary care provider and research nutritional supplemental drink options before adding nutritional drinks to your diet.