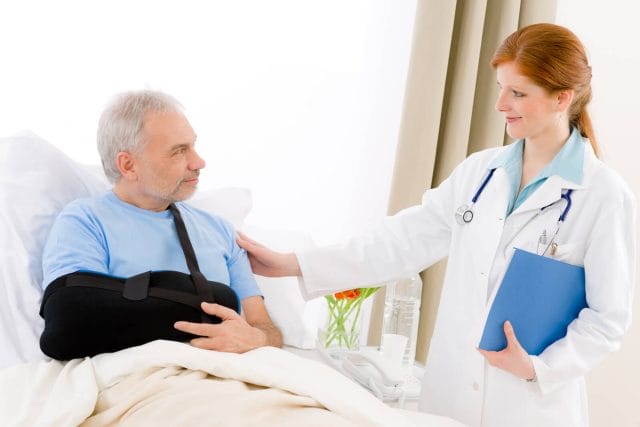 If your loved one qualifies for a skilled nursing facility, it means they have suffered an accident or serious illness. That alone is enough to cause significant stress for everyone involved. Transitioning to, getting settled, and participating in the therapies of skilled nursing is a huge adjustment for a patient. As their family member, you can take steps to support your loved one while they are recovering in a skilled nursing facility.
As a family, your support and involvement will help optimize the limited time your loved one will have at a skilled nursing facility before they return home. From dividing responsibilities and time among family members (if possible) to listening to your loved one's concerns with compassion and acting as their advocate, there are many ways you can help your family member's stay at a skilled nursing facility be a success.
How to give emotional support to someone in a skilled nursing facility
When a person goes to a skilled nursing facility, they have likely experienced a serious health event. While this event caused them stress, a hospital stay and a transfer to another facility for skilled nursing care are also stressors for your loved one. While at the facility, your loved one will need emotional support. Below are some tangible, specific steps to care for them emotionally.
Reassure and empower. Offer reassurance that you will involve your loved one in decisions and give them choices no matter the outcome. Always demonstrate respect and find opportunities for empowerment and control over their health care and life choices.
Listen to them. Ask them questions about the care or other concerns that they have. Keep a notebook and pen in their room to write them down. Listen and take those concerns seriously by offering to intervene and advocate for them.
Empathize, and take action if necessary. Their feelings of fear, anxiety, and depressed mood are valid, especially at a time of uncertainty like this. While some levels of these emotions are normal, if they interfere with your loved one's recovery, speak with the medical director about possible interventions.
Celebrate small wins. Reinforce progress regardless of how small it may seem. You can be a coach and motivator. For example, if your loved one is receiving physical therapy to recover from a bone fracture, discuss their daily progress about the therapy. If they walked further today than yesterday, celebrate this. Each step taken is a big win.
Spend time with them. If facility staff approves, offer simple activities together during free time, like walking outside together. They may be able to use a wheelchair to get outside if needed. You can watch movies or favorite TV shows together if the weather or their condition doesn't permit this.
Providing physical support to a loved one in a skilled nursing facility
When someone goes to skilled nursing, they miss their familiar environment and routines. You can't replicate home, but you can offer comfort in other ways.
Include comforts of home. Bring a few comfort items like a tablet (if your loved one uses one) to watch movies or shows or to listen to music. Is their favorite sport in season? See if you can access the games on a device so they can tune in. Or, you may be able to bring a throw blanket from home to liven up the room and make it more familiar.
Bring their personal clothing. Ensure your loved one has the clothes they like so they feel comfortable. For some older adults, being "dressed up" is important to their self-confidence. Just make sure you bring appropriate, safe shoes for physical therapy.
Attend community activities. Ask for the facility's activity calendar. Choose family-friendly activities you or other family members can attend and participate in together.
Take walks with them. Speak with the physical therapist about safe ways to go on walks with your loved one when they have downtime. If they have limited mobility, you may be able to use a wheelchair. Whether you can go to an outdoor area or a common room in the facility, leaving the room with them can help break up their day with a change of scenery.
Attend outside appointments if possible. If your loved one has an outside medical appointment while in skilled nursing, the facility will transport them to and from the appointment. If possible, attend any outside appointments to be well-informed about results.
Attend some physical therapy appointments. These appointments typically happen multiple days weekly and occur within the facility. Therapists appreciate teaching family members how to safely walk with someone or assist in and out of chairs and properly use walkers and wheelchairs.
Offer social support to your family member
Isolation and loneliness are common responses to being away from familiar friends and neighbors. There are ways to bridge this gap and minimize your loved one's loneliness in a skilled nursing facility.
Visit often. Facilities have visiting hours every day of the week, and they usually span times outside 9 a.m. to 5 p.m. work hours to accommodate family members' work schedules. Visiting allows you to observe care and listen to your loved one's concerns. Encourage other family members to visit, too.
Use tech to keep in touch. Have video calls with your loved one's grandchildren and other friends. These opportunities for connection will lift your loved one's spirits.
Arrange contact with their religious community if applicable. If your loved one has a significant religious or spiritual preference, coordinate visits or video contact with people from their spiritual community.
Update them about family and the world. Share any news or updates about family or outside events to help your loved one feel included.
Celebrate. Take note of special occasions during your loved one's stay at the facility. Celebrate birthdays, anniversaries, and holidays that happen during this time.
How to advocate for your loved one at a skilled nursing facility
Advocacy begins by staying informed about your loved one's needs and concerns while they are in skilled nursing. The power of advocacy can't be overstated in the care, communication, and experience that your loved one will have. Here are some tips about how you can successfully advocate for your family member:
Health care professionals closely abide by HIPAA privacy laws. You may need to speak with your loved one about adding you to the list of people the facility and care team can talk with about their health status and progress. Facility staff, doctors, or on-site social workers can help your family update the contact list with the necessary information.
Always take a respectful and mindful approach to addressing problems or asking questions when communicating with all caregivers, doctors, and professionals on your loved one's care team.
Stay informed about your loved one's condition, care plan, and any changes in their health status. Ask for updates about medication changes. Minor problems such as dislike of a particular aide or a long wait to get help can negatively affect someone's overall experience.
Ask to attend care plan meetings where all facility disciplines will discuss progress and adjustments to care. If you can't attend in person, request to be conferenced in via video.
Check in with the physical and occupational therapists about your loved one's progress. Most are happy to give updates to family members.
Meet with the discharge planner early to remain aware of possible discharge dates and options for post-rehabilitation care. Your loved one may need additional care when they return home, and you may need time to figure out how to pay for home care.
If you feel your loved one is discharged too early, you can appeal that decision.
A skilled nursing stay aims to support your loved one as they recover from an accident or illness. Many people don't realize how much effort is required to regain function — especially for older adults with multiple medical problems or cognitive impairment. Your support and advocacy are crucial to optimizing the time-limited specialized services in a skilled nursing facility.