Caring for an older adult loved one can be challenging, especially for those who have to work or care for their children. It can also be financially taxing, as the average family caregiver spends around $7,200 per year. When you couple this with the fact that the median American aged 35-45 has around $4,700 in savings, caregivers often take on financial hardship. Paying these expenses usually means giving up savings, taking on debt, or potentially quitting their job to take care of their loved ones full-time. But, you may be able to get paid to care for your parent.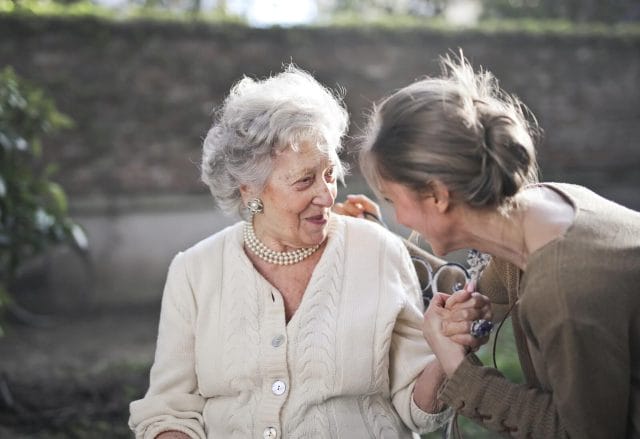 Ways to get paid to care for your parent
There may be programs that pay you to care for an older adult relative. While you may not qualify for every program, there are quite a few options. Below we've outlined some of the most common ways people get paid to care for their elder relatives.
Medicaid self-directed care
For those who qualify for Medicaid, all 50 states and the District of Columbia offer self-directed Medicaid services for long-term care. These self-directed care programs allow qualified recipients to manage their home-care needs instead of a third party. In some states, those who qualify for self-directed care can hire a family member to provide home care services.
It's important to remember that the program names and the signup processes vary from state to state. You should contact your state's Medicaid program to find out more information. Once you get in touch with a Medicaid representative, they will be able to tell you whether or not your state's program allows family members to be paid and, if so, how you can go about applying for this benefit.
Long-term care insurance
You may be in luck if your elder relative has long-term care insurance. Long-term care insurance helps cover the costs of health and personal care. But, not all of these insurance policies will pay a family member to care for their loved one.
Whether or not family members can get paid will vary from policy to policy, so it's best to reach out to your relative's insurance agent for information. They should be able to tell you whether or not family members can be paid for caring for a relative.
Veteran-directed care
The Department of Veterans Affairs offers a self-directed care plan in 42 states, the District of Columbia, and Puerto Rico. This plan is for veterans of any age who require care that a nursing facility would typically provide but elect to live at home or with a loved one. To learn more about this program, contact your local VA medical center.
Employer-sponsored paid leave
Nowadays, more employers know that employees may have to care for their aging relatives. That's why more and more employers are beginning to offer paid leave programs for family care. While this is not something that all companies offer, it's worth looking into, as you could receive a significant portion of your pay if you have to take time off to care for your aging relative.
To learn more, you should contact your employer's human resources department. They should be able to give you more information about the company's paid leave programs. They will also be able to walk you through the process of taking paid leave if they offer it.
Caring for a loved one can be difficult, but it doesn't have to be financially taxing on you and your family. There are ways to get paid to care for your aging relatives. While the amount you will get depends on the entity paying you, having any financial support can be helpful.