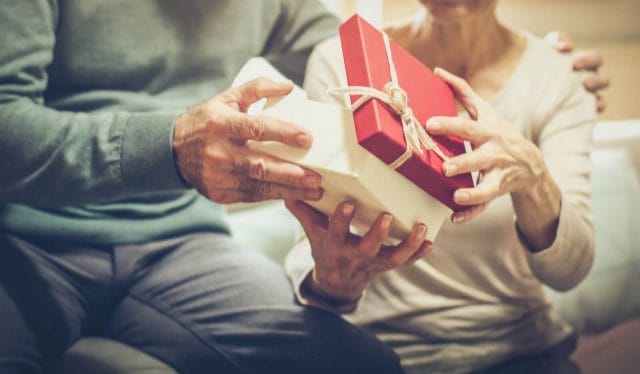 Whether you are celebrating a birthday, a holiday, or a just-because occasion, you may be in search of the perfect gift for your older mom, aunt, friend, or neighbor. Senior women can be notoriously difficult to shop for, as they likely have everything they need, or they buy it themselves. We've pulled together thoughtful gift ideas for senior women so you can celebrate your older loved one with a well-curated present.
Photo books and accessories
While you can put together a large family photo album for your loved one, paring down and creating photo books with specific themes can make them even more special. Try a themed mini-book with pictures of the grandkids, of family weddings across the generations, or related to their favorite activity or holiday.
A photo book can be an excellent gift for a senior woman or older loved one, but it also can be a reminiscing tool for someone with dementia or another type of cognitive decline. If you're making a reminiscing book, add open-ended questions for each photo.
You can create custom photo books and accessories on most photo-sharing websites. Using photos to make a puzzle or memory-style matching games is a fun idea for an activity with some added love.
Bird feeders for indoor bird-watchers
You don't have to hike for miles and wait quietly to see a specific bird anymore. Today, you can bring the wonder of the outdoors to you. A bird feeder can be a great gift, even if the recipient isn't an avid bird-watcher. Many people would love to see what kinds of birds stop by their windows — the gift may even spark a new interest. Bird feeders are also excellent gifts for people who love nature but might not be able to get out and about as often as they would like.
For a less expensive option, choose a clear acrylic feeder that suctions to the window. Pick a window near your loved one's favorite chair or in the room they spend the most time in. Add a local field guide and a small bag of feed appropriate for the birds of your region. In no time, they will be fascinated watching the birds come to have a snack at their window.
Want to take your loved one's bird-watching game a step further with technology? Bird Buddy will tell your loved one when a bird is at their feeder, take photos of the birds, and even identify the birds that visit the feeder.
Subscription box services
Extend the celebration by giving your loved one a three-, six-, or 12-month subscription to something they love and will look forward to. They'll be excited to see what surprise the box holds each month. Activity and game boxes also give your loved one something new to do, which can be especially helpful during the isolating winter months. Best of all, the subscription serves as a monthly reminder of your love. You can find a subscription box for almost anything today.
Shared experiences together
Your older loved one enjoys spending quality time with you and other friends and family members. Consider getting a calendar and setting dates each month when you or another family member will do something special with them. You might take a holiday lights drive and drink hot cocoa in December, get ice cream in June, or head to the pumpkin farm in October. Coordinate your efforts with family members. Your loved one will look forward to connecting and sharing meaningful experiences with friends and family.
Here's a fun tip: Create a photo calendar with pictures of your loved one and the people they'll have activity dates with each month.
Journal with thoughts and prompts
Give your loved one something to write in and something to read with the gift of a journal. Before you give them the journal, write your thoughts about them on different pages, along with prompts to get them started. This is a meaningful, helpful activity for all older adults, especially those with dementia or other types of cognitive decline. Here are a few ideas:
Jot down one of the qualities you love most about them. Then, follow with the prompt: Write about one quality you love about yourself.
Write about your favorite summer childhood memory with your loved one. Then, follow with the prompt: Write about your favorite summertime childhood memory.
List your favorite things to do together. Then, follow with the prompt: Jot down how it makes you feel to spend time with loved ones.
Write about why you are thankful to have them in your life. Then, follow with the prompt: Write down five things you are grateful for today.
Find a nice journal at your local bookstore, a stationery shop, or online. Include a nice set of pens or pencils as well.
Remember, a thoughtful gift isn't always about how much you spend. It's about considering your loved one's favorite things and pastimes. Most of all, it's about reminding them how much you love them. These thoughtful gift ideas for senior women will show your loved one how much you care on any holiday, birthday, or other special occasion.