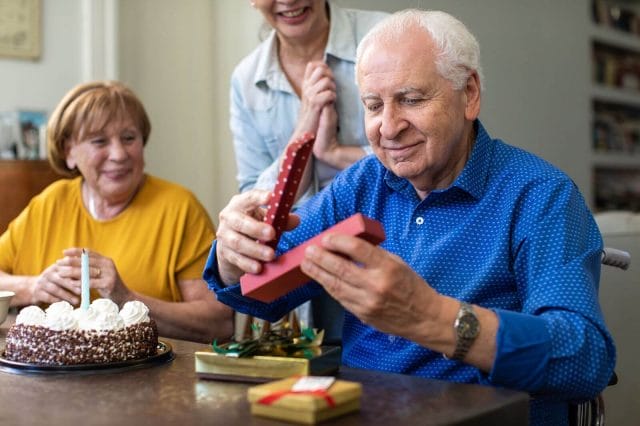 Men of any age are notoriously difficult to shop for, and finding the perfect gift can be even more challenging for senior men. Your loved one deserves to feel appreciated, so we've pulled together a few ideas for thoughtful gifts for senior men to inspire you as you show your love on a birthday, holiday, or other special occasion.
Indoor putting mat
An indoor putting mat is ideal for anyone looking to stay active during the cold winter or sweltering summer months. A fun activity for a person of any age, putting can assist older adults with joint mobility, balance, coordination, and fine motor skills. Indoor putting mats come in various sizes, but most are easy to fold or roll up so they can be quickly stored in a closet when not in use.
Tickets to a sporting event
Sometimes, the best gift is a shared experience between you and your older loved one. Grab tickets to a sports game and a shirt or hat from the team. While heading to a professional sports game is a great idea, the nearest team might be far from where you live. Going to see a AAA baseball game or your local minor league basketball team is just as fun and can be more affordable. A smaller venue also might be friendlier and easier to navigate.
When possible, purchase tickets directly from the team. You can request accessible seating out of the sun and near the bathroom. Local teams are happy to assist, so be sure to tell them about your loved one's needs.
Since baseball is America's pastime, he might want to catch a game. Below we help you find a minor league team in your area:
If other sports or events are more to his liking, try searching for local ticketed events here:
Audible or MasterClass subscription
For the older loved one who enjoys reading or learning about new topics, an Audible audiobook subscription will keep them up on the latest books as well as the classics. Your loved one can listen to audiobooks on their smartphone, tablet, or other smart device from anywhere; they can even listen while working around the house or driving. Other family members can purchase extra credits for them at any time, so the gift-giving opportunities don't end with the subscription.
MasterClass is another excellent option for someone who loves to learn new things. It is a streaming-based platform of educational video classes taught by leaders in their fields. Your loved one can learn anything that might interest them, including screenwriting, how to make homemade chicken stock, or even the logistics of space exploration.
Learning and reading increase attention span, boost creativity, and encourage social connections with other readers or new learners, which is particularly beneficial for senior men.
Kitchen garden plants
For the gardener in your life, consider purchasing a few small plants to use in cooking. Herbs like basil, oregano, and parsley thrive in sunny kitchens. While you can plant them in pots ahead of time, consider potting them with your loved one as a fun activity. You can even head to the local garden store for some extra quality time together. Another option is an herb garden starter kit that has everything your loved one needs to start an indoor kitchen garden from seed.
Buy a cookbook or print off a few recipes that incorporate their new fresh herbs, and be sure to use them when making dinner together.
Get started with kitchen and meal gifts here:
A custom "busy" kit
If your senior loved one lives with dementia, they might fidget or need to keep their hands busy. A thoughtful idea is to build a custom "busy" kit full of items they might enjoy based on their interests or hobbies.
Take a small mason jar from your kitchen or buy some online. Fill it with varying sizes of nuts and bolts from your basement or your local hardware store. Your loved one can empty the jar and match up the nuts and bolts.
If your loved one enjoyed collecting coins, gather loose change from around the house. Place them in a box with dividers. He can sort them and look at the dates and styles of the coins — finding a wheat penny may spark a story he wants to talk about.
Fill a box or an album with baseball cards. They can sift through, sort, and read the stats on each card. This also could be a memory prompt, as they might remember facts about their favorite players.
Make a special keepsake box of family photos they can look through and reminisce with.
To make these gifts come to life, get the materials here:
It can be hard to find the right gift for the older men in your life, but they deserve to be celebrated. Remember that the perfect gift for your loved one might be simply spending time together. Most often, they just want to be with you. With these thoughtful gift ideas and activities for senior men, you'll be able to show them how much you love and appreciate them.