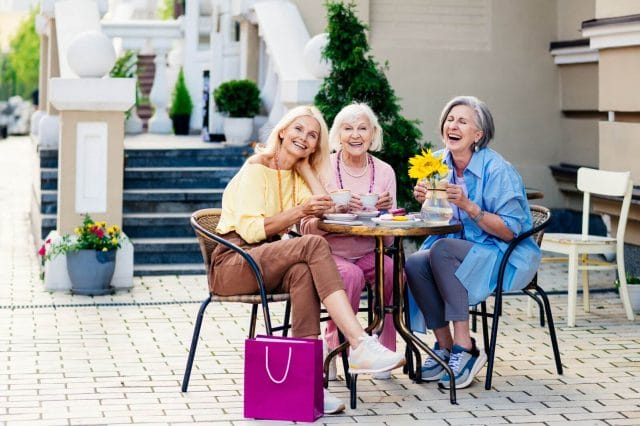 People considering senior living options may have preconceived notions about assisted living facilities. They are sometimes misunderstood, as the senior care landscape is unknown to many. Assisted living communities provide residents with a full, well-rounded, independent life while offering support with daily activities. Here, we'll bust the myths and stigmas surrounding assisted living so that you can take the next step in your decision-making process with confidence.
Myth: Assisted living is the same as a nursing home
The terms "assisted living" and "nursing home" are often used interchangeably, which can cause some confusion.
Fact: Assisted living and nursing homes are different types of senior living
While there are some similarities between the two, assisted living facilities and nursing homes are quite different in how they're structured and the type of assistance they offer. In most cases, assisted living facilities and nursing homes support different segments of the older adult population with distinct needs.
Residents of an assisted living facility require some help with personal care but are still relatively independent. Perhaps they need help with some daily tasks or can no longer drive. Assisted living facilities provide residents with living spaces that are either private or shared, engaging activities, trips off campus, support managing medications, and help with some personal care activities. The environment is generally a homelike setting.
Nursing homes stand apart because of the intensive, high level of physical assistance and skilled nursing care they can provide. Residents who qualify for a nursing home have a greater need for assistance with daily tasks and require closer supervision. Nursing homes often feel more like a hospital because of the higher level of personal and medical care they provide.
Myth: Assisted living is unaffordable
Assisted living is often considered to be financially out of reach for most individuals. In many cases, health insurance does not pay for assisted living, which leaves people wondering how they can afford it.
Fact: Residents have many options to afford an assisted living community
Though typical health insurance, like Medicare, does not cover assisted living costs because these are not medical services, there are many ways to pay for assisted living. In some states, Medicaid may help qualifying individuals pay for select assisted living facilities, though this is not common. Luckily, individuals have options when it comes to paying for assisted living.
The cost of assisted living generally includes the housing cost (rent), meals, planned activities and social programming, medication management, housekeeping, and personal care. Communities also maintain the building and grounds and hire staff or contract with professionals to assist residents. Continuing to live at home, in contrast, requires the individual to pay for the home, daily expenses, maintenance, and hourly costs of in-home care. Depending on the amount of help a person needs and their geographic location, moving to an assisted living community may be a viable and economical option when compared to living at home.
Myth: Residents lose their independence
It's often assumed that residents lose their independence when moving from home to an assisted living community.
Fact: Assisted living communities nurture independence
Assisted living facilities support residents' independence. The residents often live in individual apartments, sometimes with kitchenettes and private bathrooms. They can enjoy their privacy and independence while having access to the services they need.
Individuals moving to an assisted living facility might experience even more autonomy than when living at home. Activities may be limited at home because they rely on others for transportation. At an assisted living facility, the older adult may have more opportunities to manage their own appointments and errands through the transportation and other amenities provided. Activities take place on the community campus, so traveling to or seeking out social opportunities is easier to do independently.
Myth: Residents are lonely and bored
Assisted living residents are often thought to be sitting alone with no engagement or opportunities to leave the campus.
Fact: Community activity calendars and peers provide engagement
Assisted living residences have staff employed specifically to ensure that residents are enjoying life and interacting with others. Communities have full calendars with a variety of activities to provide physical, cognitive, spiritual, and social engagement, all of which counteract boredom and loneliness and support the residents' well-being. Many assisted living residences bring in local entertainers and guest speakers or offer special events. Outings to local shops, group visits to restaurants, and other excursions are often included on the calendar to allow residents to explore and connect with one another and others outside of the facility. In addition to programming, the staff of assisted living residences promote connections among residents with similar interests.
Isolation can take a huge toll on the mental health of older adults, and the socialization provided by assisted living can be a significant protective measure against mental illness and cognitive decline.
Myth: Adult children should care for their aging parents at home
Societal expectations often put pressure on adult children to manage their parents' care in their home, leaving the child to juggle obligations to their own families and careers in addition to their parents' needs.
Fact: There's no one right way to help a parent
Under some circumstances and with thoughtful planning, parents and children can learn to adjust to and even enjoy living together, but for many, caring for an older adult can put a strain on the parent-child relationship. It can be physically, emotionally, and financially draining on the caregiver and uncomfortable for the parent. Moving the older adult to an assisted living residence and delegating their care to trained professionals can free up time and emotional space so that the parent and child can connect on a deeper level. Allowing an assisted living residence and staff to provide care can let families spend more quality time together. It can also relieve feelings of guilt and embarrassment on both sides.
People's health conditions evolve with age and may become complicated to manage effectively. Even if a child would like to care for their parent at home, the time may come when the child can no longer meet the parent's needs; it may be the safest and healthiest option for the parent to move to an assisted living community, where they can get assistance from trained professionals.
Assisted living residences may not be the best fit for everyone, but they shouldn't be ruled out based on myths and misconceptions. Take time to tour assisted living residences and ask questions during your visit. Keep an open mind about the opportunities the new community will offer your loved one. With the information above, you can rest assured that residents live full, vibrant lives at assisted living communities.