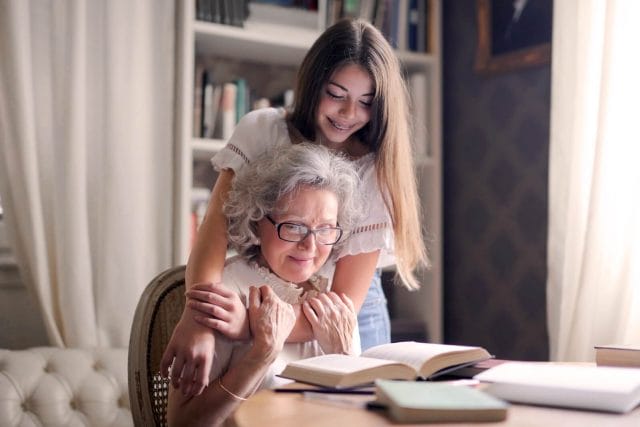 You may start to notice that your loved one needs more assistance from their family members over time. When do you know — or how do you know — what to do next? Though almost 90% of older adults want to age in place, there's no correct answer when it comes to choosing assisted living or home care. Here, we explain the differences between assisted living and home care services so you can make the right choice for your family's needs.
Home care is a type of non-medical service for older adults designed to help them stay happy and healthy at home. After hiring a company, caregivers go to the adult's home on a regular schedule to help them take care of their needs.
On the other hand, assisted living facilities include meals, laundry, and activity programming for residents. These facilities can be standalone buildings or communities with multiple living plans, such as independent living, assisted living, and memory care.
Considering three key aspects of an older adult's life can help figure out whether assisted living or home care is the better choice for them:
Older adult's needs
Family members
Financial circumstances
Care needs
One of the first things to consider in the search for care is considering your loved one's abilities.
What can the adult do?
There are two types of considerations when it comes to abilities. There are activities of daily living (ADLs) and instrumental activities of daily living (IADLs).
Activities of daily living are basic physical skills that someone needs to get through their day. There are six: bathing, feeding, dressing, toileting, transferring, and ambulation (moving from one place to another).
Instrumental activities of daily living are external (outside of hands-on care) skills that someone uses to get through their day that increase their quality of life, like doing laundry, refilling prescriptions, or getting the mail.
Assessing what the person can do safely on their own can help determine how independent they can be while living at home. It can also point out activities that they need help with. These details are important for gauging how much home care they'll need and if their independence level is appropriate for assisted living.
What assistance or support does the adult need?
Equally important as their abilities are the types of help they need. Consider their socialization, nutrition, and mobility needs — how often they need the support and how much of it. Tara Grimmett, MPA, Area Director of Arosa, shares, "When someone is considering home care or assisted living, it really depends on their preferences and care needs."
Emotional and mental well-being
Grimmet said assisted living is designed to be a "social" atmosphere. Facilities plan activities that residents can attend to socialize with each other. This aspect of assisted living can be particularly helpful in managing or preventing depression in seniors.
On the other hand, Grimmett also said that "with home care, the client remains in their own home. Studies have shown that folks who can age within their own home can actually live a better quality of life. The medical model at home, such as home care, has become increasingly popular over the past few years and has essentially allowed clients the ability to remain in their home until they pass if they choose."
Nutrition
Assisted living facilities also take care of meal preparation. Residents have all meals made for them, and they can either have them delivered to their rooms or eat in a communal dining area.
Home care service providers can also help with meal preparation. Care providers can assist if the adult needs help getting to and from the grocery store, cooking meals, or both. Other meal delivery services support older adults through which they can get nutritious meals for low or no cost.
Mobility
When it comes to mobility and the ability to carry our ADLs, "the resident must be able to perform most of their daily activities without assistance to qualify for assisted living," Grimmett said.
Thinking about what adult needs help with can help determine the most suitable environment and options for payment, which we'll get into more detail later. For example, long-term care insurance (LTCI) can help pay for senior care services. A trigger that can put a long-term care insurance claim into action is when the policyholder requires assistance with at least two activities of daily living. LTCI can be used for home care, assisted living, and other services.
How frequently does the adult need help?
Now that you've considered their needs, consider how frequently they need help. Home care services can be set up with low weekly minimums (like 20 hours a week, sometimes less) and can go up to 24 hours a day or live-in situations with certain states. Alternatively, assisted living care is accessible 24 hours a day; however, residents only see caregivers for scheduled care tasks or when they ring their call light.
When care managers come out for an initial visit, one of the first steps is to assess the home for safety. Then they can gather more information about you and your family.
Next, we'll discuss how to include the whole family in decision-making.
Family members
When considering assisted living or home care services, it's important to consider the entire family's situation.
The older adult can consider the following:
What can I do for myself?
What tasks do I need assistance with?
Do I have family members that can help me?
Do I have neighbors or friends that can pitch in?
Having this conversation in the family before the need arises is ideal if possible. You can host a meeting with your entire family while the adult is relatively healthy and have a candid discussion. The older adult should express what they want out of life and their goals. Then, the family can assess the adult's financial resources and options to fund the care.
Once everyone is on the same page, it'll be easier for family members to share how they can help the older adult, putting less pressure on any one individual or the parent to delegate.
Financial circumstances
Another element to the search for senior care at home or in assisted living is determining what the adult can afford.
The cost of home care and assisted living varies depending on the geographic area, amount of services, and the company. The average cost of home care is around $5,300 per month, and the average cost of assisted living is around $4,700 per month, according to the Genworth Cost of Care survey. You can see the average costs in your state here.
There are many ways to pay for home care and assisted living. People may have private funds like retirement savings, long-term care insurance, or other financial products. There are also other ways to pay for qualifying individuals. While Medicare typically doesn't cover personal care services, some Medicare Advantage plans have widened their scope of coverage for in-home services. Medicaid may be available to qualifying individuals, which may help pay for some home care services. There are also veterans benefits, such as the Aid and Attendance benefit, which can help qualifying veterans and their surviving spouses.
Grimmett also said that "in Assisted living, the prices are generally all placed in one monthly sum. However, it is important to note that if the client is in need of a higher level of care, and is unable to remain in assisted living, then the family is then tasked with relocating the client again, but usually into a skilled nursing facility."
Conclusion
There's no perfect answer regarding whether home care or assisted living is better than the other. Consider your options and see which is best for your family's situation.