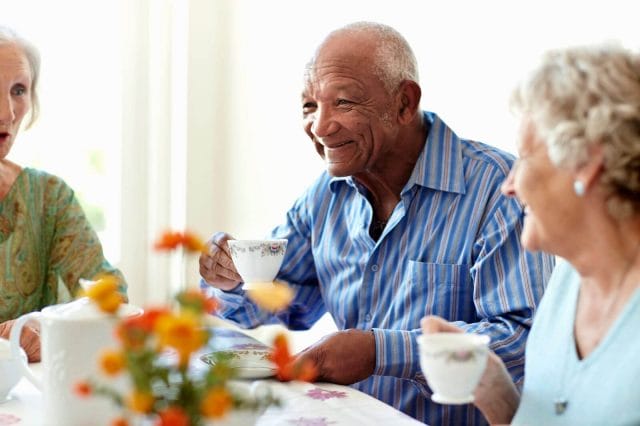 Every aging adult is unique, with different preferences about how to spend their money, retire, and stay healthy. However, most older adults agree on the desire to stay at home for as long as possible. A recent AARP survey reports that 77% of older adults want to remain at home as they age, which has stayed consistent over the past few decades. There are multiple benefits to aging in place. Here are just a few that will keep you or your older loved one happy and healthy while living at home as independently as possible during retirement.
Physical health benefits of aging in place
Aging in place has many advantages when it comes to overall physical health and wellness. Older adults may be more likely to maintain their active lifestyle while staying in a familiar neighborhood with helpful neighbors, taking walks around the block, or strolling over to a favorite coffee shop together.
A move to senior living might prompt a switch in physicians, temporarily disrupting the continuum of care, but older adults who are aging in place can stick with their preferred primary care physician, specialists, and hospital system.
The familiarity of a community may help seniors aging in place to feel more comfortable accessing community health resources. Changing towns or neighborhoods can be a barrier to attending health fairs, using senior transportation, and using other community resources.
Emotional wellness advantages of aging in place
Perhaps the biggest benefit of aging in place is the comfort that comes from being in a familiar environment. People who age in place don't have to worry about packing up and downsizing their possessions in order to move to a new senior living space. Instead, they remain in a home where they have created years of memories, which can give them a sense of peace and comfort.
It is also possible for older adults who age in place to nurture and maintain their current friendships and connections with peers, which enhances mental health. They don't necessarily need to make new friends or meet new neighbors, as they would if they moved to a senior living community, which can be overwhelming. Instead, they get to keep their regular lunch dates with friends or morning coffee dates with neighbors across the street.
Family members may be comforted as well. They can keep up family traditions and gather for holidays at the family home, bringing everyone a sense of familiarity and togetherness.
Positive cognitive impacts of aging in place
Older adults may also enjoy cognitive benefits from aging in place. Though individuals who live at home need to maintain it or coordinate those services, they consistently engage in mental activities that can support cognitive health. Keeping track of bill due dates, appointments, and scheduled maintenance can all support brain health by keeping the mind active.
Senior living community residents enjoy maintenance-free lifestyles because facility staff and personnel take care of many daily chores. Living at home, a person may still need to prepare meals, tidy the home, and do other tasks. These activities involve mental engagement and physical movement, which help maintain cognitive health. Though as one ages it's normal to experience some cognitive decline, such as slower information processing and mild memory lapses or loss, a person can preserve their brain health through continued engagement and activity.
Because Alzheimer's disease and other forms of dementia are common concerns, it's important to consider whether aging in place or moving to a senior living community is the best option for someone with a dementia diagnosis. Living at home may be possible for a certain length of time with certain safety precautions, but it's important to speak with a health care professional and family members to determine the best choice.
Financial benefits of aging in place
There are several financial benefits to aging in place. Older adults who have paid off their homes won't suddenly need to pay a monthly mortgage or service fee for a new rental home. Further, the older adult and their family members are more likely to be able to anticipate the monthly bills for insurance, utilities, and even groceries. This stability and predictability can make future planning easier.
There's also the convenience of not needing to change addresses for bills. Family members don't have to worry about remembering — or forgetting — to update every bank, doctor, hospital, and utility agency with a new address.
If an older adult chooses to age in place and can remain fairly independent, they may enjoy a lower cost of living when compared to that of a senior living community. This won't be true for all people and communities, as personal circumstances vary widely, as do monthly senior living community costs. IWhen a person does not yet need extensive home care services, continuing to live at home may be a reasonable solution. In-home senior care services can become expensive, so it's important to track these costs while living at home to ensure that aging in place is the safest and most economical option.
Aging in place is not for everyone. But, it is certainly a viable option for many older adults who can benefit from the familiarity and comfort of being at home, the social connections to old friends and neighbors, and the financial advantages. Plenty of home projects, resources, and tools can make aging in place safer and enhance independence at home, should you or your loved one choose to pursue this route.