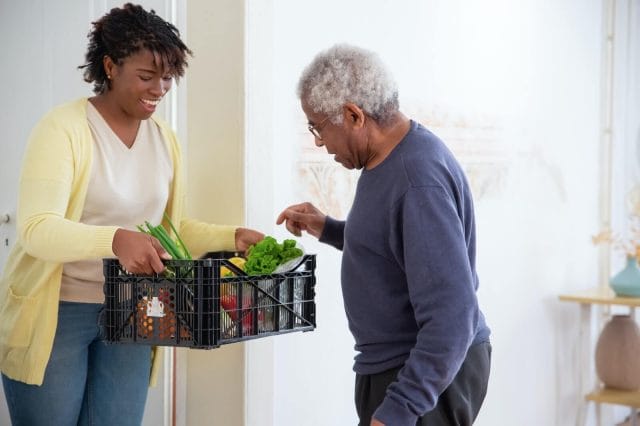 Care needs increase when a person begins to have problems with judgment, thinking, and memory. In addition to helping with household chores, family members of a person with Alzheimer's disease or another form of dementia may also have safety concerns for their loved one, such as leaving the stove on, falling, or wandering. These issues can lead to considering memory care as a viable option for care. These decisions are always challenging, but the benefits of memory care can outweigh other concerns. We will review the physical, emotional, and cognitive benefits of memory care and the possibility that a memory care community could improve your loved one's well-being and independence.
The physical benefits of a memory care community
As a caregiver, you may experience burnout from providing the basics to your loved one without much time to focus on other aspects of their physical health. Memory care communities have several built-in advantages to improve your loved one's health.
Medication management ensures compliance with prescription medications.
For those with dementia, getting enough nutrients to stay healthy can be challenging. Memory care communities ensure that residents eat well and receive the assistance they need during mealtimes, and dietary modifications are standard.
Hydration is a concern for older adults in general, but people with dementia often don't get enough to drink. Memory care staff can give reminders throughout the day to drink to avoid dehydration, which can have serious medical consequences.
Exercise tailored to individual needs keeps residents moving and active, improving mood and reducing agitation.
Most memory care communities offer transportation to outside medical appointments.
The emotional wellness benefits of a memory care community
After an adjustment period, most people in memory care communities can benefit from social interaction with staff and other residents. Depression and anxiety often accompany Alzheimer's disease and dementia, which can manifest as agitation and isolation. Memory care staff are trained to recognize these emotional components of dementia and use targeted activities to improve mood.
Frustration, anger, and confusion are common emotions for people with dementia, and these emotions can be upsetting and disturbing. One of the benefits of memory care is the caring and empathetic support of staff who can reassure your loved one and help them to feel safe.
One of the other often overlooked emotional benefits of memory care is the ability of the care team to recognize and report when your loved one's behavior changes. These changes can indicate a potential medical problem, an acceleration of the disease process, or the need for a medication adjustment.
The benefits can be significant for the families of a loved one in memory care. Being free of caregiving duties allows you and other family members to spend quality time with your loved one that may have been missing.
Cognitive support in memory care communities
Games can keep us entertained, stimulated, and engaged with others. For those with dementia, individualized games can help their thinking and memory.
For example, a 2019 study explored the impact of 16 weeks of combined physical and cognitive training. The researchers found a significant improvement in memory and cognitive function.
Another review looked at three types of games and their impact on people with early and mid-stage dementia. Participants were able to improve in these areas:
Reaction time.
Logical reasoning.
Short-term memory.
Communication.
Problem-solving.
The most significant challenge for people with dementia who live at home or in assisted living is access to cognitive activities that are appropriate for their level of functioning. A good memory care community tailors their activities to the individual so they have a sense of competence without feeling overwhelmed.
How does a memory care community foster independence?
As the disease progresses, an individual with dementia must begin to rely on caregivers more and more. Memory care community buildings, grounds, and staff provide the necessary support while fostering residents' independence.
1. Protection from wandering. People with dementia may find being at home to be can be constraining. Memory care communities are secure due to the potential for people with dementia to wander, but many offer outside areas where residents can enjoy without the fear of getting lost.
2. Opportunities for choice. When appropriate, staff can offer options to help residents feel they have control. Examples include choosing what to wear or activities to participate in.
3. Offer manageable steps. Breaking tasks into smaller steps can help memory care residents feel accomplished and reduce frustration.
4. Provide a sense of purpose. A memory care community's environment is designed to give residents opportunities to help with simple tasks like folding laundry, setting the table, or helping clean.
5. Small masteries. A simple activity can make a profound difference when someone can master it. Memory care activities are personalized toward activities appropriate for people with memory loss and cognitive dysfunction. Almost anyone, no matter how advanced their disease, can accomplish something.
6. Validation. Validation is a communication technique that respects the feelings and beliefs of people with dementia. It accepts their disorientation, explores their behavior's meaning, and avoids confrontation. Validation communication acknowledges the person's reality and the legitimate expression of their feelings.
Unfortunately, there are currently no cures for Alzheimer's disease and dementia. Coping with a loved one's mental decline can be heartbreaking, but a memory care community can be an appropriate choice to keep your loved one safe and allow them to have some quality of life.