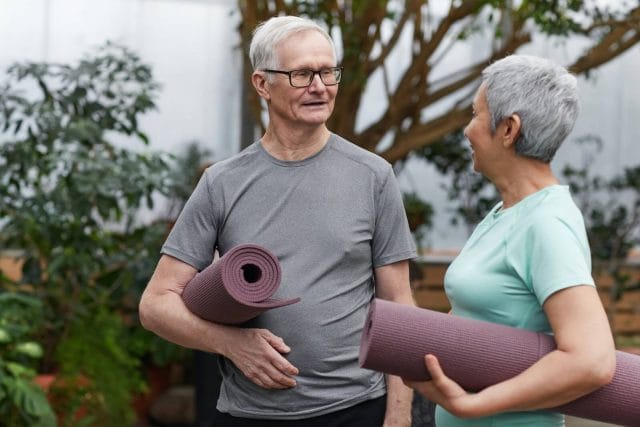 Senior living might enter the conversation when you or your loved one notice that a little extra support or assistance would go a long way in helping meet wellness goals. While it is true that many older adults find themselves thriving in the right senior living community once they get settled in, it is also true that adults who aren't familiar with senior living might shy away from the solution due to outdated stereotypes or perspectives and not realize the many benefits of assisted living.
Here's the truth: The right senior living community can be a crucial part of your wellness plan. Today's senior living communities are vibrant and busy hubs of activity where neighbors meet for yoga classes, wine tastings, and preventative health screenings. Assisted living communities provide a balance of personalized assistance and maintained independence that can boost self-esteem, energy, and even cognitive skills.
Let us help break down the benefits of assisted living you or your loved one could experience in the right senior living community.
Physical health benefits of assisted living
Assisted living communities feature around-the-clock caregivers who support and assist with personal care tasks. This can lead to physical health benefits like
Decreased risk of falling.
Fast response time and quick help in case of a medical event, fall, or other crisis.
Better personal hygiene, which can lead to fewer skin conditions or infections.
Safe medication management leads to a decreased risk of medication errors or subsequent hospital visits.
In addition to the benefits of caregiver assistance, assisted living communities offer programs, services, and amenities that can also boost personal health.
Delicious, chef-prepared daily meals decrease the risk of rapid weight loss or gain.
Onsite fitness centers and group exercise programs can improve balance, flexibility, and strength. Plus, it's easier to stay active when a neighbor is saving a spot for you in the morning exercise class or waiting for you at the walking club.
Preventative health screenings and wellness fairs can lead to better health outcomes.
On-site physician office hours and nurse communication can help residents better understand their doctor orders and increase compliance.
On-site physical and occupational therapy can help residents get to their outpatient therapy sessions more conveniently.
Assisted living communities are designed to support the health and wellness of the residents. Even with strong family support, living at home often does not rival senior living communities' health and wellness support.
Emotional wellness benefits of assisted living
Life in an assisted living community can also boost emotional wellness. Humans are social creatures who thrive with the right social connections and friendships. Unfortunately, those friendships can dwindle in later stages of life, leaving many older adults isolated at home.
Assisted living communities make finding a new friend or catching up with an old one easier. Instead of driving to meet a friend for coffee or finding parking when attending a church fellowship group, assisted living residents only need to venture down the hall to find neighbors who are ready to chat.
Recent research has demonstrated that isolated seniors are often more depressed and anxious than their more social peers. In addition, older adults with peer connections and relationships are often less likely to have negative feelings and have increased self-esteem. Thanks to activity programs in assisted living communities, residents are invited to connect during a live concert in the courtyard, a happy hour social, or tai chi class. For those residents who don't attend programs or excursions, social opportunities still abound in the dining room or other community spaces.
Cognitive support benefits of assisted living
It's common to feel anxious about declining memory or occasional forgetfulness; however, seniors who are isolated at home can often experience more rapid cognitive decline, leading to increased anxiety and depression.
For assisted living residents without cognitive decline, life in a community becomes even more crucial to keeping their minds sharp. Residents can participate in cognitive brain games and physical exercise classes incorporating brain-boosting movements. In the dining room, residents can look for menu options that incorporate superfoods, like salmon or blueberries, that have been shown to keep the brain healthy.
If a diagnosis of Alzheimer's disease or another type of dementia is at play, many assisted living communities offer specialized memory care neighborhoods that make life more calm and comfortable. These memory care neighborhoods provide best practices in dementia care, including interventions for the physical and behavioral changes that often come with the disease. Additionally, some assisted living communities have even more innovative programming for residents in the early stages of the disease process; these programs aim to empower residents and help them find coping skills as they learn to live with cognitive decline.
Financial predictability at assisted living
Finally, believe it or not, assisted living comes with financial benefits. Most communities charge a consistent monthly fee that covers rent, utilities, and access to all the amenities and services on campus. This predictable monthly fee covering almost every expense can help simplify budgeting and future planning.
In addition, living at home alone or with a partner can often mean juggling many bills, which can be difficult for someone with cognitive decline. A once-per-month fee can eliminate all that stressful bill paying each month and free up that time and energy so the individual can spend their time doing something more enjoyable.
Assisted living can also be cheaper than 24-hour care or other senior care alternatives. This means your money can go further in assisted living.
Next steps in moving to assisted living
Assisted living communities come in all sizes and styles. They are each as unique as the residents who live there. This is good news, as it means you are likely going to be able to find one that meets your preferences, needs, and budget. You'll want to tour different facilities to observe the environments, features, amenities, and talk with staff to ask important questions. It's never too early or late to search for an assisted living community that will help you or your loved one thrive and feel great.