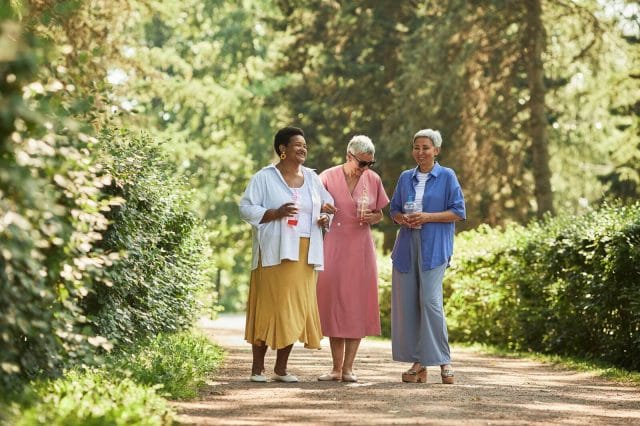 Senior living and retirement look different for everyone, as there are many options to suit your specific situation and preferences. Today's independent senior living communities can look and feel like resorts with the amenities and services. If you are still active and want to live in a vibrant community setting, you might find that independent living for seniors is an ideal destination for your retirement years.
Independent living communities cater to adults over a certain age (usually 55 or 62, depending on the community) who want the hospitality, amenities, services, and friendly neighbors that make life easier and more fulfilling. From physical and mental health benefits to living a low-maintenance lifestyle, here are some advantages of independent living for seniors.
Socialization can boost overall health in independent living
The Centers for Disease Control and Prevention reports that one-fourth of adults over the age of 65 are considered socially isolated. Recent research has demonstrated that as loneliness increases with age, so do significant mental and physical health complications.
Staying social and building relationships with peers can be difficult for older adults. Shrinking social circles due to retirement, relocation, or death can empty even the busiest social calendar. The result? Increased risk of depression and anxiety.
Here's the good news: Socializing with peers regularly can decrease loneliness, and independent living communities are designed to encourage connections among neighbors. There are shared spaces, like libraries, gyms, recreation rooms, restaurants, and bars, in addition to full activity and event calendars that promote resident connection. Residents cultivate friendships with neighbors over meals, card games, and other activities. Independent living communities make socialization easy and convenient.
Events and activities promote an active life
Independent living communities often have robust life enrichment departments with the purpose of creating events, activities, and excursions for residents to enjoy. Residents have access to a full calendar of daily events.
The activities are designed to create friendships between residents through shared interests and experiences and support cognitive skills, creative expression, and lifelong learning. Residents can do the important work of staying active by taking a yoga class, learning a new language, or painting a self-portrait, for example. These experiences may be unavailable for someone living at home.
A low-maintenance lifestyle saves time and energy
Independent living communities are known for providing a low-maintenance lifestyle, offering such amenities as grounds upkeep, housekeeping visits, and laundry services. Residents can say goodbye to typical household chores and spend time doing what they want, such as walking on their favorite trail or playing pickleball with friends.
Not needing to mow the lawn or maintain cleaning schedules means the residents can save their mental and physical energy for socializing, learning, and physical activities. This simplified lifestyle can be ideal for older adults hoping to downsize their household responsibilities.
[Read More: When to Move to Independent Living or Senior Housing]
On-site dining offers variety and nutrition
Planning and preparing three healthy meals per day can be the biggest chore for someone living at home. Many independent living communities feature on-site restaurants and flexible dining plans, allowing residents to enjoy a meal with friends they didn't have to prepare or clean up after. There are often various options for residents, giving them the opportunity to eat nutritious and interesting foods they might not prepare on their own.
Of course, resident homes often come with beautiful, modern kitchens, so there is always the option to cook at home or enjoy a meal in the dining room. On-site shops and transportation can make cooking at home all the more convenient.
Access to the outdoors boosts mood and physical health
Spending time outdoors has been proven to promote physical and mental well-being, both of which can be a concern for older adults. Getting outside and into nature can be difficult for someone living at home alone, though, especially if there aren't safe neighborhood sidewalks. Independent living communities often have shared outdoor spaces and walking paths maintained by the staff, allowing residents to get a breath of fresh air whenever they want.
It's common to find patios, gazebos, porches with rocking chairs, al fresco dining, and even outdoor fire pits and kitchens in independent living communities. They often have outdoor swimming pools, putting greens, pickleball courts, and bocce ball courts as well. Getting outside has never been so easy, especially with the added encouragement of the opportunity for socializing with friends and neighbors. The amenities of independent living communities offer ample opportunity to get outside and get the body moving.
Friendly and professional staff can help
While independent living communities do not provide caregivers to support residents with activities of daily living or medical concerns, they employ friendly professionals to assist with questions and concerns during business hours. Communities have concierges, management, and security on staff to provide service to residents and guests and to keep them safe.
The staff are there expressly to make daily life easier for the community's residents. They might be able to help residents arrange transportation, make reservations, schedule grocery deliveries, and mail packages. The people who work in the independent living community are yet another part of the stress-free lifestyle seniors might desire.
A predictable bill makes budgeting easier
Most independent living communities bill residents a monthly fee that includes rent, utilities, a dining plan, and access to amenities and services. This nearly all-inclusive bill can make for predictable budgeting; residents know how much they will be charged and can use the rest of their monthly income for incidentals or other care services they need or want.
After a lifetime of budgeting and planning, some older adults wish to simplify their finances and not spend so much time organizing and paying bills. The convenience of a single monthly fee can provide them with just that kind of low-stress situation.
Independent living is an excellent choice for active adults looking for a resort-style experience during their retirement years. The items above show how beneficial such an environment can be for seniors who want rich social lives, mental stimulation, and physical lifestyles. If these benefits appeal to you, an independent living community could be the perfect place for you or your loved one.