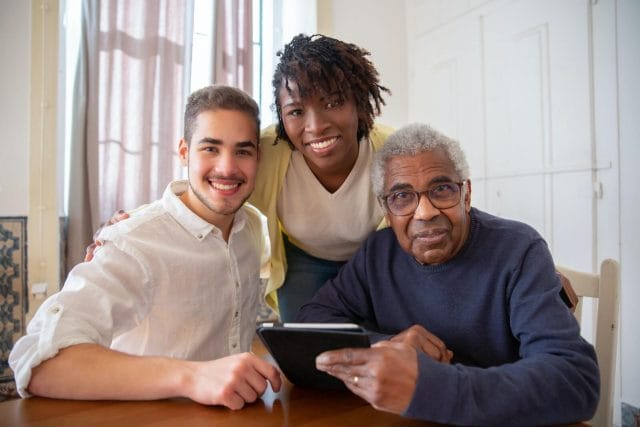 Finding a respite care provider for your loved one is no easy task, especially when looking for someone who your loved one connects with and who you can trust. Here, we'll outline the benefits of working with a respite care provider — for you and your loved one — and describe steps you can take with your family and the potential provider to ensure you find a great match and build a solid relationship with them.
Why hire a respite care provider?
Caring for an older adult loved one brings a whole range of emotions. While most caregivers report feelings of fulfillment from providing support, it's also common that caregiving responsibilities can cause increased physical and mental health issues and financial challenges due to caregiving responsibilities. Respite care can also help decrease the risk or severity of caregiver burnout. Getting help caring for a loved one can help care for yourself and them.
Respite care providers don't just benefit the caregiver. Respite care generally refers to professional caregivers who provide loved ones of older adults with a break from caregiving. They also often can assist the older adult with personal care, housekeeping, transportation, and sometimes more. In many cases, older adults also benefit from the increased socialization of other people.
Additionally, as much as it may be the plan to provide care for your loved one, no one can predict if they will experience an emergency that limits their ability to provide care. In these situations, your loved one will have an easier time adjusting if they are already familiar with outside support.
Tips for finding the right respite care provider
Choosing a company or person to help care for your loved one can be challenging. You want the best care your loved one can get while you continue your own personal or professional tasks. Here are some tips for going through the process and making the most of the relationship with your provider once they're on board.
Understand your loved one's needs
Finding respite care that will be a good fit for your loved one starts with understanding your loved one's needs and what you want to get out of the care. For example, some older adults may need assistance with personal care, but the family caregivers intend to continue providing that care and are only looking for supervision during breaks or other responsibilities. Knowing your loved one's needs can better prepare you for your research of home care agencies.
Ask Prospective Care Providers the Right Questions
Whether you're hiring an agency or an individual, these questions will help ensure your loved one gets the care they need from someone you can trust.
The logistics
Do care providers have a minimum shift length? Some providers require a minimum amount of time to schedule a shift. The amount of time you need care needs to exceed the minimum shift, otherwise, you might pay for time you don't use.
What is the hourly fee? Is the cost higher on weekends? Does the rate change with care needs? Most home care agencies are private pay. While there are many ways to pay for respite care, understanding the hourly rate is important. Hiring an individual can be significantly less expensive, but you become responsible for taxes and insurance.
What happens if the caregiver cannot make the shift? Things happen — caregivers become ill or have emergencies. It's important that the agency can provide a backup if a caregiver calls out of a shift so you can rest assured that your loved one gets the care when it is scheduled.
What kind of training do the caregivers have? Depending on the assistance your loved one needs, you'll want to know how the caregivers are trained. If your loved one has dementia, inquire about how much dementia training the caregivers have in addition to other training areas.
How they'll get to know your loved one
How does the agency or care provider assess your loved one's needs? Some home care agencies have a nurse or social worker do an initial assessment. Ask how frequently this assessment will be repeated. As your loved one's needs change, the care should be able to adapt.
How will the caregivers engage your loved one in activities they enjoy? It's important that the care provider not only provides personal care but also emotional and cognitive stimulation. Assess their ability to engage your loved one in activities.
How will the agency work with you if your loved one is apprehensive to outside help? Implementing outside care is an adjustment for everyone. Ask the agency how they will help smooth the transition for your loved one.
What happens if the initial caregiver is not the best fit? Find out if the agency plans on having one caregiver with your loved one or a rotating group of caregivers. In addition, if the caregiver is not a good fit, do they have the capacity to try a different one? Keep in mind that if the first caregiver is not a good fit, it doesn't mean the agency relationship will not work. Another caregiver from the agency may be a perfect match.
Before the caregiver starts
Before beginning, the home care provider shoulds assess your loved one's needs and interests to pair them with a care provider. Before the caregiver begins, think about activities you would like the caregiver to do with your loved one. If there are hobbies or games your loved one enjoys, make a list of suggested activities. If there are conversations that would engage your loved one, leave a list of topics. Having activities and conversation prompts handy will help facilitate a positive relationship between your loved one and the caregiver.
Finding a respite care provider can take time. Take your time to assess your respite care options to ensure you find someone who will fit your care team well. With a trusted home care provider, your loved one will not only receive the support they need but provide you with the necessary time to recharge.