Home care providers can help with a wide variety of personalized needs, including personal care, Activities of Daily Living (ADL), skilled nursing care, occupational therapy, physical therapy, respiratory therapy, and wound care. Home care is also very flexible, offering care options for a large variety of care needs and budgets.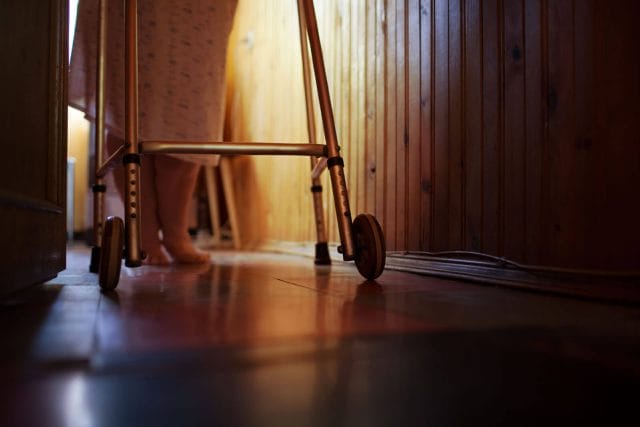 Home care services
In-home care services are the best option for elderly, disabled, or chronically ill people who want to stay in their homes and maintain a sense of familiarity and independence. Many people need assistance of some kind but do not feel that long-term care facilities are the right fit for them. They may not want to leave their homes, families, and neighborhood communities.
Many seniors worry about depression in long-term care facilities or simply feel that a facility or community would be too restrictive for their lifestyle. Home care can alleviate these concerns by providing services allowing people to live safely in their homes.
People receiving home care may require assistance in recovery from injury or illness or with performing the activities of daily living (ADLs). Different types of home care might be needed at different times: for instance, the care required immediately after a hospital stay would differ from a long-term home care solution. Home care is not generally provided 24/7, although certain companies and caregivers may be able to offer more comprehensive accommodations for patients if necessary.
Typically, a registered nurse, aide, or other professional spends less than four hours a day assisting the person in their home. These visits may occur every day or a few days a week. The exact number of hours of home care available depends on the agency, the type of care needed, and the type of payment provided: Medicare will pay for a set number of hours a week, while with private pay, you may be able to arrange more.
Since home care is not an around-the-clock solution, it is best for those who are able to accomplish some daily tasks independently. For example, a person with limited mobility who needs assistance showering and preparing meals but is able to get from room to room in their home would likely benefit from home care. For people living alone, home care can also provide companionship and conversation throughout the day in addition to in-home senior care. However, a person with advanced-stage dementia who is unable to stay safe without constant supervision is most likely not a good fit.
Live-in home care can also be a great option for people who live with a spouse, family member, or friend but who need a bit more help than that caregiver is able to provide. In cases where one partner needs health assistance, but the other does not, in-home care services can help families stay together in their own homes rather than being separated by their differing senior care needs.
The nurse or aide can visit to help with more complicated tasks such as bed transfers, wound care, or tube feeding, while the loved one is able to assist with more mundane everyday tasks. Often, nurses can teach these loved ones how to do some of the necessary care, allowing for even greater independence in the future.
Types of in-home care
The requirements for in-home care can vary greatly depending on the type of care needed. A privately-paid, non-medical care service will have very few, if any, requirements, but a Medicare-paid, skilled-nursing home health care service will need to have the patient meet preset requirements.
It is important to know what type of at-home care you or your loved one requires. Personal care services are non-medical care, such as assistance with bathing, dressing, feeding, and toileting, are considered non-medical. A home care agency may provide these standard in-home services, along with others, such as meal preparation, light housekeeping, and appointment management. However, most home care agencies do not provide skilled nursing or therapeutic services.
Medicare does not cover these but may be covered by Medicaid or other programs in some states. Private-pay or long-term care insurance is also accepted at most in-home caregiver agencies.
Skilled care, including medical treatments and therapies, is provided by an in-home health care agency. These agencies also provide standard personal care assistance in many instances. A care plan from a home health agency will include visits from home health aides, registered nurses, and other professionals on a case-by-case basis, such as occupational or physical therapists. These agencies are covered by Medicare as long as certain requirements are met.
Home care providers
While home care and home health agencies can vary in what they offer, there are some general standards you should look for in your provider:
They should be following doctor's orders for your family member's care and communicating with the doctor regularly
They should make sure your family member is safe in their home
They should ask about any pain your family member might be experiencing
They should take your family member's vital signs (such as blood pressure and temperature) regularly
They should report any changes to your family member's vitals or symptoms to the doctor immediately
They should make sure your family member is eating and drinking properly
They should make sure all medicine your family member is prescribed is being taken correctly
They should be professional, polite, and respectful of your family's privacy
They should address all questions and complaints brought up by you or your family member quickly and thoroughly
Their staff should be well-trained to perform all necessary medical and care duties
They should allow family members and caregivers to participate in setting plans of care for your loved one
They should inform you and your family of all emergency procedures
Home caregiver agency licensing
Home health agencies can be public agencies, for-profit companies, or nonprofit organizations. Licensing requirements can vary from state to state. However, to be federally licensed by Medicare and Medicaid, an in-home health provider:
Must provide skilled nursing and therapy services under the direction of a doctor
Must have at least one registered nurse to plan and supervise care
Must keep clinical records
Must be state-certified
Must meet federal health and safety regulations
Must have a set budget
All Medicare-certified home health agencies in most states have the same rules as home health agencies, even though it's non-medical home care. These standards generally include staff background checks, staff training, staff drug testing, staff TB testing, and ensuring all staff is currently licensed to provide care.
Medicare and home care
According to the Centers for Medicare and Medicaid Services (CMS), 41 percent of home health care services are funded by Medicare. In order to qualify for Medicare's home health benefit, some conditions must be met.
Your loved one must be under a doctor's care.
They must have a plan of care established by and regularly reviewed by their doctor.
The doctor must certify that they need skilled nursing care, speech therapy, occupational therapy, or physical therapy. Any combination of one or more of these needs qualifies.
The doctor must certify your loved one is homebound and that leaving the house cannot currently be accomplished independently.
The home health agency must be a Medicare-certified agency.
The need must be part-time and temporary (less than eight hours of skilled nursing care a day for 21 days or less).
In addition to skilled care, Medicare also covers durable medical equipment that may be needed for in-home care. Items such as IV stands, wheelchairs, walkers, and oxygen tanks can be ordered for your family member's use. The in-home health care agency can assist in getting these items delivered. Additionally, Medicare may pay for safety improvements to the home, such as wheelchair ramps, raised toilet seats, and shower chairs. Part of the home health agency's services will include making sure the home is safe and secure for you. Often, an occupational therapist will make sure the home does not present fall risks or other hazards. A medical social worker can also assist in securing the items recommended by your therapists and doctors.
What is covered by Medicare?
Medicare covers the following services:
Skilled nursing care
Speech therapy
Medical social work
Durable medical equipment
Medicare covers these services if your family member needs them in conjunction with skilled care, but not as standalone services:
Personal care services
Occupational therapy
Medicare does not cover these services:
24/7 care at your loved one's home
Meal delivery
Homemaking and companionship services
Medicare costs
Medicare pays for 100 percent of home health services as long as they meet the requirements listed. Medicare will also pay for 80 percent of the cost of any durable medical equipment. Everyone with Medicare Part A and/or Part B is eligible for this benefit.
Medicaid and home care
Every state in the country has at least one program to assist people in paying for long-term care at home or in the community. These programs are known as Medicaid home-and community-based waivers. Requirements for the waiver vary from state to state but generally require a doctor to certify the need for in-home nursing care within the home or community. In addition to a nursing home level of care, states will look at a person's ability to care for themselves independently and safely at home.
As with all Medicaid programs, your loved one must also fall within the proper income guidelines. These guidelines often allow for higher-income levels than the general Medicaid parameters and allow for spend-down. You may also be able to set aside money that is not considered income when looking at joint spousal incomes. This set-aside amount is intended for the spouse who does not need the Medicaid waiver. Each state has different rules for these amounts and levels, so it is important to check the waiver requirements for your state.
While in-home services covered can vary from state to state, Medicaid generally covers:
Homemaker and companionship services
Personal care services
Skilled nursing care
Nutrition and meal delivery services
Case management from medical social workers
Therapy services (physical, occupational, and speech)
Durable medical equipment
Caregiver support (including respite care)
Transportation services
Personal emergency response services (devices programmed to call 911 services with the push of a button, normally worn at all times)
Medicaid can be used in addition to Medicare to get additional services or time. For example, if your family member qualifies for Medicare home health coverage but needs additional non-medical home care services such as meal preparation, Medicaid can cover the difference. Medicaid can also be used when the Medicare home health benefit runs out, or if the condition or needs of your family member change, causing them to no longer be eligible for the Medicare coverage.
In most states, there is a limit to the number of people who the home-and community-based waiver can cover at any time. These states often have waiting lists for program participants. The application process can be complex, requiring numerous doctor visits and evaluations. A care planner or social worker can assist you and your family member with all the necessary paperwork and requirements.
Medicaid spend-down
Spend-down programs compare a person's income to their medical expenses. Because long-term care is costly, the expenses your loved one's care would require are calculated. This estimated figure is not considered usable income. This allows people with an income normally too high for Medicaid to qualify and get the care they need.
Community-based waiver programs
In most states, under Medicaid, it is possible for a participant to select their own home care provider. The participant does not have to select a Medicaid-approved agency. They are able to select a friend or family member and have that person paid by Medicaid. This program is known as consumer direction.
The selected caregiver submits timesheets and is paid directly by Medicaid. The program presets the amount they can be paid. The caregiver can be an adult child but is generally preferred not to be a spouse or guardian, although some states allow this. This option can be helpful for families who want to provide elder care for a loved one but need financial assistance to consider doing so. For example, if the adult son of a Medicaid home- and community-based waiver participant has been caring for his mother in her home and has needed to reduce his hours at his job to a part-time level in order to be available when she needs assistance, this program may help offset the cost of his missed work earnings.
PACE centers
The Program of All-inclusive Care for the Elderly, known as PACE, is a Medicare and Medicaid supplement program that can also help pay for home care services. PACE is currently operating in the following states:
Arkansas
Alabama
California
Colorado
Florida
Indiana
Iowa
Kansas
Louisiana
Maryland
Massachusetts
Michigan
Nebraska
New Jersey
New Mexico
New York
North Carolina
North Dakota
Ohio
Oklahoma
Oregon
Pennsylvania (in Pennsylvania, PACE is known as LIFE, or Living Independence For the Elderly, which has the same requirements and benefits of typical PACE centers)
South Carolina
Tennessee
Texas
Virginia
Washington
Wisconsin
PACE centers provide home care, medication services, transportation services, meals, and other services that allow seniors to live in the community safely. The programs often have day centers where participants can eat meals, engage in social activities, receive therapies, and be seen by doctors. These centers are federally regulated for safety and quality, and participant transportation to and from them is included. In a PACE program, your family member will have a dedicated team of professionals managing their care and assisting them.
PACE centers pay for dental care, eye care, x-rays, social services such as counselling, respite care, emergency services, and any other doctor-ordered service. Additionally, a PACE participant will not need a separate medication plan, such as Medicare Part D, to cover medications.
PACE requirements and payment
To qualify for PACE, your loved one must:
Be at least 55
Live in a PACE service area (a statewide PACE program does not guarantee there is a day center in your area)
Need a nursing home level of care as it is defined by your state
Be able to live safely in the community with the help of PACE
If your family member is a Medicaid participant, you will not pay a premium for PACE long-term care services. If they do not have Medicaid but do have Medicare, you will pay a monthly premium for PACE long-term care services and Medicare Part D medications, but will not pay any copays or deductibles for any services the care team deems necessary. If your loved one does not have Medicaid or Medicare, you can pay for PACE privately.
Veterans benefits
Veterans are eligible for several veteran-specific home care programs. For veterans receiving a Veteran's Administration Pension who are permanently disabled and confined to their home, the Aid and Attendance benefits may be an option. These programs increase the veteran's pension to pay for long-term care services. Aid and Attendance can be used in the community or in a skilled nursing facility. If your family member is bedridden, requires substantial assistance with the activities of daily living, or has a substantially limited field of vision, they may qualify for this benefit.
Housebound can only be used for veterans who are receiving home care. The following requirements must be met for this program:
Your family member must have an income of less than $14,987 (or $18,773 if they have dependents)
They must have a permanent disability that is 100 percent disabling and confines the resident to their residence for a substantial amount of time
Or
They must have a permanent disability that is 100 percent disabling and another disability or disabilities that are more than 60 percent disabling
As part of the standard VA Medical Benefits Package, a veteran who is medically eligible and in need is entitled to Homemaker and Home Health Aide Care services. This benefit can cover case management, companionship, meal prep, and personal care. Veterans can also get coverage for skilled nursing care, telehealth, and medical social work.
Other payment options
The average cost for a home health aide is about $3,800 per month. In addition to Medicare, Medicaid, PACE, and VA benefits, your family has more payment options to explore.
A long-term care insurance plan: These plans generally cannot be bought by or for someone who is already in need of care. However, some companies offer long-term care insurance that will cover immediate care for higher premiums. This premium, while expensive, will likely be less than paying for the care out of pocket.
A life insurance plan: If your family member already has a life insurance plan, it may be possible to use it to pay for long-term care. The available options depend on the individual insurance plan. Penalties may be incurred with these early withdrawals, but it may significantly help offset the cost of long-term home health.
State Assistance Programs: In addition to Medicaid, many states offer programs that help make home care more affordable. These programs are for people who do not qualify for Medicaid and vary from state to state.
Tax Credits: If you are paying for the care of a family member with dementia or Alzheimer's, you may qualify for a tax credit. Additional caregiving tax credits and deductions are also available.
Reverse mortgages and annuities: A financial planner can help your family decide if your existing assets can be arranged to cover the cost of home care.
Choosing a home care provider
When choosing a home care provider, it is important to consider a few factors. Keep these questions in mind as you talk to your family member's doctor and to the home care providers you meet with.
What healthcare professionals does your loved one need?
Do they need skilled care? Personal care service? Homemaking services? Are they in need of therapy services? You will need to make sure the provider you select offers services from all the types of professionals they will need.
What equipment do they need?
Make sure the provider you choose is able to acquire all the equipment your family member needs for their care.
How often will they need care, and at what times?
Not all home care providers have the same hours or availability. You need to select a provider that can work with your loved one's plan of care, and, ideally, their care preferences. You might need to find a provider who is available overnight or on the weekends to accommodate their schedule.
What does their doctor see as the goal of their home care?
In cases where a therapy or skilled nursing service is ordered for a limited amount of time, know the estimated timeline and double-check that your home care provider can accommodate it.
Is the provider Medicare or Medicaid certified?
If you are planning to use Medicare and/or Medicaid to pay for home care, the provider needs to be certified by Medicare or Medicaid.
Does the provider do background checks on all their staff?
You want to make sure everyone who is coming into your family member's home has been properly screened. Almost all home care providers screen as standard practice but make sure you ask about this with your selected provider. It will help provide peace of mind for you and your loved one.
Does the provider have good reviews or a good community reputation?
Most businesses have reviews on the internet and many display customer reviews on their websites. You may also want to ask around and see if other people in your community have heard favorable things or have had a good experience with your selected provider.
Is the provider able to accommodate your loved one's cultural needs?
Religious, language, and other cultural needs should be considered when choosing a home care provider, especially if these things are important to your family member. If your family member speaks a language not widely spoken in your area, finding a provider with a home health aide that speaks your loved one's language might be an important consideration.
Is there teaching available for family caregivers?
The provider should teach family, friends, and other loved ones whichever skills they are comfortable learning in order to help your family member with health needs. Learning to assist your loved one with one a tube feeding or in bathing can be extremely beneficial for them. Ask providers if this family training is something they offer.
Was the provider recommended by their doctor, social worker, or discharge planner?
Often, medical professionals have providers they have worked with in the past that they know are reliable. They may recommend a certain provider for your loved one for a variety of reasons, so ask them to elaborate on why, if you are given recommendations.
Did the provider explain any out-of-pocket costs to you and your family in an upfront way?
Some services recommended by doctors or therapists can be performed by home care providers but are not covered by Medicare, Medicaid, or any other plan. The home care provider should present these costs to you before beginning services.