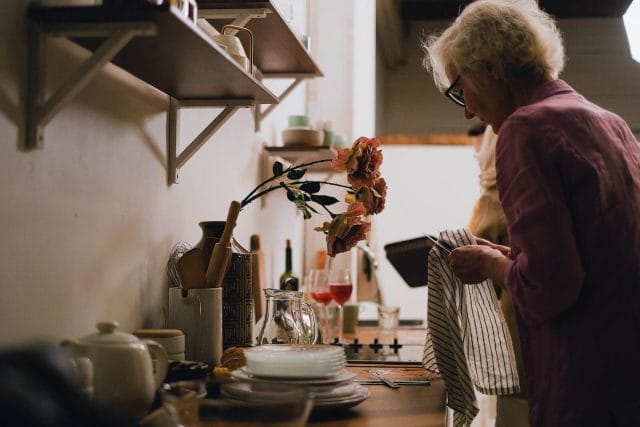 Home Safety Tips for Aging in Place
Aging in place refers to a person who continues to live in their home as they get older, instead of moving to a senior living community. Three-quarters of adults age 50 and over want to age in place, according to AARP's 2021 Home and Preferences Survey. One of the many benefits of a senior living community is that they provide assistance to residents and include features within the community that keep residents safe. So, if you're aging in place, home safety is a critical consideration. 
Some safety measures may cost money. But, not everything has to be pricey. Here we outline steps you can take inside and around the home to maximize safety as a person ages in place.
Safety is critical for aging in place
People go through many changes as they age. Physiological, neurological, and mental changes take place over time. Some of these age-related physiological changes include losing muscle mass and bone density. This change can make it easier to get injured or recover from an injury. CDC numbers point to around 36 million falls among older people each year, resulting in over 32,000 deaths annually. If an older adult ages in place, it is especially important to protect their physical safety when possible to avoid injuries.
Neurological changes take place as we age, which should also be considered when preparing to age in place. Some people may develop cognitive decline, so could benefit from safety measures that help them remain independent for as long as possible.
Aging in place may be ideal for some older adults, but because of the changes that take place over time, it also requires careful consideration and planning. AARP's survey also found that 34% of older respondents recognized the need to physically change their house to make it safer. When you take steps to make a home safe for yourself or a loved one who is aging in place, you can help prevent injuries, reduce the risk of falls, and promote independence. 
Home safety tips for older adults
When you look around your home, it might seem pretty safe at first glance. But, tasks that seem as simple as bringing in groceries or using the bathroom come with safety risks. Some adjustments may be more costly and others cost nothing. There are many tangible steps families can take to keep their loved one safe at home:
Get rid of trip hazards
Walk around the rooms and hallways. Take note of anything that you might be able to bump into or trip over — essentially, any object that is in or near a walking path. You can move objects like ottomans and low tables out of the pathway so they are not in the way. You can make sure that electrical wires are not lying on the floor and instead are fastened to walls or underneath tables with appropriate fasteners so they are still within reach but not in the way.
Area rugs, although they are pleasing and make a floor warmer, all increase the risk of falls. You might consider removing these so floors are even and don't present a trip hazard.
Give every item a home and de-clutter
The greater amount of objects that lie around the home, the greater risk of tripping and falling. Look critically at the objects around the home. Where can you minimize clutter? Organizing the area where the adult places their daily mail can create a routine of placing bills in a basket and junk mail directly in the trash or recycling, which can reduce the likeliness of piles of mail that can topple over. If there are a lot of knick-knacks or cluttered spaces, consider moving these items away from the edge of horizontal surfaces to decrease the likelihood that these objects will fall to the floor. 
If children or pets are in the home, take a look at where their items lie when they are put away. Is there a home for toys and other objects? If the adult has a pet, using a basket to hold the pet's toys or treats can free up floor space and ensure that toys are not left in walkways. If children live in the home, empowering them with their own toy boxes where they put their items when they're finished playing can help keep common areas tidy and free of trip hazards.
Install supportive grab bars
Add handrails to areas of the home where loved ones are getting up and down, especially in showers and near toilets and sinks, where falls can happen easily. Grab bars are inexpensive, easy to install, and should be considered a requirement for aging in place. 
Remove raised thresholds
Check out the entries between rooms. Are they even? If not, flattening them, installing a ramp, or adding a grab bar can remove a significant hazard.
Add seating
Adding convenient seating to places like kitchens, foyers, and showers can make activities of daily living (cooking, putting on shoes, bathing and more) safer.
Create non-slip areas
Reduce fall hazards by adding textured grip strips to stairs, kitchens, and bathrooms — think of any place that might get wet or pose a fall risk.
Place lighting throughout the home
Place light switches at the tops and bottom of stairs, and remember to keep night lights lit throughout the house.
Check outdoor spaces
While many falls happen inside the home, they occur outside, near the house. Remove roots and rocks in the yard and check for cracks or uneven surfaces, especially on the route to the car or mailbox. Handrails outside the front door are also a good idea, especially if there are stairs.
Ensure smoke detectors are working
Check that smoke detectors are installed on each floor and that they include carbon monoxide detectors. If not, make sure you install those as well. Locate the fire extinguishers and make sure they're in working order. You'll want to check these on a regular basis as well.
Technology can help keep older adults safe at home
Technology can also help keep an adult safe while aging in place. There are several game-changing advancements in recent years that have made the home exponentially safer for loved ones who are aging in place.
Smart home devices
Smart home devices are like digital assistants. The person can use voice commands to control lighting, heating, and power to other connected devices. They may also have cameras, which can invaluable tools for older adults aging in place. Cameras and video call devices can allow family members to check in on their loved ones at any time of day. Smart lighting allows older adults to switch lights on and off without getting up. Digital assistants can make emergency calls, play audiobooks, and set reminders for medication, appointments, and important daily activities. 
Medical alert pendants
Medical alert pendants let older people call for help no matter where they are. These are typically attached to a 24-hour call center, where reps can send help immediately. When the adult wears one, they have easy access to help that is just one button away. While some older adults use cell phones, these medical alert systems can be simpler to use in a moment of crisis than dialing a phone number on a phone.
GPS trackers
GPS trackers are an excellent way for families to quickly locate their loved one, which is especially important for people with Alzheimer's or other forms of dementia.
Smartwatches
Smartwatches and wrist devices allow for remote monitoring from telehealth services. They can keep track of blood oxygen levels, know when a person has fallen, and even detect the signs of heart attacks before they happen. They are also convenient for setting alarms and reminders. If they are connected to a smartphone, they can also help keep the adult close to a means of communication if they need to call a family member.
Aging in place safety checklist
Taking some safety measures like these can help your or your loved one age in place safely, comfortably, and confidently. Regular maintenance should be done to make sure the home continues to stay safe. Families should regularly do safety assessments and maintenance tasks to protect their loved ones from everyday hazards.
Check batteries in smoke detectors and other battery-powered devices
Add and maintain carbon monoxide detectors
Check that fire extinguishers work and are stored in convenient spots around the house
Check the sturdiness of all towel racks, handrails, and grab bars
Clean the laundry lint traps
Have the furnace and fireplace checked and cleaned
Replace any burned-out light bulbs
Declutter and remove furniture that's not being used
Be sure all doors and locks are working properly
Remove excess debris in the yard and fix cracks in the driveway
Being proactive about these maintenance and safety assessments can save money in the long run and help older people stay in the home they love for as long as possible.