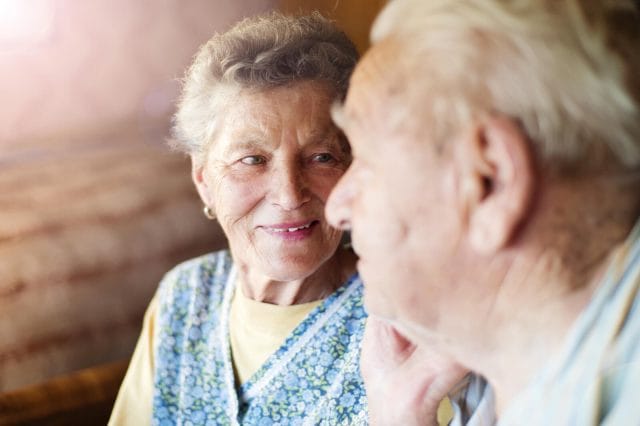 A diagnosis of Alzheimer's disease or another type of dementia can be upsetting for the person and their family members. While coping with the grief that can come with that diagnosis, pressing matters also become top of mind, including considering memory care options, planning for future finances, health outcomes, and safety. While people living in the early stages of dementia may not need much support, as the disease progresses, changes occur that will require a care plan.
The good news is that there are options for support, including at-home memory care, assisted living with memory care services, and nursing homes with memory care services. The bad news is that it can be overwhelming to determine which support is best for your specific situation. We're here to help by giving you more information about each option so you can make a confident decision.
Why are memory care services needed?
Alzheimer's disease and other types of dementia affect more than just memory. Adults living with the condition can experience impairments in judgment, organization, and other critical thinking, often leading to significant safety concerns. According to the National Institute on Aging, people living with dementia can wander and get lost, behave impulsively, and make unsafe decisions. They can struggle with personal hygiene tasks and will eventually depend on others for care.
Memory care services, or services designed to meet the challenges of dementia, provide personalized support so that the person living with dementia is safe, comfortable, and happy. These services are usually carried out by caregivers, nurses, or other clinicians trained in best practices of dementia care.
At-home memory care
One memory care option is having a home care agency bring specialized services into the home. There are two types of home care: medical and non-medical. Licensed medical professionals provide medical home care services, such as a registered nurse performing wound care management or a physical therapist providing balance training. Caregivers can provide non-medical home care services with a nurse writing care instructions and overseeing documentation.
In most cases, non-medical memory care services will be the right support. Caregivers can assist with light housekeeping tasks, like sweeping the floor, making the bed, preparing meals, assisting with personal care tasks, and providing companionship. These services will help keep the person with dementia safe, healthy, and comfortable.
Benefits of at-home memory care
The benefits of at-home memory care services include the familiarity of home. This can help the person feel more comfortable, especially in the early or middle stages of the disease. Family members can also find comfort in knowing their loved one is still home.
Drawbacks of at-home memory care
At-home memory care services come at a price. While someone in the early stage of dementia might only need a few hours of support per day, the person might require 24-hour care as the disease progresses. Most home care agencies bill by the hour, so the more time a person needs care, the more costly at-home care becomes. This can make the price too high for some budgets.
Assisted living with memory care services
Another option for dementia care can include specialized neighborhoods in senior living communities. Assisted living facilities with memory care services are common specialized care. In these communities, residents living with dementia may live in a wing that has added support for people with memory care needs, such as added security or specialized programming.
There are also standalone memory care communities, where the buildings, grounds, staff, services, and programming cater to helping people with memory care needs. They feature amenities and services that support people living with Alzheimer's disease and other types of dementia, including safe access to the outdoors, homelike dining rooms with comforting and nutritious meals, and staff members trained in best practices of dementia care. Residents typically live in apartments with private bathrooms that they can decorate to feel like home.
Benefits of memory care communities
Memory care communities can be positive environments for people living with dementia because there are more opportunities for socialization as opposed to living at home. Relationships with peers and staff members can bring comfort and moments of joy and social connections, which have been linked to slowing dementia progression.
Drawbacks of memory care communities
Drawbacks of assisted living with memory care services can include moving the person to an unfamiliar environment, which can cause transition trauma and increased confusion for a few months after the move. In addition, these communities can be pricey, especially if there are no ways to offset costs.
Nursing home with memory care services
Adults living with dementia and complex medical conditions might find a nursing home with memory care services to be the best option. Some nursing homes offer specialized memory care services in a designated unit or neighborhood of the community. Residents continue to receive around-the-clock skilled care and dementia care and interventions.
Benefits of nursing homes with memory care
The benefits of nursing home memory care communities include additional skilled care. These communities are equipped to handle complex medical conditions and pain management, which can sometimes be too much for an assisted living community.
Drawbacks of nursing homes with memory care
Drawbacks of nursing homes with memory care can include simpler living quarters. Most facilities offer rooms, not apartments; some are shared with other residents. The waitlist for some communities, especially those with Medicaid openings, can be long.
Making your decision
Fortunately, thanks to awareness and early diagnosis, you will likely have time to make a decision supporting your situation's health, safety, and budget. But, it is never too early to begin looking at your options, interviewing in-home care agencies, touring memory care communities, and figuring out how to pay for memory care. Getting your loved one involved in decision-making empowers them and allows them to advocate for their preferences.
If possible, you will want to secure support and assistance before any medical emergency or crisis.
If you or your loved one was just diagnosed with Alzheimer's or dementia, you likely have time to sift through your options and make a sound decision. If you find yourself in a crisis, you will need to make a quicker decision. In either case, speaking with your loved one's physician for recommendations can be an excellent first step as you narrow down your choices.