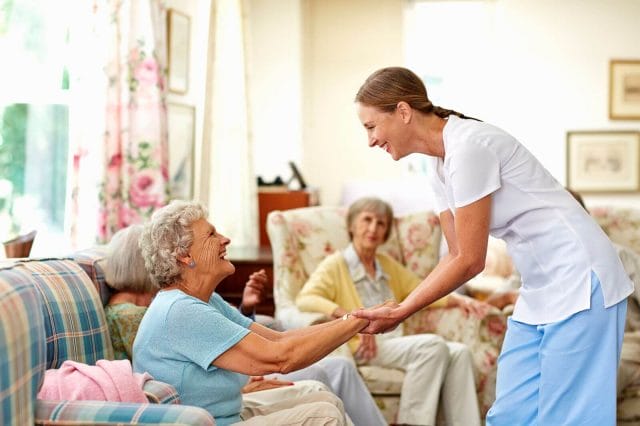 Moving to a nursing home can be an emotional time for both the older adult and their loved ones. In many cases, a family member is in the position to make the decision to move the older adult, which can come with a range of emotions — sadness, relief, and even guilt, which is often exacerbated by misconceptions about nursing home care. In this article, we'll dispel common nursing home myths and give some tips on what you can do to ensure that your loved one is safe and well cared for.
Myth: Residents lack privacy in nursing homes
A common worry is that residents of nursing homes lack privacy. The presence of other residents and staff can give the impression that there is no time or place to be alone.
The truth about nursing home living spaces
While some nursing home residents will have a roommate, there is still ample opportunity for alone time. Common areas, recreation rooms, and sometimes even libraries can provide quiet spots to sit and relax alone or do a solitary activity, like a puzzle or a card game. Many nursing homes have calm outdoor spaces where residents can go to escape the bustle and relax or visit with family and friends.
Also keep in mind that privacy is a resident's right: The nursing home is required by law to maintain resident privacy. Residents must have access to private visits, phone conversations, and email. They also must be allowed to keep their own personal belongings and be protected from theft.
Myth: Residents might not get adequate attention
A serious misconception about nursing homes is that the staff do not treat residents well. This belief often stems from the idea that nursing home staff are overworked or that the facility is understaffed to the point that residents are neglected.
The truth about staff at nursing homes
Nursing homes are staffed by compassionate, patient, and devoted professionals who have dedicated their lives to caring for others. Most residents find themselves connecting with the staff members and enjoying their company, and vice versa.
The federal and state governments regulate nursing homes, which means that they must adhere to specific guidelines regarding the care of their residents. The staff are held to strict standards of care, and the facilities have high staff-to-resident ratios.
Additionally, states have long-term care ombudsman programs to ensure that residents' rights are being protected. An ombudsman is a state official appointed to investigate complaints, serving as an advocate for the citizens. If you have concerns about the treatment of a resident, identify and contact your state's long-term care ombudsman.
Myth: Residents will be lonely
A major concern of family members is that their loved one will be lonely in a nursing home because they are in an unfamiliar environment and separated from family and friends.
The truth about nursing home activities and resident socialization
Loneliness and isolation are taken very seriously in nursing home settings because of the significant impact they can have on an older adult's mental health. In order to combat this concern, nursing homes have a full activity calendar, including visits from volunteers and, in some cases, entertainers to provide engagement and socialization for the residents. In addition, many nursing homes work to facilitate friendships between residents. Often, residents experience more socialization than they would in a home setting.
Myth: Residents don't get visitors
Part of the concern of loneliness stems from the fear that residents don't get visitors when they live in a nursing home.
The truth about visiting with nursing home residents
Whether or not a resident gets personal visitors is largely in the control of family and friends. Some nursing homes may still have restrictions due to the COVID-19 pandemic, but in general, families can visit their loved ones as often as they'd like. In many cases, because family members are no longer focused on providing care to their loved one, they can instead spend more enjoyable quality time together.
Creating a shared calendar of visiting times is a helpful way to encourage friends and family to visit. It also allows your loved one to know when to expect visitors, giving them something exciting to look forward to.
Myth: Nursing homes are too expensive
People may think that nursing homes cost too much money, and they may have to sell their home to pay for nursing home care.
The truth about paying for nursing home costs
While nursing home care can be costly, that is largely due to the comprehensive services these residential long-term care communities provide. The cost of a nursing home includes day-to-day residential expenses — such as housing and utilities — but also covers most personal care needs, daily meals, access to trained staff, activity programming, and more. Though paying for this robust care can be challenging, many options exist outside of selling your home to help cover or offset the cost.
For a short period following a hospitalization, health insurance may cover the cost of skilled nursing care when prescribed by a physician, but that is only a temporary solution. Most health insurance policies do not cover any nonmedical expenses associated with nursing home care. For a long-term solution, some nursing home residents turn to Medicaid, as many states' Medicaid programs can assist financially eligible residents in covering some or all of the costs of nursing home care.
There are still more options for paying for nursing home care:
Long-term care insurance can help pay for the personal, nonmedical needs of the resident.
Individuals with certain kinds of life insurance policies may be able to use their benefits to pay for care while they are living by cashing out the policy or taking a life settlement.
Veterans benefits, like Aid and Attendance, may be available to qualifying Veterans and their spouses.
If a prospective resident plans to sell their home and use the proceeds from the sale to pay for nursing home care, obtaining a bridge loan can help pay the immediate move-in costs until the home sells.
It's normal to feel uncertain when deciding on a long-term care solution for a loved one. In many cases, the caregiver shifts to the role of advocate to ensure that their loved one's health, safety, and personal preferences are considered and accounted for. Many caregivers' concerns before such a transition are valid, but with the information above, they can feel confident that their loved one is cared for and safe.