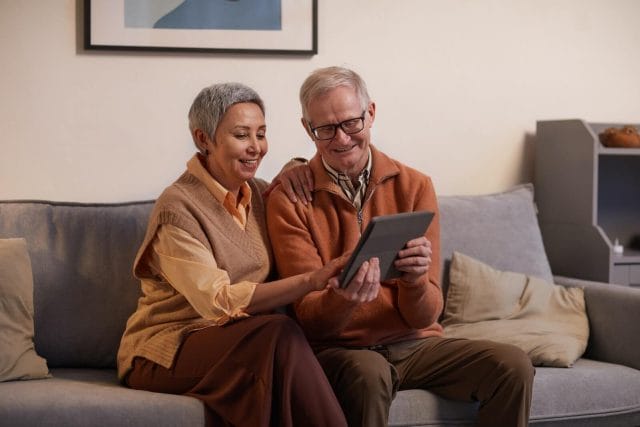 When researching alternative living arrangements for senior care, the options can seem overwhelming. Independent living and assisted living communities each have their benefits, but the two have many differences. What are the different levels of care, and how do you determine what type of living best suits your needs? Continue reading to learn more about assisted and independent living differences.
Assisted living vs. independent living
Independent living communities are designed for older individuals who can still care for themselves but want to downsize and live a more carefree lifestyle. Many people interested in independent living communities want to sell their homes and downsize and live a more social, enriched life. Independent living communities range in the size of the home and the amenities they offer. This type of senior living can include senior apartments, retirement communities, low-income housing, senior co-housing, and continuing care retirement communities. The amenities in more upscale communities can include swimming pools, gyms, restaurants, hair salons, and barbershops, all within the community's property. Others that are more affordable may be simpler yet provide amenities like clubhouses, community areas and dining rooms in the building, fitness centers, and more.
In contrast, assisted living is for older individuals who want to live as independently as possible but require help with some tasks. Every state requires assisted living communities to adhere to their licensing guidelines, which differ from state to state. These guidelines determine what staffing requirements they must uphold, meal programs, services offered, living area requirements, and more. 
Assisted living communities typically have the residents' living spaces, dining area, activity rooms, and other services within the same building. Though requirements also vary from state to state, many assisted living communities offer meals and snacks daily as well as staff to assist with activities of daily living (like toileting, bathing, dressing, transferring, and ambulating) and medication management. They may also maintain a calendar of social events and offer laundry and housekeeping services.
Because residents of assisted living communities have greater care needs than those in independent living communities, assisted living communities employ health care professionals, like registered nurses and registered dietitians, to oversee aspects of the community's services.
These two types of communities are great options for those who do not want to or can not age in place at home, which is when an older individual lives in their own home without transitioning to some community or facility. People who age in place at home may remain completely independent or receive in-home caregiver services to assist with their everyday needs.
Living areas and facilities
Independent living communities vary in their living area accommodations. As mentioned above, some communities feature individual homes with multiple bedrooms. They may resemble other housing developments, with many streets lined with homes that have front and backyards. Others resemble apartment buildings. There may be communal entrances to the buildings with multiple floors and elevators leading to apartments. The living areas may be studio, one-bedroom, or two-bedroom apartments with kitchens and bathrooms. Depending on the building, some apartments may have private balconies or patios; some may not have private outdoor spaces attached to the apartments. In most cases, however, there are communal outdoor spaces with benches for the residents to enjoy.
Assisted living communities typically offer studio or one-bedroom apartments for their residents. This is a private space for an individual or couple. In some states, assisted living communities may allow two or more unrelated people to share one living space. Residents who share a room typically must consent to this, but it is a good idea to check with the communities you're researching to learn how they handle the sharing of rooms among residents. The minimum required number of bathrooms and showers varies by state as well.
Services offered
Independent living and assisted living residents can enjoy similar services. While each community is different, many offer all-inclusive rent (some independent living communities may include utilities in rent), community dining depending on your state, security, ground maintenance, housekeeping, laundry, and emergency services.
Residents could enjoy pools, gardens, game rooms, theaters, and more, depending on the location. The communities also include activities where residents can get together and socialize, like happy hours, bingo, live music, and art classes.
Assisted living communities offer more services, as the individual typically requires more care. Most communities offer services such as:
Transportation services.
Medication management.
Routine housekeeping.
Personally tailored care plans.
On-site physician visits.
On-site outpatient appointments with physical and occupational therapists.
In addition to these services, assisted living communities can offer assistance with activities of daily living (ADLs). This could include:
Showering and grooming.
Dressing.
Toileting assistance or incontinence management.
Transfer assistance.
Verbal cues, such as mobility reminders.
Staffing differences
Staffing is different for both communities. Assisted living communities must follow their state's staffing guidelines, whereas many independent living communities do not need a license as no care is given. This allows them to determine the best staffing for their site ultimately.
For an example of regulated staffing, the assisted living facility administrators (ALF) determined that for between six and 15 residents, there can be up to 212 staff hours. The more staff on at a time, the more staff members are available to help the residents. 
Qualifications for entrance
The qualifications for the two communities are different. Independent living communities often require that you are above a certain age and can care for yourself. Depending on the type of senior living community, there may also be income limits that applicants must not exceed to be admitted and remain in the community.
On the other hand, assisted living has more qualifications a person needs to meet. This can be their age and the level of care they need. This kind of community is designed for those who need more care but may be unable to meet all levels of care, such as diabetic and ostomy care.
Cost comparison
The rent at an independent living community ranges in price depending on location and size, amenities, and accommodation type and size. Low-income housing could cost $1,000 per month, or even less if you qualify for certain public housing options, while entrance fees to high-end communities could cost tens of thousands of dollars. Communities can work with prospective residents to determine how the resident can pay for these costs. 
You can also expect quite a bit of variation when it comes to assisted living communities. These costs can also vary depending on the location, size, amenities, and accommodation type. Although, in this case, residents are not only paying for housing and amenities but also receiving assistance with daily tasks. The national average monthly cost of assisted living is $4,500, though prices vary. Similarly to independent living communities, assisted living communities can help prospective residents determine how to pay for the cost.