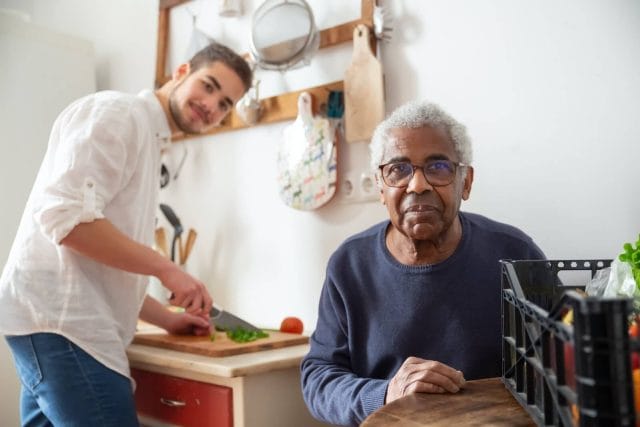 Aging adults often need help with household tasks, personal care activities, or caring for their medical needs at home. As you or a family member explores the options for bringing professionals into the home to help with these tasks, you may come across terms like "home health care" and "home care," which are sometimes used interchangeably. But, they actually refer to two different types of services. It's important to know the difference between home care and home health care services because the care you're looking for may be one and not the other — or perhaps both.
Home care offers non-medical assistance, such as companionship, meal preparation, and other household tasks, while home health care provides medical assistance. Both are great options to help a loved one age in place. Here, we explain each form of home care, how they can benefit older adults who want to age in place, and how much they typically cost. 
What is home care?
Home care offers compassionate attention and assistance with daily personal care tasks for older adults. The levels of care can vary according to the caregiver and the older adult's needs, but home care services might cover services like running errands, preparing meals, spending quality time, or helping with activities of daily living (ADLs). Caregivers in this field are typically not medical professionals but have training in the essential aspects of senior care. 
Home care service options might include
● Transportation to doctor's appointments, shopping centers, pharmacies, and other locations
● Companionship, including conversation, games, movies, and any activities the loved one enjoys
● Cleaning and organizing tasks in the home, including washing dishes, vacuuming or taking out the trash
● Managing finances
● Helping with getting around the home or transferring to and from beds and chairs
● Preparing meals
● Assisting with bathing, grooming, dressing, and toileting
Who is home care for?
Home care is helpful for older adults who are relatively independent but may need some supportive care to stay that way. It's also a good choice for individuals who
● Feel lonely or isolated
● Are no longer able to drive
● Would like extra help with cooking and cleaning
● Need a hand with hygiene activities
How much does home care cost?
Genworth Financial surveyed 57,981 providers in 2020 to determine the prices of home care. They found that more than 90% of providers charge by the hour and that the median hourly cost of home care was $26. For the average person, that equates to $4,957 per month and $59,488 per year. Keep in mind that home care costs can vary significantly from state to state. For example, home care in Louisiana is $19 an hour, while the median rate in Massachusetts is $31 per hour. 
What is home health care?
Home health care offers services that licensed professionals can provide. Typically, they are licensed practical nurses, registered nurses, or physical, occupational, and speech therapists. Most work for a home health or hospice care agency. A physician usually needs to write a prescription for home health care, especially if insurance is paying for any of it. 
Home health services might include
Wound care
Physical or mental rehabilitation after a procedure or injury
Health monitoring
IV therapies
Prescription administration
Medical tests and exams
Physical, occupational, or speech therapies
Who is home health care for?
While home health care can be used as a long-term care option, it's also incorporated after an injury (like a fall) or surgery, or for ongoing conditions such as chronic obstructive pulmonary disease (COPD) or diabetes. Home health care may be an ideal choice for older people who:
Were recently discharged from the hospital, rehabilitation center, or skilled nursing facility
Have just changed medications
Are experiencing declining health or are losing abilities
Are not able to get to and from doctor's offices, rehab facilities, or hospitals
How much does home health care cost?
According to the same survey, home health aides charge a nationwide median hourly rate of $27, as of 2021. Based on 44 hours of care per week (the average across the country), that equates to $169 per day, $5,148 per month, and $61,776 per year. Like home care, home healthcare prices vary significantly from state to state. For example, Mississippi has one of the lowest rates at $20 per hour, while the state of Washington was one of the highest at $34.50. 
How to pay for home care and home health care
So how do families pay for home care and home health care? Will insurance cover home health care? Let's take a look.
Medicaid. This national- and state-run health insurance may pay for home health care and, in some cases, will pay for home care services (this varies by state).
Medicare. Medicare is a federal health insurance program for certain populations of people, including adults aged 65 years and over. It may cover home health care when prescribed by a physician. It typically will not pay for home care.
Private health insurance. A person's private health insurance may pay for home health (when prescribed by a physician), but it often does not pay for home care.
Private pay. When you pay privately, that means you're using your own funds to pay for care. Private pay can cover the costs of home health care that has not been ordered by a doctor. Families often pay out of pocket for home care. 
If these options feel like the right choice for yourself or a loved one, make sure you explore the options, research agencies, and find ways to fund home care and home health care. Doing a little homework now can save a lot of headaches down the road.