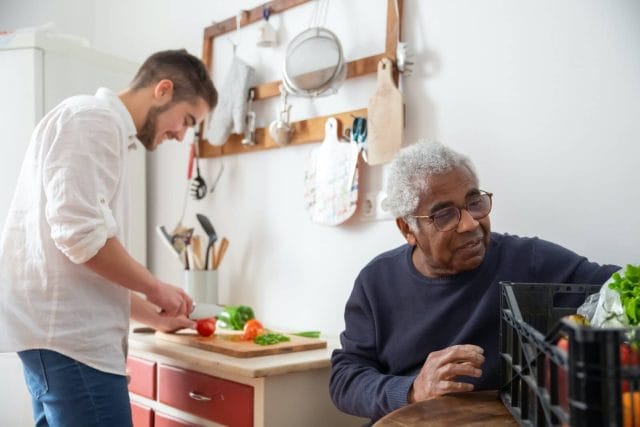 Home care is a non-medical service provided in homes and sometimes in community settings. Most home care is provided to seniors, though some agencies offer services to individuals with intellectual and developmental disabilities. Despite the common need for companionship and personal care services, most people don't learn about the need for home care until their loved one is discharged from the hospital. These tips can help you to find the right home care provider for your loved one's needs.
Have one point of contact for your family
First and foremost, have one person in charge of inquiring and calling around for care. Most of the time, this person is designated as a power of attorney (POA). This helps to alleviate confusion and streamline communication.
Understand what you and your family members need
It's important to understand the full scope of what your family will need so that the agency can properly assess needs and provide quotes, if applicable.
Do they need help with toileting and meals?
Do they need help with errands and transportation?
Do they have pets?
Do they need assistance with two or more activities of daily living (ADLs)?
The scope may also help determine what funding options are available. For example, if your loved one is a veteran, they may be eligible for home care services through the VA Aid and Attendance benefit.
Have a budget in mind
The cost of home care has been rising, and the average, according to the Genworth Cost of Care Survey for 2022, was $29.01. If self-payment or private pay isn't an option for your family's situation, here are some payment methods that you might be able to tap into:
Medicare Advantage plans (Note: Traditional Medicare alone will not cover non-medical home care services)
VA Aid and Attendance benefits (for a qualifying veteran or surviving spouse)
Long-term care insurance (LTCI)
Religious and cultural organizations
A local All-Inclusive Care for the Elderly (PACE) program
Once you have an idea of what programs are available in your area and which ones you can use, you can take this information to filter out and short-list the providers you can work with.
Ask the right questions to evaluate home care companies
There are so many questions you could ask. Where do you even start?
Shaista Kazmi, the President and Founder of senior care agency Apna Ghar LLC, shares some key questions to ask when evaluating your options:
Are your aides licensed, bonded, and insured?
Licensure varies by state, so be sure to get clarity here. In Kansas, for example, some may be License A, whereas some may have License B. License A includes skilled services and non-medical home care, whereas License B companies only offer non-medical home care.
If my caregiver calls out, do you have backup coverage?
Some agencies may have on-call staff available to cover shifts in case of a call-out. If your loved one can't be left alone for extended periods, ensure they have the proper resources to accommodate such events.
What household duties and tasks do the caregivers perform?
A common term for in-home care is "light housekeeping." This varies from agency to agency, and if housekeeping is something you'd be looking for, clarify this before starting services to ensure that your expectations are met.
Do you perform background checks on your staff?
Background checks are a staple part of anyone's hiring process, especially for a caregiver. Ask about which types they perform. Some agencies do single or multiple state checks, elder abuse registries, child abuse registries, and driving record checks.
If you're in a licensed state that requires caregivers to be certified home health aides (HHA), confirm that the caregivers are, in fact, certified.
Can we interview the aides ahead of time?
Compatibility is an essential factor in the home care client experience. Having the ability to interview or meet a caregiver before starting services can be a great way to start things off. Not all agencies offer this, so be sure to ask beforehand to understand what the process looks like in your area.
Pay attention to first impressions
When you're calling around to different home care agencies, pay close attention to
How your call is answered
How the person on the phone makes you feel
How closely they pay attention to what you're saying
If they helped to make the process feel less daunting and stressful
If they were pushy to hire them; if they felt too much like a salesperson
Take notes on the practical and logistical matters, but you should also think about how the caregivers would provide care to your loved one.
Find out what makes each agency different
In addition, make sure you ask about specialty programs. Home care agencies in your area offer the same base of services: companionship and personal care. It's important to see what separates some from others.
Some agencies specialize in dementia care, while others may have cancer care and end-of-life care programming. Get a feel for what the agency offers, and find out if they offer multiple service lines, like geriatric care management or skilled nursing at-home care.
Conclusion
Finding a home care company for your loved one can be tough, especially when you're in a rush. If you're in this situation right now: take a deep breath. Once you have compiled your research, you can sort through what you've learned and make a confident decision, no matter the circumstances.