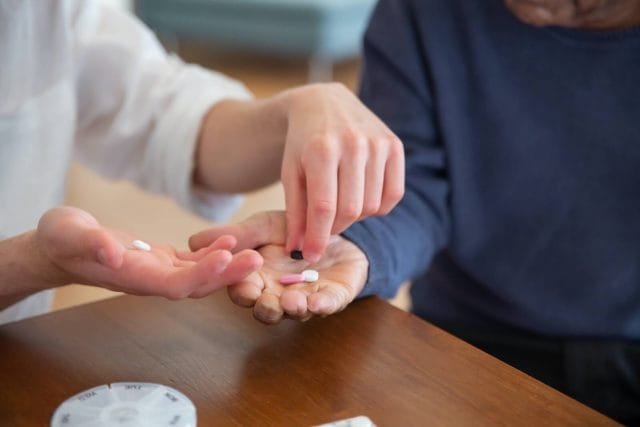 Some seniors living at home need some clinical support to stay healthy. Home health care can provide professional medical care to seniors in the comfort of their homes, providing privacy and dignity. If you or your loved one are planning a return home from the hospital after a surgery, procedure, or extended stay, or if getting out to multiple clinical appointments each week is not an option, home health care might be the best option for you. Here's what you need to know about home health care, including what it is, what it isn't, and how to pay for it.
What is home health care?
Home health care, sometimes called medical home care, is when licensed professionals bring skilled nursing care services into the home. Home health care services are coordinated through home health care agencies.
How does home health care differ from home care?
In the senior care world, the terms home health care and home care are sometimes used interchangeably. But, these are two distinct types of services that are not the same. While both types bring support into the home, the support is quite different.
Licensed professionals provide home health care services, including skilled health care interventions and services. In contrast, home care services are provided by unlicensed caregivers and include non-medical — non-skilled health care — tasks.
Home care services might include a caregiver stopping by four hours each day to provide companionship, light housekeeping, or assistance with showering. Home health care services could include a registered nurse coming for an hour to provide wound care.
There is a time and place for home care and home health care services, and both certainly can benefit seniors living at home. Some home health care agencies offer both home health care and home care services so the senior can get all the help they need to stay healthy and safe at home.
Who are home health care providers?
Home health care agencies employ licensed professionals who provide skilled home health care services. Examples of these professionals might include:
Registered Nurses.
Physical Therapists.
Occupational Therapists.
Wound Care Nurses.
Speech Therapists.
Certified Nursing Assistants.
It's common for home health care agencies to coordinate care through case managers who might be nurses or social workers. These case managers typically assess the client's needs, write a care plan, coordinate communication between the discharging hospital (if applicable) and physician, and follow up with family members as needed.
What are home health care services?
A physician prescribes home health care services and includes skilled health care tasks. This means that only a licensed professional can perform the tasks. Examples of home health care services include:
Wound care for pressure sores or surgical incisions.
Intravenous, or IV, medications.
Complex medical condition management.
Counseling and education regarding a new diagnosis, such as diabetes management.
Injections.
Physical, occupational, or speech therapy.
Medical tests or exams.
Pain management.
While home health care services can be appropriate at any time, it is common for home health care services to begin after a hospital stay, a discharge from a skilled nursing facility, or a new diagnosis or health crisis. Home health care services can also appropriately support someone in hospice or receiving palliative care.
What services are not considered home health care?
Home health care services include those prescribed by a physician and given by a licensed professional. Other services would not fall under the home health care umbrella and can include:
Light housekeeping.
Transportation assistance.
Companionship.
Meal preparation (unless done as a therapy intervention).
Grocery shopping.
Respite care.
Who might benefit from home health care services?
Adults living at home alone or with a partner can benefit from home health care services if:
They have recently had an extended stay in the hospital and need to continue their therapy and healthcare regimen when they return home.
They have been newly diagnosed with a chronic health condition that can be challenging to manage.
They do not want to go to multiple outpatient therapies or healthcare visits per week outside of the home.
They are being discharged from a skilled nursing facility after a short-term stay, and they want to ensure their return home is safe and supported.
How can I pay for home health care?
While home care services are typically paid for out-of-pocket, home health care services are often covered by insurance, partially or completely. If you want to offset the costs of home health care services, use your Medicare benefits.
Medicare covers most home health services as long as they are prescribed by a physician and carried out by licensed providers. Medicare Part A covers not only prescribed home care services but also any durable medical equipment or medical supplies needed at home and prescribed by a physician. It is important to note that Medicare does NOT cover home care services.
Medicaid coverage varies from state to state, but people eligible for Medicaid can typically find some relief from in-home services, including home health care. However, Medicaid is often used to offset the cost of home care services for those eligible.
Additional ways to offset the cost of home health care services can include private insurance, like long-term care insurance, and VA benefits, like Aid and Attendance. However, using your Medicare coverage is the most common way to pay for home health services.