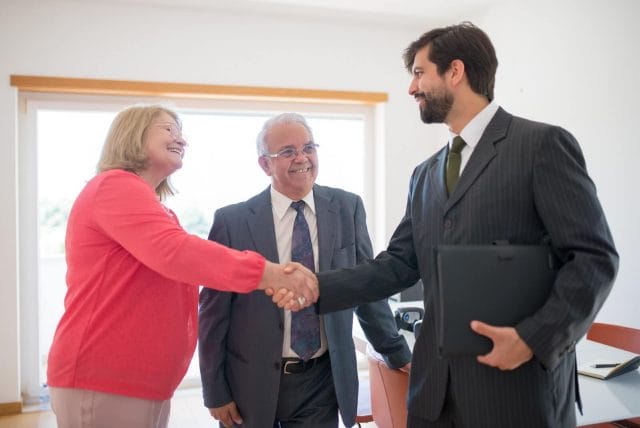 Now that you or your older loved one have decided that an assisted living lifestyle would provide the additional support, services, and amenities to make life even better, it's time to begin searching for the best community for your situation. Once your list of potential communities is narrowed down based on location, care available, and cost, you can begin the decision-making process by contacting the community to set up a tour. Here, we explain what to look for in an assisted living community so you can make your decision and enjoy the many benefits of assisted living.
Your community tours are an important part of making your most confident decision. During your time at the community, you'll have the opportunity to check out its features, meet key staff members, observe resident life, and get a general feel for the atmosphere. Asking the right questions and making the right observations during your time touring can also help you know if the community will be right for you.
Here are a few key questions and observations to make when touring an assisted living community, along with a few other tips to remember.
Observations to make during your tour
When you walk through an assisted living community during a guided tour, you can look at available apartments, shared community spaces, and amenities. But you can keep your eyes and ears peeled during your tour to observe even more if you know what to look for.
Potential green flags
Of course, you can observe plenty of things that could lead you to believe residents at the community are healthy, happy, and engaged. Look for these positive observations:
Caregivers are interacting with residents, and they seem to have a genuine relationship with one another. Look for small details like how a caregiver knows how a resident likes their coffee or if they are talking about family members by name.
Personal touches from residents throughout the community, such as displayed resident artwork in the art studio hallway or photos of residents posted on the life enrichment bulletin board.
Residents are interacting with one another and participating in group events. They seem happy and look their best. They are well-groomed.
Family members are visiting and interacting with caregivers and residents.
The community smells neutral or good and looks like it is well taken care of.
There is a lot of natural light and you see shared spaces, like a library or living room, and it looks inviting to residents and guests alike.
Potential red flags
Not all assisted living communities are created equal, so you will want to notice anything that might indicate that the community may not be a good fit for you. While these red flags do not necessarily rule out any community, you will want to follow up if you observe them.
Unclean floors, walls, or furniture. Things seem in disrepair.
Unpleasant odors throughout the community. While it is common for there to be unpleasant odors at times in certain places, they should not be throughout the community.
Unresponsive or uninterested staff members.
Staff members who seem stressed out, anxious, or are running around. This could indicate a short-staffing issue.
Not having menus or activity calendars posted in shared community spaces.
Not having an assisted living license from the state posted in the community.
Residents are not participating in an event or meal.
Residents do not look their best. They seem tired, uninterested, and/or not dressed or groomed properly.
If you notice anything that makes you uncomfortable or worried, bring it up to the team member giving your tour. They should address your concern with candid conversation and offer to answer any additional questions you might have. If they seem to brush over your concern, add that to your Potential Red Flag list.
Questions to ask on your tour
Now that you've taken a community tour and made some key observations that will help you make your choice, it's time to be sure you have the information you need to continue your decision-making process. It's helpful if you can jot down your questions ahead of time. Bring the list with you on each tour so you have the same information about each community you are interested in. This approach can help you develop a list of pros and cons and help you know what follow-up questions to ask during future tours or phone calls.
Can I see a copy of a weekly or monthly menu?
Tip: Be sure the menu offers multiple choices at each meal. If you or your loved one has a food preference (such as Kosher or vegetarian) or if they have a prescribed diet from a physician, ask if the dining team will accommodate those preferences.
Tip: You can't always tell the quality of the food or dining experience without being a part of it yourself. Ask if you can attend a meal to meet a few residents and see what you think of the food.
How many caregivers are in the community during the day, evening, and overnight shifts?
Tip: A resident-to-staff ratio can sometimes be skewed as it averages the staffing model for a month or more. Look for communities with more caregivers available during the day and evening shifts (when residents are awake and need more personalized attention) and a well-staffed overnight team who can take care of emergencies.
How often is a nurse on duty?
Tip: Assisted living regulations vary from state to state, but they require that a nurse is in charge of resident care plans and oversee care; however, the more nurses available, the better. If possible, look for a community with a charge nurse on staff for all three shifts.
Do you charge more each month for increased care needs?
Tip: Most assisted living communities operate by charging a higher monthly fee for higher levels of care. Discover this now so you aren't surprised as your or your loved one's needs increase.
What is covered in the monthly fee?
Tip: In general, an assisted living monthly fee is nearly all-inclusive. It typically includes rent, utilities, meals, and access to amenities. But, you might want to see if residents have to pay more for personal care products, activities, or planned excursions.
Is there a certain level of care that you will not be able to take care of?
Tip: If your loved one has a progressive condition, it's important to know when the community can no longer provide a certain level of care they will eventually need. Ask about that process, including how long you will have to find another community to meet their higher level of care.
How can I get help if I need it?
Tip: Most assisted living communities have emergency pull cords in the bathrooms and bedrooms. Some have pendants that the residents wear and can push when they need help. Be sure you know how to get assistance and how long before caregivers usually respond to the request.
People to meet on your tour
During your tour, someone in the community's marketing department will likely show you around. You'll want to meet a few other key staff members during your initial or follow-up tours.
Life Enrichment or Activities Director. Life enrichment, or activities, is an important department in a senior living community because they create events and opportunities that connect and engage. Say hello and ask for a copy of the monthly event calendar to see if multiple activities are planned each day, including weekends and evenings.
Financial Director. Someone from the finance department is helpful to meet and spend time with, as they have the answers to all of your budget questions so you can determine how you'll pay for assisted living.
Administrator. The leader of any assisted living community is busy, but it can go a long way if you can meet them and ask them a few questions.
More tour tips
Finally, make the most of your time in the community with any of these tips:
Stop to observe a few minutes of an event or activity if one is happening during your tour.
Ask to see available apartments and not just a model apartment.
Ask if there are any residents or family members you can speak to about their experience. This is not always common, but some communities offer reference lists with this information.
Schedule another tour. A second tour can help you get another glimpse into life in communities you like.
Spend time at a meal or participating in an activity. Many communities offer this opportunity to potential residents, as it gives an even better preview of life in the community.
Ask neighbors and friends if they have experience with that community. If you trust your friends and neighbors, you can likely take their experiences to heart. While you will also see online reviews, some can be negatively skewed, so factor all of your observations and research into account.
Good luck to you as you begin your assisted living decision-making process. It is an exciting time as you determine which community best fits you.