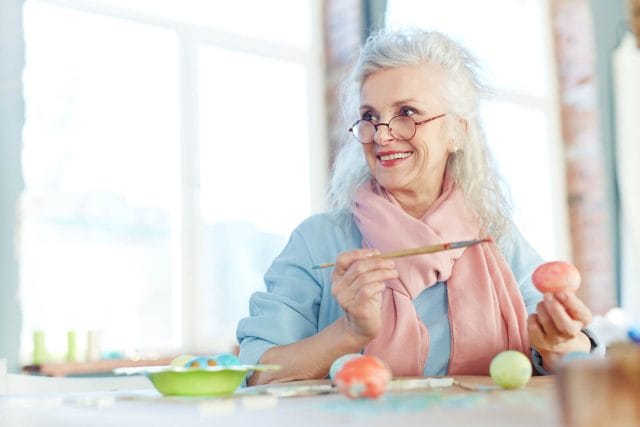 Transitions are tricky at any age, and in some cases, not everyone agrees that a change is needed. In many circumstances, an adult child starts discussing a move to assisted living and their parent is apprehensive or even resistant. When a parent is reluctant to move to assisted living or accept help, it's important to approach the conversation with empathy and understanding. Here, we offer an approach to understand your parent's reluctance and make a family decision together.
Understand your parent's 'why not'
Whether assisted living is the right fit for your loved one may come from safety concerns, long-distance caregiving, increasing care needs, or isolation. Regardless of your reasons as a caregiver, your parent may disagree.
At the start of your conversation about moving to assisted living, ask your parents why they are apprehensive. It's easy for a caregiver or family member to get tunnel vision on the necessity of the move, especially in a crisis — but, slowing down and understanding your loved one's perspective goes a long way.
First, know this is a common challenge, and you're not alone. In 2021, AARP found that 77% of adults over age fifty-five wanted to age in place. With three-quarters of people feeling the same way, it's common to want to age in place. Doing so can be an option if it's safe enough at home. Even when remaining at home isn't safe or comfortable for the aging adult, a significant change can feel daunting, like a move to assisted living.
Your loved one's concerns are valid regardless of why they are apprehensive about a move, and it's essential for families to remember that. Acknowledging your parent's concerns will be a critical first step in making progress toward overcoming their fears and finding the right senior care plan.
Respond to your parent's concerns
Your response to your loved one's concerns will ultimately depend on their reasons for not wanting to leave home. The first step in responding is to validate their concerns. Validating someone's perspective allows the person to feel seen while giving you a window to their point of view. These two elements are valuable in resolving any conflict.
Acknowledging your loved one's feelings toward the move will play a small role in helping them feel included in their care decisions. Below are common concerns about moving to a senior living community and how to best address them to support your loved one.
Fear of losing independence
The fear of losing independence by moving to assisted living is common, and it often begins when another family member or care provider decides it's time to move.
You might try exploring what assisted living facilities are together. The goal of assisted living is for older adults to remain as independent as possible while having easy access to personal and medical assistance. If your parent is limited in what they can do at home, it's possible that moving to assisted living can help increase their independence. Here are some ways that assisted living provides a maintenance-free lifestyle with added supports within the facility:
Meal preparation: Remove the need to grocery shop and prepare meals for yourself. You can go to the dining area and choose from the menu of options for each meal. Or, have the meal delivered to you.
Privacy: Staff members are on-site to help you but don't need to spend hours in your apartment or room like an in-home care provider would. They can help you with your needs and leave when finished.
Transportation: If you're no longer driving but still living at home, you'd need to arrange for your transportation to run errands. You can take advantage of the community's transportation for errands, outings, and appointments at assisted living.
Decreased reliance on family members for day-to-day tasks: In many cases, staying at home results in relying on private home care and family members for help. At an assisted living community, the support you need is on-site, and staff members can help with medication administration, bathing, toileting, and other needs. Now, visits with family members are purely for enjoying one another's company.
They feel their current living situation is working
In some cases, adult children feel a higher sense of urgency to make a change than their parents. They often experience increased concern for safety and addressing care needs. The older adults themselves are more apt to feel comfortable in their current situation and not identify potential safety concerns. Often, care needs change slowly over time, so either the older adult has adapted to limitations, or it's harder for them to notice.
If the parent says that living at home is still working, it's worth asking your parent to identify what they would see as a reason to move to assisted living. Some examples of reasons might be:
A fall
A dramatic change in health
A large storm or natural disaster
The passing of a spouse
It's possible that one of these events has happened already and they may not have connected the dots.
They have financial concerns about paying for assisted living
Financial concerns are a legitimate, common obstacle in moving to assisted living. Many older adults and their loved ones feel uncertain about the cost of assisted living and don't know how they would pay. It's no secret that senior care comes at a price. But, depending on where you live, the services you need, and the company you hire or the community you move to, assisted living may be equal to home care costs — or less than it, especially when factoring in the day-to-day costs of managing a home.
Some options for paying for assisted living include
Selling the home the parent owns. If they need to move quickly, you may also qualify for a bridge loan, which can help fund a move to assisted living, which is repaid when the home sells.
Long-term care insurance
Life insurance (various settlements and riders of certain policies can create funding to help pay for assisted living).
Reverse mortgage
Personal loan
Retirement savings
Other financial products, such as annuities
There are many ways to pay for assisted living. Working with a financial professional or geriatric care manager can help you and your parents understand how to pay for the cost of care.
Fear of loneliness
Some older adults are worried about meeting new people at assisted living. Or, they're concerned that they will not get visits from family and friends.
When you visit assisted living communities, talk to staff about how they facilitate introductions between residents with things in common. Ask about the activities and clubs they have. You can also do preliminary research online so your parent can see pictures of facilities and read about what the facilities offer. Communities have multiple communal areas — often comfortable, pleasant, and well-decorated — where people gather. Your parent may be able to envision themselves in the space.
Recognizing and addressing your parent's concern about losing touch with their family is important. They may have gotten accustomed to your visits to help care for them and may be afraid to lose you. Create a plan for staying in touch face-to-face, by phone, and through video chats or texts. You and your parent can always adjust the schedule as they adjust to their new home.
Overwhelmed by the thought of moving
Moving requires many 'moving' parts. Finding a new home, organizing, and packing are all important aspects — to name a few. For some older adults, the apprehension to move comes from the daunting task. In this case, identify what parts of the move you can delegate to yourself, other family members, or professionals to help take the stress off of your loved one.
If you're caring for your loved one, you may feel like you are taking on more work to facilitate the move. While moving takes time and effort, it is usually short-lived until your loved one has settled and adjusted to the new environment.
When more help is needed
In many cases, a move to assisted living is a necessity for the safety and well-being of your loved one. If you try adjusting your approach, but still struggle to have your loved one see your side, consider working with an expert. Your loved one's primary care provider or a geriatric care manager can offer an objective opinion on the next steps for your loved one.
Researching your local assisted living options on your own can help you be prepared, in the event of an emergency and having to make a quick decision. While it is always the goal to involve your loved one in their care, knowing what is available will help you make a quick, educated decision if that ever becomes impossible.
The bottom line
Moving to assisted living is a big life change, and it's important to recognize your parent's trepidation. Maybe they've lived in the same home for decades or have enjoyed being independent for many years. The key to having this discussion is not about trying to convince them to move. Instead, the discussion is about determining when it's time to get more help, the kind of help they need, and looking objectively at assisted living options to see how these communities can help older adults accomplish their goals for how they want to live.