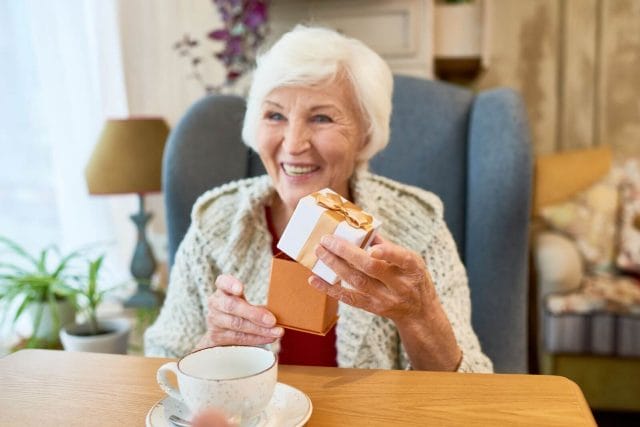 When your loved one is living with dementia, life isn't quite the same. Certain traditions, like gift-giving, can be more challenging. You can still celebrate your loved one with a gift they will love that can make them more comfortable, engaged, and happy. Here are a few ideas to inspire you as you search for the perfect gift for your senior loved one living with dementia.
A comfy blanket
Nothing says cozy like a comfortable blanket. Your loved one will enjoy snuggling under their blanket for a quick afternoon nap or watching a favorite movie. Look for a soft and fuzzy blanket that is good for sensory stimulation.
A weighted blanket might be a better option if your loved one is anxious or irritable in the late afternoon and evening hours. These blankets are designed to decrease anxiety. Choose a blanket 15 pounds or lighter, and again, look for soft, fluffy options.
Comfortable clothes
A few new outfits or pajamas can be a lovely gift for someone living with dementia. When choosing clothing, consider your loved one's abilities. If they have trouble with buttons or snaps, try to find pants with an elastic band or tops without buttons.
Find clothing that meets their sensory needs as well. Some people living with dementia like a soft fabric, while others prefer a lighter cotton blend. To determine what fabric they like, look at the tags of the clothing they like to wear. You can also watch when they wear a new item: If they are eager to take it off or fidget with their waistbands or sleeves, it might indicate they are uncomfortable.
Put comfort ahead of fashion and your loved one's preferences first. Don't forget new socks, underwear, slippers, and shoes.
While you can likely purchase comfortable clothing at your favorite retailer, you can also look for apparel companies that sell adaptive clothing. This type of clothing supports sensory preferences, dexterity differences, and other needs. For example, you might find a shirt with small magnets instead of buttons, which can be easier to put on and take off than a shirt with many buttons.
Framed old photos
Dementia is a progressive disease that can have your loved one living in a time from decades past. Offer some comfort and a way to reminisce about their favorite times and people by giving the gift of photos from their past. Look through old photo albums and choose a few of your loved one in their 20s, 30s, and 40s. Enlarge and frame the photos to hang on their walls or set on a shelf.
If you have many pictures or want to change them for your loved one, consider a digital photo frame. Some require a Wi-Fi connection and need to be plugged in, but this can be a great alternative. With one frame, your loved one can look at endless photos, providing variety without the added clutter of multiple frames. With frames like those from Aura, you can add photos from a computer or device using an online uploader.
When you or another family member or caregiver visits, you can use the photos to talk about the past. Reminiscing is a comforting activity for someone living with dementia and can bring them peace.
Therapy stuffed animals
Pets are great companions and stress relievers, but your loved one may be unable to care for a dog or cat. Joy for All's Companion Pets are designed for those living with dementia. They are more than stuffed animals: In addition to soft fur, they offer movement and soothing sounds, like a heartbeat, purring, and meowing.
This type of calming item can decrease agitation and anxiety for those living with dementia. It can be especially beneficial for people with anxiety during the late afternoon and evening hours. You'll find therapy pets throughout innovative dementia care communities, but you can buy one for your loved one as well.
For a less expensive option, consider a Warmie. These soft, weighted, lavender-scented stuffed animals can be put in the microwave so that they are warm and soothing. They are great for pain relief as well as relaxation.
Time together
Perhaps the best gift for someone living with dementia is the opportunity to spend time and create memories with you. While your loved one might not remember the specific activity you do, they will experience comfort and happiness during the moment. Here are a few ideas for activities to do together:
Go out for ice cream.
Order from a favorite restaurant.
Take a drive around their old neighborhood.
Look through photo albums and talk about the pictures.
Give your loved one a manicure. Don't forget a hand massage with their favorite scented lotion.
Have a spa day outside the home, or make your own with face masks, manicures, and relaxing aromatherapy.
Go for a walk around the neighborhood. Point out flowers and animals.
Cook dinner or bake cookies together.
It can be hard to know the right way to show your love to an older adult living with dementia. These thoughtful gift ideas and activities will meet the unique needs of your loved one and show them how much you care. Remember, as dementia progresses, your loved one's preferences and needs might change. Be flexible, approaching each gift-giving occasion as a new opportunity to express your love and meet your loved one where they are now.