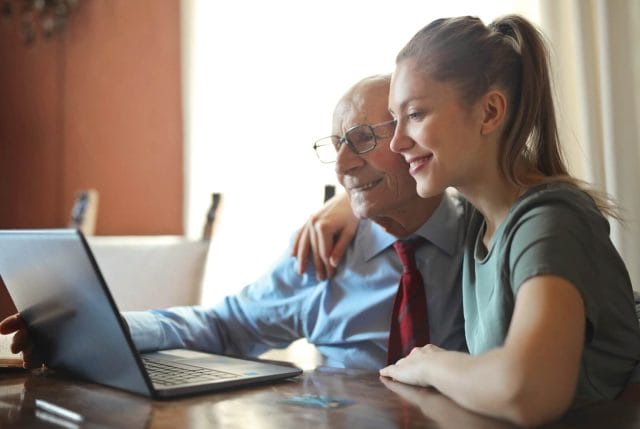 You or your older adult loved one may need more help doing daily tasks, like cooking, getting dressed, or showering safely. You may know that assisted living communities and nursing homes can be long-term care residential solutions for older adults, but you don't know the difference between the two. While both types of communities have similarities, there are essential differences between assisted living communities and nursing homes.
You may wonder which type of senior living solution is best for you or your loved one. Keep reading to learn about the differences between assisted living and nursing homes. 
Assisted living vs. nursing homes
Assisted living communities are designed for individuals who want to continue leading a mostly independent life but have access to staff and services to help them age in place in a community. These communities abide by state licensing and follow regulations regarding staffing, meal preparation, services provided, and other aspects of the facility. People who choose assisted living communities tend to be those who may no longer drive, want help with some activities of daily living (such as dressing, bathing, transferring, toileting, ambulating, or eating), have experienced recent weight loss/gain, or need help managing medication. 
Alternatively, nursing homes are communities where an individual receives ongoing care that is non-medical. Typically, residents need help with multiple activities of daily living. These individuals benefit from having staff around 24/7. AARP has determined that 80% of individuals living in nursing homes require assistance with four to five activities of daily living. These communities are suitable for residents who need more assistance with personal care than assisted living communities provide.
Living areas
There are notable differences between the living areas of assisted living communities and nursing homes. Each state regulates the minimum requirements for assisted living communities a bit differently; however, these kinds of senior living communities typically feature a variety of living areas. In a community, you might find private studios or one-bedroom apartments with kitchenettes and private bathrooms. It may also have living areas that a few residents can share. The number of residents that can share a room varies per state regulations. And in some states, the residents must agree to share a residential unit. Many assisted living communities strive to create a home-like environment for the residents living areas.
Nursing home living areas appear more clinical than those in assisted living communities. Though nursing homes also want the living areas to be comfortable, they need to provide their residents with quick access to care and accommodate residents' needs. Therefore, living areas in nursing homes are typically private or semi-private rooms where the doors open to a common hallway. These rooms usually have a hospital-like bed, TV, and dresser. Like in a hospital, you'll find bedside call buttons so residents can immediately call personal care assistants when they need help. A bathroom may be in the room, which the residents in a semi-private room share. The bathroom may also be shared with the room next door, with a door on the other side leading to the adjacent room.
Services offered
These two types of senior living communities provide many services to help their residents. While many of these services overlap, the level of care that nursing homes provide is greater than that of assisted living communities. For example, nursing homes assist residents with most or all activities of daily living (ADL).  Assisted living communities must also offer assistance in most states, but state laws vary. If a state does not require all facilities to assist with ADLs, communities may choose to offer these services. Some other services that residents living in assisted living communities and nursing homes can include
Medication management.
Personal care tasks (showering, grooming, etc.).
Dressing.
Incontinence management.
Transfer assistance.
Mobility reminders.
Staffing differences
Staffing laws vary by state. Each state can determine the staffing rules that assisted living facilities need to follow. Many states do not have staff-to-resident ratios for staff members but require that the facility ensure its staff can appropriately meet the needs of all residents. Other staff regulations include the necessity for an administrator, how often they must be on-site; who must be available when the administrator is off-premises; who is allowed to manage and administer medications; and the amount of staff training, including the training topics.
Nursing homes typically have more nursing staff and more personal care aides. This is because residents of nursing homes are less independent than those of assisted living communities and require more help with a greater number of personal care tasks.
Qualifications for entrance
Eligibility for assisted living and nursing homes are similar in offering more care for their residents than in independent living communities. Assisted living is geared more toward people seeking more involvement with other people, assistance with some ADLs, and help with meal preparation and medication management. To qualify for an assisted living community, a prospective resident must undergo an assessment to determine their level of need for care; if a person requires over a certain amount of assistance with activities of daily living or nursing care, they may not be accepted to the community. Individuals may be better suited for a nursing home in these cases.
Alternatively, nursing homes are for individuals who need more support to carry out their ADLs. For admittance to both types of facilities, you must meet an age requirement (which can vary from facility to facility) and criteria for the care you need. Assisted living and nursing homes can accommodate assistance with ADLs, but neither typically offers higher-level care, such as ostomy care or g-tube feedings.
Cost Comparison
While the prices of assisted living communities can vary from location, size, and services offered, the national average price of these communities is $4,500 per month as of 2022. The national average monthly cost of a semi-private room in a nursing home in 2022 is higher, at $7,908.
Medicare does not cover monthly rent for assisted living because Medicare is health insurance, and rent is not a medical expense. But, Medicare Part B covers doctor services, and Part D covers prescription medications, so residents can use Medicare coverage to pay for physician visits and medication while living in the community. Thankfully, there are other ways to pay for rent at assisted living, including long-term care insurance, VA benefits, selling the resident's home, life insurance, and other private savings. Depending on the facility, they may accept Medicaid as a form of payment.

Medicare does not cover non-medical expenses while living at a nursing home. Many nursing homes may accept Medicaid as payment. Long-term care insurance policies and life insurance policies may be an option to help with payment at a nursing home, depending on the policy. Other financial solutions for paying for a nursing home could include selling the resident's home — and using a bridge loan while you wait for the home to sell if you need to move into the community quickly, settling the resident's life insurance policy with a life settlement if it has cash value, and other private savings.