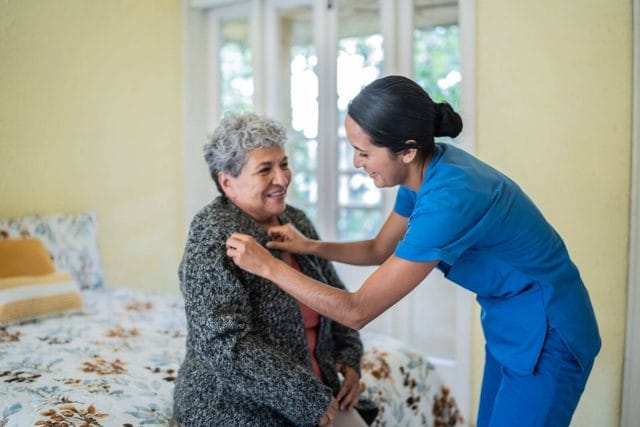 It can be difficult to know when your loved one's care needs have surpassed what can be provided at home or in an assisted living community and when it is time for a nursing home. Here, we explain various signs that your loved one may need the kind of care that a nursing home provides. From requiring a high level of physical assistance to being unsafe at home to displaying cognitive changes and more, you'll learn some signs that it might be time to move to a nursing home.
How nursing homes differ from other senior living options
A nursing home is a residential facility providing a high, intensive level of care, including physical assistance with personal care, medications, and mobility. Some nursing homes also provide skilled nursing care, which can include the administration of IV or injected medications, wound care, and catheter and ostomy care. They provide the individual with 24/7 safety, supervision, engaging activities, and social interaction. Residents can pay for nursing homes with government programs like Medicaid if they are financially eligible.
Care people receive at nursing homes differs from that at an assisted living community. Residents at assisted living may receive assistance with some activities of daily living but can maintain some independence. Assisted living communities typically cannot retain residents who need long-term, consistent care such as catheter or ostomy care. So, the level of care residents can get at a nursing home is a level above what they can get at an assisted living community. Finally, many nursing homes accept Medicaid as payment, whereas many assisted living communities do not.
Signs it's time for a nursing home
Although there are specific criteria that an individual must meet in order to be eligible for admittance, below are some common indicators that moving to a nursing home could be a solution that will allow your loved one to receive the care they need.
Your loved one requires a high level of physical assistance
One of the clearest signs it is time for a nursing home is if your loved one needs significant physical assistance with activities of daily living (ADLs). ADLs are the everyday fundamental tasks people must do to survive. They include dressing, bathing, eating, and moving from one place to another.
Some individuals may need more than one person to assist them, making it difficult to receive care from family or home care providers. They may need assistive devices, such as patient lifts, that can be difficult to utilize at home.
Depending on the state, some home care agencies are limited in the types of assistance that they can provide. For example, most home care providers cannot give insulin injections unless they are a registered nurse. If the individual or their family cannot manage the insulin, a nursing home may be needed. Assisted living residences may have similar restrictions.
Note that needing some physical assistance does not automatically qualify your loved one for nursing home care. Each facility follows guidelines set by federal and state governments on the level of care one needs before meeting nursing home eligibility requirements. If your loved one doesn't meet the requirements for nursing home care but still needs more care than can be offered at home, they might be better suited for an assisted living facility.
You have safety concerns about your loved one living at home alone
Especially if someone has a cognitive impairment or dementia diagnosis, there can be significant safety concerns when living alone or at home with other family members. These concerns could be due to the risk of falling, inability to respond properly in an emergency, or wandering and becoming lost. While there are tools that families can use to keep their loved ones safe, they do not necessarily prevent all incidents.
Additionally, it can be difficult to arrange a schedule of family, friends, and professional caregivers that meets the individual's care needs. One of the benefits of a nursing home is the round-the-clock safety and supervision that often cannot be provided in the home setting.
Your loved one is experiencing changes in cognition and emotional regulation
At times, people's changes in cognition can lead to emotional dysregulation and challenging behaviors. Some people with cognitive impairment may decline assistance with personal care or medications from their loved ones. At the same time, they may forget or struggle to complete activities of daily living on their own. In more difficult situations, someone may be uncharacteristically aggressive.
These changes can present significant safety challenges and emotional strain for the individual and the caregiver. Nursing homes are typically equipped to navigate these difficulties, and in some cases, individuals are more receptive to help from non-family members.
Your loved one is isolated at home
Without concerns about safety or physical hygiene, the isolation of living alone likely will not make someone eligible for nursing home care. However, if your loved one is socially isolated and needs a high level of care, they may benefit from some aspects of nursing home living.
Nursing homes have stimulating activities and plenty of people around to help keep the residents engaged. In a home setting, it can be difficult for family or professional caregivers to provide the same level of socialization and engagement that can be valuable for an older adult's mental health.
Caregiving is impacting your health and/or well-being
Caregiving is no easy task. It takes a toll on the caregiver emotionally, physically, and financially. Most caregivers balance several other responsibilities while providing care — careers, children, and managing their own health. It's important for you, as the caregiver, to consider your own wellness when thinking about the transition to a nursing home.
Some people find that when their loved one moves to a nursing home, they shift from being the hands-on caregiver to an advocate. Though it might be difficult to relinquish control over a loved one's care, the change can make room for higher-quality visits with a more emotional connection rather than the often stressful or possibly even combative visits of the past. Every caregiver has their own tolerance for the stress that comes with caregiving.
It may never seem like the right time to transition to a nursing home; however, if you notice some of the signs listed above, it's likely time to explore your options. It's always beneficial to begin researching care options before urgently needing them.