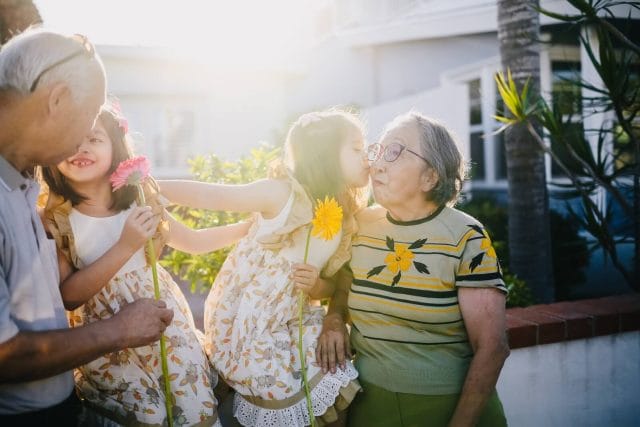 When a family member is diagnosed with Alzheimer's or dementia, it can be a shock. Although the trajectory of the disease may be individual, in most cases, the illness worsens over time, requiring more and more support to keep someone safe at home. In time, family and professional caregiving costs and logistics may be unsustainable. Here, we'll explain what a memory care facility is and how it helps people with memory loss live comfortably and safely.
What is a memory care community?
A memory care community is a specialized program and residence for people who have memory problems. These memory problems could be related to Alzheimer's dementia or other types of dementia. Other disorders that cause cognitive impairment include Parkinson's or Lou Gehrig's disease and head injuries.  
Memory care is a unique subset of assisted living; in many cases, memory care is located within assisted living communities. Standalone memory care communities provide residency, support, and services only to individuals with memory impairment. They often have smaller staff-to-patient ratios and are designed to meet the specific social, medical, and safety needs of people with dementia or some form of cognitive impairment.
Licensing for memory care communities is managed at the state level, and each state has unique requirements. All 50 states require senior care communities to become licensed, but just a few states currently have specific laws regulating memory care. The Department of Health or Social Services typically regulates assisted living and memory care.
What can you expect at a memory care facility?
Memory care is similar to assisted living in that you can expect the same amenities in both types of senior living communities. The monthly rate at a memory care community will also often include meals, housekeeping, transportation, and other supportive services.
Living arrangements at a memory care facility may feature private or semi-private rooms. Each resident may have a bathroom or share a bathroom with another resident. Living arrangements vary based on the facility and its state's requirements. In some states, residents or their guardians must approve the resident living in a shared room.
What kind of care does a memory care facility provide?
Memory care staff should be trained in working with people with cognitive disorders due to behavioral changes and difficulties managing activities of daily living. One of the challenges for families considering memory care for a loved one is that some residents could be much more impaired than others. The disparity in cognitive ability can cause anxiety for those at a higher functioning level.
Since most people in memory care require reassurance and support, having enough caregiving staff to meet everyone's needs is critical. Memory care residents can sometimes become anxious, fearful, and frustrated, and having enough well-trained staff to meet everyone's emotional needs is essential.
Memory care communities are unique in their specific memory-related features, services, and activities. Many of the activities may be individualized, even one on one, to support and engage residents with varying cognitive abilities. They may have group activities as well to support socialization among the residents.
Who lives in a memory care community?
Though many residents have Alzheimer's disease or another form of dementia, not everyone who lives in memory care does. Some residents may have other mental health or neurological conditions that affect memory and reasoning. Most people want to remain in their homes where they feel secure and comfortable, and many families try to help a loved one live at home as long as possible. Deciding to move a loved one to memory care can be stressful. Still, these are some of the situations that prompt families to consider memory care:
Your loved one wanders and requires a secure living environment.
Your loved one requires bathing, dressing, medication management, eating, and toileting assistance.
Your loved one has challenging behaviors such as anger, paranoia, or delusions.
Managing in-home caregivers is too time-consuming and costly.
People who have dementia can exhibit disruptive and sometimes disturbing behaviors. However, some memory care communities will not accept someone who is physically aggressive or has suicidal behaviors. It is up to each community to decide who they will and won't accept. Since memory care communities are private, they can determine admission criteria based on their ability to manage the resident and any impact on current residents.
The benefits of a memory care community
The priority of memory care communities is to keep your loved one safe and healthy. Structured and supervised activities are provided in a way that allows for some independence within a safe and secure environment. Here are some benefits of memory care units:
Specialized care and assistance to residents with memory disorders in addition to helping with daily activities.
Better quality of life with more specialized care. Individuals often take fewer medications, which means fewer adverse side effects.
Increased socialization, which can improve cognition and mood.
Support for families who want to spend quality time with a loved one.
Highly trained staff equipped to manage challenging behaviors.
Qualifications for living in a memory care community
The first qualification for living in a memory care community is the ability to afford the cost. Other qualifications include behaviors that staff can safely manage and do not threaten other residents. If an applicant is bedbound, the community may require them to be on hospice before admission.
How much does memory care cost?
Costs of memory care vary across the country and even region to region within the same state. According to Genworth, the median monthly cost of care in assisted living in the US is $4,774. But, in many areas, you can expect to pay much more. Unlike assisted living, most memory care communities have one flat monthly fee to cover all the care someone needs. Otherwise, you can expect that the more care your loved one requires, the higher the cost.
How can you pay for memory care?
Paying for memory care can be challenging for many families, but there are ways to finance the cost.
If your loved one has a long-term care policy, most will pay a daily amount towards the cost after the waiting period.
Many families sell their loved one's primary residence to finance memory care.
If you want to keep the home, you can rent it or take out a loan against the equity.
If your loved one is eligible for Veteran's benefits, that can sometimes pay for a portion of memory care costs.
Memory care can be the support and safety your loved one needs. Take your time visiting and evaluating each community before deciding.