Vision Loss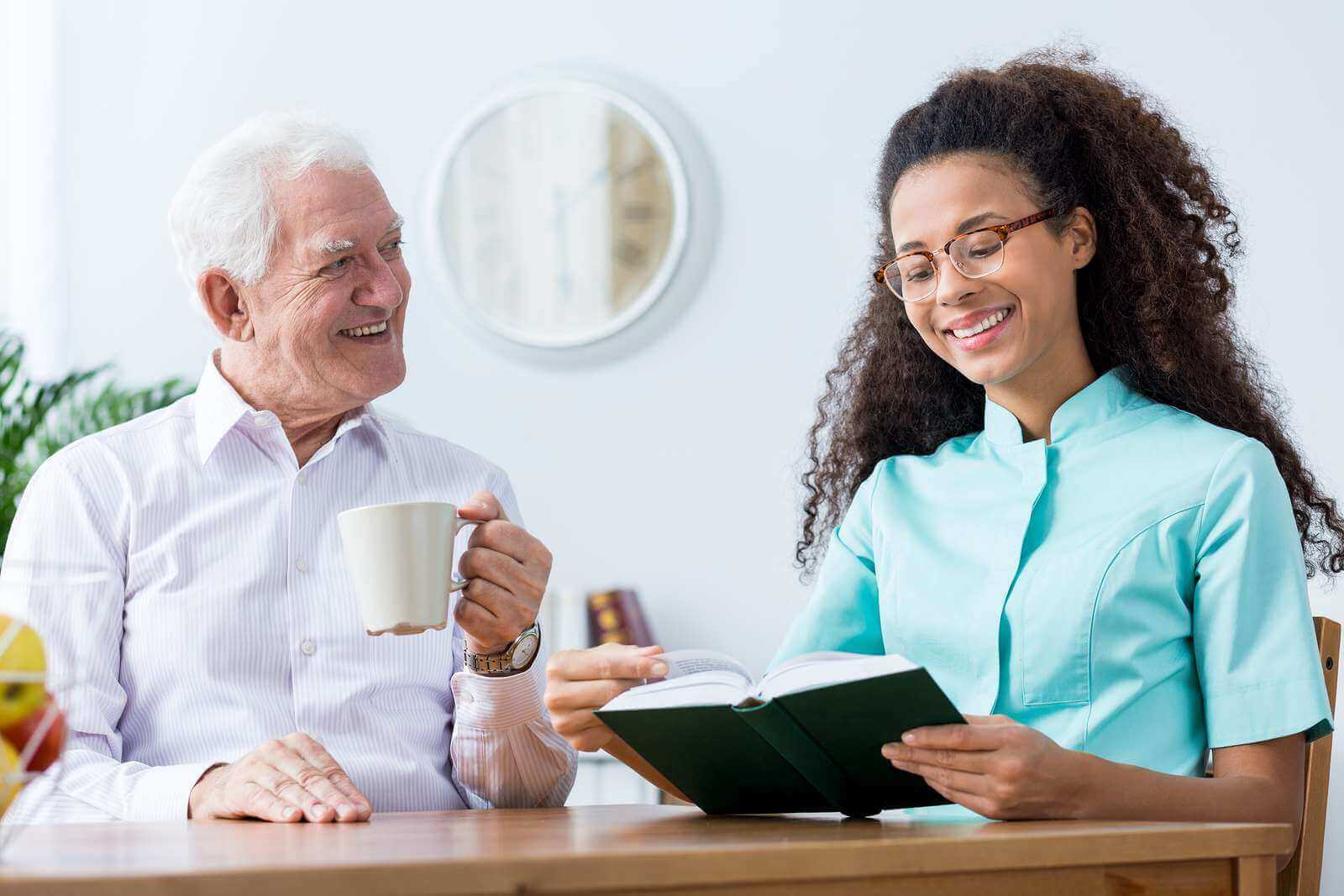 Approximately one in three Americans suffer from deteriorating vision by the age of 65, one in four by age 80. The most common age-related eye diseases (or ARED) are macular degeneration, glaucoma, cataracts, retinal detachment, and diabetic retinopathy. Suffering from a head injury or a stroke also increases the likelihood of vision problems in seniors.
How much vision loss affects day to day life is entirely dependent on the individual and the severity of their loss on the optic nerve in your eyes, but most people are able to adapt well to life with a visual impairment, provided the right support is put in place. Learn more about long-term care for visually impaired seniors, equipment for the home, and the different funding options available.
Signs of vision loss
As many vision problems onset gradually, they can be difficult to identify, especially as we age. Failure to catch an ARED early can limit the effectiveness of treatments, so it's vital to be alert for the signs of vision loss in your loved ones.
If a friend or family member is displaying any of the warning signs of central or peripheral vision loss, it's time to book an eye test:
Bumping into things, tripping over or generally appearing 'clumsy'
Shuffling when walking
Tunnel vision
Any type of short or long-term blindness
Showing increased hesitancy when walking
Sudden vision loss
Blurred vision
Night blindness
Requiring additional lighting to read or engage in close-up activities
Difficulties with eating and drinking, such as spillages
Changes in handwriting
Head to the American Foundation for the blind for a more comprehensive list of signs of progressive vision loss.
Effects of vision loss
Effect on patients
Vision loss can be daunting for the sufferer and concerning for family members wanting to provide the best care for their loved ones. A major concern for the welfare of seniors with deteriorating peripheral or central vision or blindness is the heightened risk factors of slips and falls that come with a lesser spatial awareness and ability to identify obstacles. The increased risk of a fall directly coincides with increased chances of sustaining an injury, being admitted to residential care and even becoming permanently disabled, so it's essential to take steps to combat this heightened risk factors straight away.
Sudden vision loss affects most areas of day to day life, adding an additional challenge to normal household activities, from washing and dressing to cooking and eating. Simple tasks that require your eyes, such as moving around the house and making a cup of tea, can be challenging for someone with a vision impairment. While few people find themselves entirely dependent on others following vision loss, it's important to consider the options for home adaptations and assisted living to support your loved one in continuing to live an active and enjoyable lifestyle. Frequently, vision impairments also inhibit individuals from driving, which can have dramatic effects on their independence.
Compared to their peers, seniors with a vision impairment or blindness are far less likely to be able to enjoy as much sport and physical activity as they would like, which has far-reaching implications on both physical and mental wellbeing. Additionally, activities linked to general healthcare, such as taking prescribed medication, become fraught when one loses the ability to accurately read medication labels.
Loss of vision affects us far more deeply than just physical health. In most cases, progressive vision loss leads to a lack of independence and increased difficulty in enjoying everyday leisure pursuits, such as reading, walking or watching television. The frustration of not being able to do things that were once easy, like use a knife and fork or change the TV channel, understandably leave sufferers feeling angry and upset. With a loss of independence, comes a loss of privacy, as individuals become more dependent on others for daily tasks. It shouldn't come as too much of a surprise, then that vision loss increases the risk of depression in seniors. Depression and other mood disorders are already a high risk for seniors, though very treatable.
Seniors with a visual impairment report frustration in the inability to recognize familiar faces until up close, a side effect that makes normal interactions with friends and neighbors an ordeal. Many social engagements, such as trips to the cinema, meals out or games of tennis or boules, become challenging, even impossible to partake in with vision loss. Considerations to combat isolation and loneliness should, therefore, be at the forefront of any plan to support an individual with visual losses like blindness or vision loss.
Effect on family members
It's never easy seeing a loved one struggling to come to terms with a change in their health, especially when it comes to your eyes. And, family members may initially feel helpless in knowing how best to support them. You want your loved one to continue enjoying their life on the same scale, which can be difficult to achieve when initially adapting to life with impaired peripheral or central vision or blindness.
Families may also be faced with sudden dependency from a relation. Whether that's moving into the family home or checking in more frequently, it can be a strain to adapt to the increased needs. Combatting the stress and fatigue of care responsibilities with the feelings of guilt associated with handing over some responsibility to outside services can take their toll on the family of an individual with vision loss. It's worth remembering that, in order to be able to provide the best support for your loved one, you need to prioritize your own health and wellbeing.
Organizations and resources
You aren't alone in tackling the challenges of visual acuity. As vision loss is one of the most common eye problems afflicting America's older adults and elderly, a whole host of nonprofits and independent organizations are available to provide advice and practical support. Here are some of the most useful to be aware of:
Living with vision loss
Although some medical treatments may be appropriate to combat vision loss, such as surgery for macular degeneration, diabetic retinopathy, or retinal detachment, the care needs of an individual suffering from vision loss will more likely be related to rehabilitation and assisted living services. Here are the key considerations to be made in the short term:
Adapting the home
Fortunately, most people with an optic nerve loss and impairment are able to remain comfortably in their home, provided certain steps are taken to make the household safe for a person with reduced vision. Adapting the home is a much less daunting task than it might sound; a few simple tweaks can allow an individual with vision loss to remain in their own home safely.
Using contrasting paint colors for cupboard doors and walls or the stairs and the handrail makes it easier for somebody with vision loss to find their way around the home. This can be extended to show the difference between the curb and the road, or individual steps on the stair (using a brightly colored tape works well). Investing in bright lighting, such as fluorescent bulbs, is also essential.
Rugs, clutter and small items of furniture are prime tripping hazards for someone with visual impairments. Reducing clutter in the home and removing any likely obstacles will make it far easier for a family member with vision loss to move around safely. Ensure there is a clear path between rooms that's easy to navigate.
Assistive devices
There are a number of gadgets on the market to make life easier with a vision impairment, but some are vital to invest in. Here are the initial purchases to make when adapting the home for vision loss:
Large buttoned telephone: available at reasonable prices from mainstream retailers, help with tunnel vision
Community alarm: wearing one of these devices allows you to contact a family member straight away in the event of a slip or fall
Magnifiers: a simple tool for reading or identifying household items, especially important if your loved one needs to read varying medication bottles or has blurred vision
Rehabilitation services
Rehabilitation services are a valuable resource for individuals and their families coping with vision loss for the first time. This support can be delivered by the state or from local nonprofit or community groups. They can provide help wherever it's needed for each family, in areas such as orientation, mobility support (e.g learning how to use a cane) and guidance in using assistive technology. Whether it's glaucoma or another vision loss impairment, take advantage of the local services available to you. Training can take place in an agency or in the user's home.It may also be appropriate to consider counseling services to help sufferers come to terms with the change emotionally and adapt to their condition. For more information visit the Rehabilitation Services Administration.
Long-term care needs
While the above may be enough support for many individuals managing vision loss, knowing the next steps is vital when it comes to planning for the future. Seniors with extreme vision loss, or who suffer from additional health or eye problems that are put at greater risk with a visual impairment, should consider whether a change in living arrangements is the best way to cope with their condition. The residential care options available in the US are wide-ranging, and varying levels of support are available to suit the needs of the individual.
Independent living communities allow seniors to continue enjoying their independence to the full, with the peace of mind that, should an incident occur, help is on hand to minimize the risk factors of more serious eye problems developing. A benefit of independent living over staying in your current living arrangement is that these spaces are arranged into retirement communities, which adds the option of a social element on your doorstep. This can be a huge plus for individuals whose mobility is limited due to vision loss.
If this level of support is right for you, it may also be worth considering public housing, which can be an affordable way to ensure your loved one has access to the care they need. A services coordinator is on hand to provide assistance to residents.
Assisted living units still allow occupants to maintain their independence, with their own personal living area, however, support is greater and residents have the comfort of tighter security compared to an independent living facility. You can expect more hands-on care, with staff on call 24 hours a day and available to help with day to day tasks such as bathing and cooking, but this assistance is fitted around the independent lifestyle of the service user.
Nursing Homes provide the highest level of care and assistance for individuals who are unable to manage the tasks of everyday life independently. They provide 24/7 assistance to ensure the safety of residents. Nursing homes are an option to consider if a loved one's vision loss prevents them from living safely independently, such as if they suffer from frequent falls or are unable to take medication.
Paying for care and equipment
The primary financial concern for individuals with vision loss is rental fees towards varying degrees of assisted living or residential care. Additional costs to account for are rehabilitation services (although many nonprofits listed above provide these for free), physical therapy, and adaptive equipment to make day to day life easier.
If you are diagnosed with an ARED, your treatment should be covered by mainstream health insurance plans. Beyond direct medical care, though, the financial support you can expect for costs related to visual impairments varies by provider and location. See below for the essential information on where you can expect financial support.
Financial options
Knowing the insurance and long-term care option for ARED ensures you get the best deal for your family. Among the financial support systems available to fund long-term care for a family member with vision loss or eye problems are Medicare, Medicaid, private health insurance or long-term care insurance, and Veterans benefits.
Medicare covers some of the initial costs related to vision loss, however, it cannot be relied on for long-term care. Eye expenses funded by Medicare include:
Medically necessary procedures that take place in hospitals or surgeries
One-off payments for mobility devices, such as walkers or wheelchairs
Some physical therapy to assist with vision impairment
Some rehabilitation services
With these last two services, the key thing to note is that Medicare will fund the service for a limited time, after which other financial assistance methods will need to be put in place. Medicare also does not help with assisted living, such as help with shopping, preparing and eating food, pet care or home adaptations. They also do not provide support for transportation as a result of mobility difficulties.
If you are from a low-income background, you could be eligible for support with assisted living through Medicaid. However, coverage and eligibility requirements vary from state to state, so it's important to check what you are entitled to.
Your employer will be able to cover some of the costs of treatment or medication if you have taken out insurance with them. Here's what you can expect from the main types of plan:
Health Maintenance Organizations (HMO): normally let you choose a primary care doctor from within the network, which is paid for
Preferred Provider Organizations (PPO): will pay towards care within or outside of the network, however you will receive more towards any costs if you choose within the network.
Point of Service plans (POS): give you the freedom of choice between each type of provision whenever it is required and will provide the same funding regardless.
Medicare and most private insurers won't cover the costs of long-term care. For this reason, it's worth considering long-term care insurance to provide for your loved one. These policies provide users with a pre-agreed daily sum towards assisted living services. The cost of such a policy is dependent on the age when it begins, the daily amount required and additional benefits selected. It's important to note that these policies may not be accessible for those already in poor health or accessing long-term care, which is why planning ahead for such instances is so crucial.
Life insurance is another alternative for funding long-term care. The cash value of the policy can be withdrawn in certain circumstances, or the policy can be sold (known as a life settlement).
As a veteran, you or your loved one may be entitled to additional eye support from the state for vision loss. This will be dependent on the length of service. To find out if you are eligible, call 1-800-827-1000.
Other financial support
The Partnership for Prescription Assistance is a free service that aims to match users with financial support for medication. Use the search tool on their website to see if you or a loved one qualifies.
If you're concerned about funding long-term care, another option to consider is Living Trusts. An individual pools their assets into a Living Trust, which is managed by them and used to fund long-term care. If the trust holder passes away or becomes incapacitated, a named successor takes over the management of the trust, and the assets are passed to named beneficiaries. Living Trusts aren't for every family but are useful if your state has a complex or lengthy probate system, or if the family has multiple estates to manage.
Advice for loved ones
Plan for the future
If possible, plan ahead for the type of support you'd want to receive when affected by vision loss. Communication between caregivers and their loved ones is essential to ensure the self-esteem and dignity of the sufferer and the wellbeing of the carer. Beginning the process of planning well in advance also prevents rushed and highly stressful decisions when long-term care is an immediate need.
Seek legal advice
If you wish to put plans in place for financing long-term care and aren't sure where to begin, it may be worth contacting an elder law attorney. They can assist individuals and families with making sure their medical and financial needs are taken care of. The assistance offered by elder law attorneys includes: preparing power of attorney documents, exploring your eligibility for Medicaid on your behalf, and supporting families in seeking legal guardianship over a loved one.
Most elder law attorneys will offer a free consultation, so you can decide if the service is right for you. However, it's important to make sure both parties are clear on payment expectations before beginning any kind of consultation.
Choosing the right care
Reaching a satisfying conclusion in long-term care is far easier when it is done with the individual whose care needs are being catered for. Ensure an open conversation has been had and that the priorities of the individual are taken into account when accessing long-term care. Is independent living important to them? Are they worried about feeling isolated? Do they need access to public transport to get around, or is it more important to have access to certain TV channels? Families are often surprised by what their loved ones view as non-negotiables in their living circumstances, so this conversation is essential.
When considering the right care provider for vision loss, the same assessments need to be made as if you were modifying a private home. Are the hallways easy to navigate? Is there contrast to help an individual with vision loss find their way around? Is the signage in large print and is braille available? Approaching visits in the mindset of a visually impaired individual will help find the care provider that will best support the needs of your loved one.
When visiting care providers, it's advisable to visit more than once and at different times of day, to get a feel of the overall care that your loved one can expect. As well as looking for a provider that will be a good fit for your family, staff should have a knowledge of your loved one's condition to be able to offer tailored support. Do they have knowledge of any local rehabilitation services that could support your loved one? Are staff trained to support a person with vision loss?
For your loved one to enjoy the most fulfilling experience possible in assisted living or retirement communities, you need to know what care they are prepared to put in place for the visually impaired. The availability of talking books and large print books or newspapers is a sign that a facility is well-equipped to support the visually impaired. On the social side, consider whether there are organized activities that a person with vision loss could participate in and whether there are support networks available on site.
In terms of locations, aside from deciding how close you want to be to a loved one accessing long-term care, there are considerations to be made in terms of transportation in the local area. Ideally, an assisted living or residential facility will provide accessible transport for medical appointments and shopping. Is there local, accessible public transport on top of this? How will the local area cater to the needs of someone with vision loss? Addressing these key concerns before making a decision will give you peace of mind that you're making the right choice for your loved ones.
Vision loss FAQs
1. Where should I start to meet the care needs of my loved one?
Before you can plan for the long-term care needs of a loved one with vision loss, you need to make sure they are safe and comfortable where they are. Make any necessary home adjustments as soon as possible, and access vision rehabilitation services in your area to help them adapt to life with vision loss.
2. How can I approach the subject of long-term care?
Long-term care is a sensitive issue, but for some individuals with visual field loss, it can be a necessity due to safety concerns. Broach the subject with other supportive family members and reassure your loved one that any decisions are going to be made with and by them, not for them.
3. How do I know which care option is right for my loved one?
Choosing the right care option is a decision only you and your family can make. It all comes down to the level of care required by the individual, financial constraints, and which place just 'feels' best. Allow plenty of time to explore the different options so you're confident in your final decision.
4. How can technology support a loved one with vision loss?
Having computer access can reduce feelings of loneliness among seniors with visual field loss, as well as giving them the autonomy to research their condition and the support available for themselves. Large keyboards and software to increase the readability can be purchased to make the process easy with a visual impairment. Talking books are another quick fix to help an individual with vision loss continue to enjoy their previous interests.
Proximity of care is very important when considering options
Research care options that are nearby when thinking about the next step for your loved ones.
Expert Reviewed
Leona J. Werezak RN, BSN, MN is a registered nurse and adjunct nursing professor. She has 24 years experience working in a variety of healthcare settings including such remote locations as the Arctic Circle. Her research in early stage dementia was published in the Canadian Journal of Nursing Research and re-published in their 40th anniversary issue which showcased exceptional research published since the journal began. Her work in dementia care has also been published in the Journal of Gerontological Nursing. She currently teaches surgical nursing care on a thoracic/vascular unit to baccalaureate nursing students. Her clinical work with nursing students involves extensive work with older adults who have multiple chronic health conditions.